Unit Study Supplement: Wyoming Facts, U.S. 44th State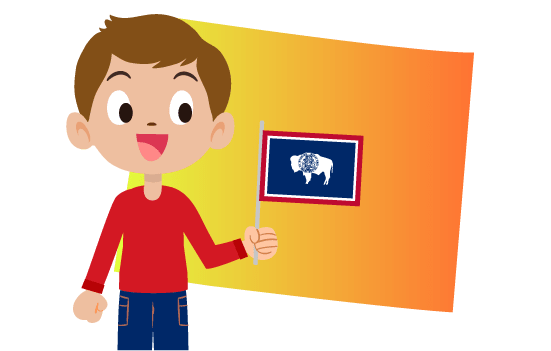 Which states does Wyoming border? When did Wyoming became a territory and then a state? What's Wyoming's nickname? Learn the answers to these and many other questions in our unit study supplement about Wyoming!
The origin of the state's name is unknown, though some believe "Wyoming" might have come from Native American words describing the landscape (i.e., plains, valleys, mountains).  Its nickname the "Equality State", however, was given to the state because of its status as the first state to give women the right to vote, serve on juries, and hold public office.
Continue reading to learn more interesting facts about Wyoming, including historical facts about Wyoming, a Wyoming history timeline, geography facts and more. Time4Learning members can download our list of PreK-12 interactive activities that align with your study of Wyoming.  Here are a few Wyoming facts for kids:
Wyoming Fast Facts
Became a State:

July 10, 1890

Order it Joined the Union:

44th state

State Capital:

Cheyenne

State Abbreviation:

WY

Border States:

State Flag:

State Song:

State Flower:

Indian Paintbrush

State Nickname:

Cowboy State
Equality State
Big Wyoming

Notable Wyomingites:

Harrison Ford, actor
Jackson Pollock, painter
John Buck, baseball player
John Wendling, football player
James Johnson, basketball player
Patricia MacLachlan, children's author
Historical Facts About Wyoming
Let's start by learning some interesting facts about Wyoming's history. The open plains of Wyoming were inhabited more than 12,000 years ago.  An ancient stone shrine, probably used for important ceremonies and standing 245-feet tall, was found near Lovell and was dated around 9,000 BC.
Some believe that prehistoric hunters and gatherers arrived through Alaska from Siberia as early as 20,000 years ago.  Eventually, the state was home to the Native American tribes of the Arapaho, Ute, Cheyenne, Atsina, Arikara, Oglala, Brulé Dakota, Nez Percé, Shoshone, and Crow.  The Arapaho and Shoshone still live in the state today.
French explorers Francois Louis and Louis-Joseph Verendrye are believed to have been the first Europeans to arrive in the area in 1743 while searching for a route to the Pacific Ocean.  The famous journey of Lewis and Clark missed Wyoming by 60 miles, but one member of the group, John Colter, broke off to do some trapping in northern Wyoming and documented his travels in the Yellowstone and Jackson Hole areas.  Fur trappers and traders formed the basis of the area's economy from 1825-1840.
Westward expansion brought settlers after the discovery of the South Pass through the Rocky Mountains, with many emigrants crossing the state between 1841 and 1868.  Pony Express riders, like "Buffalo Bill" Cody, carried mail across the state from 1860-1861, and Fort Laramie and Fort Phil Kearny were established as military posts.  In 1867, the first Union Pacific Railroad train arrived in Cheyenne, bringing more population growth and the establishment of Fort D.A. Russell (now known as Francis E. Warren Air Force Base).
Wyoming became a US territory in 1868 after portions of it belonged to Great Britain, France, Spain, Mexico, and Texas. However, Native Americans and the US Cavalry continued to fight for control of the land, and cattle ranchers, sheepherders, and homesteaders fought over land and resources.  This period is known as the cowboy era throughout the American West. In 1890, Wyoming became our 44th state.
Let's explore the Wyoming history timeline below to learn more historical facts about Wyoming and when they occurred in this state.
1743
Verendrye brothers, French explorers, arrived in Wyoming
1803
The eastern portion of Wyoming Territory was acquired by the U.S. through the Louisiana Purchase
1807
John Colter documented his travels to the Yellowstone and Jackson Hole areas
1848
The southwestern portion of Wyoming Territory was acquired by the U.S. through the Mexican Cession
1867
First train arrived in Cheyenne, Wyoming
1868
Wyoming Territory was established
1869
Cheyenne became the capital of the Wyoming Territory
1872
Yellowstone National Park, the first of the US national parks was established under President Ulysses S. Grant.
1889
State's constitution was approved, granting women rights to vote and hold public office
1890
Wyoming became the 44th state in the US, under President Benjamin Harrison
1891
Shoshone National Forest was established as the first national forest in the US
1897
First Frontier Days Rodeo, now the largest in the world, was held in Cheyenne
1924
Nellie Tayloe Ross became the first elected female state governor in the US
1951
Uranium, nuclear fuel, was discovered in the Powder River basin
Bring history and geography to life with Time4Learning's interactive online social studies curriculum for grades 2-12.
Wyoming Geography Facts
Having learned some historical facts about Wyoming, now you are ready to take a look at its geography. Wyoming's total size is 97,100 sq. miles and has numerous bodies of water including Yellowstone Lake, Boysen Reservoir among others.
It is home to Yellowstone National Park which features canyons, hot springs, gushing geysers, lush forests and more! Wyoming is also home to some of the largest traveling sand dunes in the world.
Wyoming's animals are as famous as its geography.  There you will find buffalo (state mammal), black bears, pronghorn (the largest population of any state), whitetail and mule deer, moose, bighorn sheep, grizzly and black bears, timber wolves, and the world's largest herd of American elk.  You will also find red-tailed hawks, wild turkeys, painted turtles, tiger salamanders, pinyon jays, prairie falcons, and so much more!
Take a peek at this map of Wyoming to get familiar with the state. Then read through the following Wyoming geography facts. Print out the map of Wyoming provided below and add these items to the map.
Wyoming is bordered by Montana in the north, Colorado and Utah in the south, Idaho and Utah in the west, and South Dakota and Nebraska in the east.
The capital, Cheyenne, lies in the southeastern corner of the state near the Colorado border.
The North Platte River can be found in the southeastern corner of the state and includes the Pathfinder and the Seminoe Reservoirs.
The Powder River flows from the Montana border east of Sheridan to the center of Wyoming.
The Bighorn River flows from the northern border with Montana near Lovell to the Boysen Reservoir in the center of Wyoming.
Yellowstone Lake and Yellowstone National Park are in the northwesternmost corner of Wyoming.
Grand Teton National Park (containing Jackson Lake) is just south of Yellowstone National Park.
Flaming Gorge Reservoir is on the Green River, close to the southern border, in the southwest corner of the state.
Wyoming's highest point is Gannett Peak, at 13,804 feet above sea level, in west-central Wyoming.
The lowest point is at the Belle Fourche River, located in the northeast corner of Wyoming, at 3,099 feet above sea level.
Wyoming State Map
Download our FREE Wyoming state map printable. Use it as a coloring page or use it to plot the state's geographical features.
Activities for Children in Wyoming
Want to continue learning fun facts about Wyoming?  Take a trip to Big Wyoming!  Homeschoolers in Wyoming may be familiar with some of the state's unique places, but out-of-state homeschoolers should definitely get in on the fun as well. Here are a few ideas to help your students learn more facts about the state of Wyoming:
Looking for more things to do with your kids in Wyoming? Check out this post full of field trip ideas in Wyoming!
Wyoming Freebies and Deals for Homeschoolers
Learn more Wyoming facts and information by visiting places that have free or reduced admission?  If you have a fourth grader, remember that you can visit the national parks and monuments (listed above) for free through the "Every Kid in a Park" program.  Below are just a few other ideas:
Wyoming Learning Games for Children
Have you learned some interesting things about Wyoming? Test your knowledge of Wyoming facts for students with these free games and activities:
Custom text depending on what was picked.