Unit Study Supplement: Idaho, U.S. 43rd State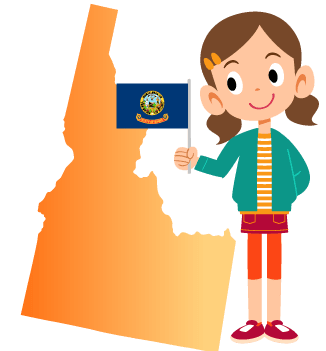 What is Idaho's state animal? Idaho's official state animal is the Appaloosa horse. How did Idaho get its name? The origin of the name "Idaho" is actually unknown, but some people believe that the name came from a Native American word meaning "gem of the mountains."
This may be where the state's nickname, "The Gem State," originated, or it could refer to the gems and precious metals that have been mined in Idaho's mountains throughout its history. In fact, Idaho has produced about 70 types of gemstones, such as amethysts, diamonds, rubies, opals, and star garnets.
Want to learn more interesting facts about Idaho, including historical facts about Idaho, an Idaho history timeline, geography facts and more? Keep on reading our Idaho unit study supplement! Time4Learning members can download our list of PreK-12 interactive activities that align with your study of Idaho. Here are a few Idaho facts for kids:
Idaho Fast Facts
Became a State:

July 3, 1890

Order it Joined the Union:

43rd state

State Capital:

Boise

State Abbreviation:

ID

Border States:

State Flag:

State Song:

State Flower:

Syringa

State Nickname:

Notable Idahoans:

Ezra Pound, poet
Harmon Killebrew, baseball player
Philo T. Farnsworth, inventor of the television
Picabo Street, Olympic skier
Sacagawea, Shoshone Indian guide
Torrie Wilson, wrestler
Historical Facts About Idaho
Let's begin exploring historical facts about Idaho. Idaho's early people inhabited the land more than 13,500 years ago. Thousands of years later, Idaho was home to the Native American tribes of the Coeur d'Alene, Blackfeet, Bannock, Nez Percé, Shoshone, and Kootenai.
Many Native Americans lived as extended families and friends, and many traveled to follow sources of hunting and opportunities for fishing and gathering. Some built large settlements on the major rivers to take advantage of the salmon runs and other fishing. Many Native Americans still live in Idaho today.
During their famous journey to explore lands west of the Mississippi River, Meriwether Lewis and William Clark were the first non-native people to explore the area in 1805.
Idaho was originally part of the Oregon country, claimed by Spain and then by Russia, the US, and Great Britain. The region continued to be claimed by both the US and Great Britain until 1846 when the land was transferred to the US as a result of both countries signing the Oregon Treaty.
Idaho became part of the Oregon Territory, with a section becoming part of the Washington Territory, until it became its own territory in 1863 (as a result of the Idaho gold rush in 1860). Idaho became the 43rd state in 1890.
Learn important historical facts about Idaho through the events outlined in this Idaho history timeline.
1743
Rocky Mountains were discovered somewhere near Yellowstone Park by Pierre De la Verendrye
1805
Area was first explored by Meriwether Lewis and William Clark
1809
British built the first trading post at Lake Pend Oreille
1819
Treaty with Spain established the southern border at the 42nd parallel
1843
Oregon Trail was established in Idaho
1846
Oregon Treaty was signed, transferring land to the US, ending claims by Great Britain, and establishing the northern border at the 49th parallel
1848
Region became part of the Oregon Territory; many gold seekers passed through Idaho as a result of the California gold rush
1853
Part of Idaho became included in the Washington Territory (with the rest remaining in Oregon Territory)
1860
Discovery of gold in Idaho, followed by a rush of settlers
1863
Became its own Idaho Territory, with its capital at Lewiston
1864
Capital of Idaho Territory was moved by the legislature to Boise
1879
Sheepeater Indian War, where members of the Bannock and Tukuarika tribes lived on sheep they killed during raids (battles fought at Big Creek and Loon Creek with Indian surrender on September 1)
1882
Northern Pacific railroad was completed across the northern part of the territory
1883
Oregon Short Line was completed through southern Idaho
1886
Construction was completed on the Territorial Capitol Building
1890
Idaho became the 43rd state in the US under President Benjamin Harrison
1896
Idaho became one of the first states in the country to give women the right to vote
1905
Construction of new capitol building in Boise was authorized
Bring history and geography to life with Time4Learning's interactive online social studies curriculum for grades 2-12.
Idaho Geography Facts
After learning some interesting facts about Idaho's history, let's look at what features make up this great state. Idaho's geography varies from mountains to plateaus to valleys and river basins with some 2,000 lakes. The Rocky Mountains span across the north and central parts of the state, including Idaho's "panhandle," and contain glacial trenches and deep canyons. In fact, the deepest gorge in North America, even deeper than the Grand Canyon, is Idaho's Hells Canyon (7,900 feet).
Idaho is home to distinct plant and animal life, including the largest grouping of western white pines (state tree) in North America. Idaho's tallest white pine stands at 219 feet! Other trees common to Idaho are the Douglas fir, ponderosa pine, western hemlock, and western redcedar, and wildflowers cover the state, such as pinkfairies, trillium, sticky purple geraniums, crown-vetch, and orange daylilies.
Idaho, however, is most known for its large mammals, including woodland caribou, bighorn sheep, elk, mule deer, moose, grizzly bears, gray wolves, and black bears. Those who look may also find smaller gophers and ground squirrels, 400 species of birds, and various salamanders, frogs, turtles, lizards, and snakes.
Be sure to check out this map of Idaho to get an overall view of the state. Then read through the following Idaho geography facts. Print out the map of Idaho provided below and add these items to the map.
Idaho is bordered by Canada (British Columbia) in the north, Nevada and Utah in the south, Washington and Oregon in the west, and Montana and Wyoming in the east.
The capital, Boise, lies in the southwestern corner of the state on a tributary of the Snake River, the Boise River.
The Snake River comes into Idaho through Wyoming, flows westward across the southern section of the state, and then northward along the border with Oregon and into Washington.
Lake Pend Oreille is in the northern part of the state.
Bear Lake is in the southeasternmost corner of Idaho, shared with the state of Utah.
Bitterroot National Forest is shared between Idaho and Montana.
The Salmon River Mountains can be found in the central part of Idaho, south of the Salmon River (which separates the northern and southern sections of Idaho).
Yellowstone National Park is located where Idaho meets Montana and Wyoming (and is mostly within Wyoming).
Shoshone Falls (212-foot-high) is located on the Snake River in southern Idaho near the city of Twin Falls.
Idaho's highest point is Borah Peak at 12,662 feet above sea level, between Boise and the border with Montana.
Idaho's lowest point is at the Snake River, on the state's western border, at 710 feet above sea level.
Idaho State Map
Download our FREE Idaho state map printable. Use it as a coloring page or use it to plot the state's geographical features.
Activities for Children in Idaho
Now that you have learned some fun facts about Idaho, it may be time to join the many tourists who visit the state. Homeschoolers in Idaho can take a simple day trip while homeschoolers in other states may need to plan more time. Here are a few ideas to help you learn some Idaho state facts by visiting its unique places:
Idaho Freebies and Deals for Homeschoolers
Sometimes you can visit state landmarks and attractions at little to no cost. Below are some cost-effective ways to enjoy Idaho facts and information through experience:
Idaho Learning Games for Children
Now do you know some interesting things about Idaho? Test your knowledge of Idaho facts for students with these free games and activities: