Unit Study Supplement: Oregon Facts, U.S. 33rd State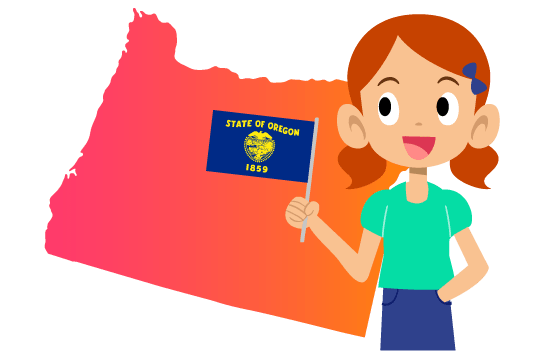 How did Oregon get its name? Who lived in Oregon first? These and other questions are answered in our Oregon unit study supplement!
While the origin of the word "Oregon" is unknown, its nickname of the Beaver State reflects the valuable fur trade that brought early settlers to the region.
In this article you'll learn more interesting facts about Oregon, including historical facts about Oregon, an Oregon history timeline, geography facts and more. Time4Learning members can download our list of PreK-12 interactive activities that align with your study of Oregon.  Here are some Oregon facts for kids:
Oregon Fast Facts
Became a State:

February 14, 1859

Order it Joined the Union:

33rd state

State Capital:

Salem

State Abbreviation:

OR

Border States:

State Flag:

State Song:

State Flower:

Oregon Grape

State Nickname:

Notable Oregonians:

Ann Curry, journalist
Beverly Cleary, author
Douglas Engelbart, inventor
Linus Pauling, Nobel prize winner
Matt Groening, Simpsons cartoonist
Mark Hatfield, senator
Raymond Carver, writer/poet
Historical Facts About Oregon
Can you believe that people lived in Oregon more than 15,000 years ago? When Europeans first arrived in the 1500s, they discovered over a hundred Native American tribes, such as the Chinook, Nez Percé, Paiute, Shasta, and Tillamook.  Both Great Britain and Spain claimed the region at first. Then the Louisiana Purchase brought US exploration out west with the journey of Meriwether Lewis and William Clark.
Although Oregon was not part of the Louisiana Purchase, Lewis and Clark extended their exploration to include parts of Oregon.  Settlers began to arrive in larger numbers in the 1840s through the Oregon Trail, a wagon trail route that was more than 2,000 miles long.
Oregon's historic and current focus on logging and use of natural resources for hydroelectric power, mining, and agricultural has created a need to balance development with conservation. In 1971, the Oregon Forest Practices Act, the first of its kind in the US, required the protection of natural resources during logging. That same year, the state was the first in the US to pass a bottle-deposit law.
In 1973, a program was established that mandated land and resource development and conservation, and in 1983, a law was passed that established a comprehensive recycling plan. Oregon's livelihood continues to depend on its ability to balance the use and preservation of its natural resources even today.
Now read the Oregon history timeline below to find out some more interesting historical facts about Oregon.
1579
Sir Francis Drake, Spanish explorer, when searching for riches and the Northwest Passage, claimed part of the Pacific coast for Queen Elizabeth I
1778
English sea captain, James Cook, visited Oregon in order to trade
1787
Boston ships led by Captain Robert Gray and John Kendrick came to Oregon
1792
Captain Robert Gray discovered the Columbia River and named it for his ship, the Columbia
1805
Region acquired by the Louisiana Purchase was explored by Meriwether Lewis and William Clark, as directed by President Thomas Jefferson, with exploration as far west as Oregon
1811
First permanent settlement was founded at Fort Astoria by John Jacob Astor, head of the Pacific Fur Company
1818
US and Great Britain agreed to share occupancy of the region
1843
Many settlers began to arrive via the Oregon Trail; representatives met to organize a government with laws based on those adopted by Iowa
1846
Oregon became a US territory
1851
Salem became the capital of Oregon Territory
1853
Territory north of the Columbia River became Washington Territory
1855
Capital of Oregon Territory was moved briefly to Corvallis and then returned to Salem
1857
State constitution was adopted; Salem was incorporated as a city and became the official state capital
1923
Oregon became one of the first state to impose a state income tax to raise money for state government
1964
Nike Corporation was founded in Eugene
Bring history and geography to life with Time4Learning's interactive online social studies curriculum for grades 2-12.
Oregon Geography Facts
Now that you've learned some interesting facts about Oregon's history, let's turn to the diverse geographical features of the state.  One fun fact is that central Oregon contains an area called "moon country," lava fields that were the site of astronaut training for the 1960s US space program.
The forests of Oregon, covering more than 40% of the state, contain mostly Douglas fir (state tree), as well as red alder, bigleaf maple, ponderosa pine, and hemlock.  Did you know that in Siskiyou National Forest, you can find the only Big Foot trap in the world?
Plenty of wildlife can also be found in Oregon.  Among the mammals are the American beaver (state animal), Roosevelt elk, deer, antelope, fox, bear, wolverines, and gray wolves.  In the air, you will see osprey, sage grouse, snowy plovers, and burrowing owls. Closer to the ground, you may find alligator lizards, western pond turtles, Pacific giant salamanders, spotted frogs, and coastal tailed frogs.  Also, along Oregon's coast, you may be able to spot its year-round inhabitants, the Steller sea lions.
To start getting familiar with the state, check out this map of Oregon. Then read through the following Oregon geography facts, print out the map of Oregon provided below, and add these items to the map.
Oregon is bordered by Washington in the north, California and Nevada in the south, the Pacific Ocean in the west, and Idaho in the east.
The capital, Salem, lies in the northwest corner of the state.
The Columbia River forms the northern border with Washington.
The Snake River forms the northern part of the border with Idaho.
Crater Lake, the deepest lake in the US at 1,943 feet, and Crater Lake National Park are in the southwestern corner of the state.
Upper Klamath Lake is south of Crater Lake, near the city of Klamath Falls.
Summer Lake and Lake Albert are north of Goose Lake, still in south-central Oregon.
Harney Lake and Malheur Lake are both found in the south-central corner of the state just south of Burns.
Goose Lake is on the southern border, crossing from south-central Oregon into Nevada.
Oregon's highest point is Mt. Hood, at 11,239 feet above sea level, in north-central Oregon.
Oregon State Map
Download our FREE Oregon state map printable. Use it as a coloring page or use it to plot the state's geographical features.
Activities for Children in Oregon
Keep learning fun facts about Oregon by visiting the Beaver State to see some of its unique places. Homeschoolers in Oregon and out-of-state homeschoolers have a lot of choices. Here are a few ideas to help you learn some Oregon state facts:
Looking for more things to do with your kids in Oregon? Check out this post full of field trip ideas in Oregon!
Oregon Freebies and Deals for Homeschoolers
How can you learn Oregon facts and information without spending a bunch of money?  Below are just a few ideas:
Oregon Learning Games for Children
Now that you know some interesting things about Oregon, see how many Oregon facts for students you have mastered with these free games and activities: