Time4Learning was founded by parents focused on using technology to improve education.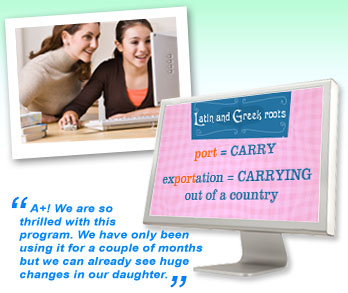 Try Our Lesson Demos
Founded in the fall of 2003, Time4Learning launched its service in the spring of 2004. Time4Learning is a small family firm which remained in the founder's living room until the need for more people required taking a formal office in August 2006. Time4Learning aspires to provide a high quality useful low-cost service to its members, to be a highly responsible employer for its staff, and a conscientious member of our community.
We feel that the Time4Learning service provides a unique and valuable contribution to parenting in an electronic age in several areas. Click the links below to read more:
Comprehensive Educational Program

Time4Learning's curriculum is made up of thousands of learning activities, lessons, and assessments which provide a standards-based education program for preschool through high school. Children are presented with an ongoing sequence of lessons that provide a much more valuable educational experience than the isolated lessons that learning games provide. Click to learn about Edgenuity, the provider of Time4Learning's LessonTime materials.
Time4Learning does not provide its K-12 program to schools. Time4Learning is intended to be used in the home as a homeschool curriculum, afterschool alternative to tutoring, and for summer study. If you are looking for an online curriculum for classroom use, please contact Edgenuity directly for information
Online Web Safety
Kids should be able to use the best web sites and have some freedom to explore. But leaving children under ten unsupervised on the net is not a good idea. Time4Learning provides a safe "white list" and interface to the best children's sites. They get ample room to explore but within a safe playground. Time4Learning is also a fully registered member of ICRA, in compliance with COPPA standards and contributes to Net Family News and Safer Child all in an effort to keep kids safe online.
Educational Use of Technology
Technology for educational enrichment is particularly effective in the young years. At first, mastering the mouse skills and the interface are the challenges. From there, children move to following directions, basic recognition of shapes, colors, letters, and numerals. These skills and the others need reinforcement and development from as many learning modalities as possible.
Fun & Learning
Time4Learning's Playground is mix of educational materials, edutainment, and "casual" games. They are designed to be fun but not all-consuming. The goal is entertainment, not addiction. One of the most popular parts of the entire Time4Learning service is the Two Player games. These games are for two people to play together at the same computer. Time4Learning is also meant to be fun for the parents in that it's Ed Mouse who tells the kids that they've been on the computer long enough, not the parent who has to stand watch with a timer.
The founder and president is John Edelson
John Edelson is the founder and president of Time4Learning.com, an online learning system for homeschool, afterschool, and summer use. Time4Learning is an online company which includes Time4Learning.com, Time4Writing.com, and SpellingCity.com. Previously, John Edelson consulted to Vcom3D, an educational software company for the deaf and hard of hearing and Time2Read, an educational software company providing standards-based programs to elementary school systems. Mr. Edelson was the turn-around manager at Argonaut – a 100 person diversified entertainment and technology company in London. He managed it for three years improving quality, growth, and profitability. He was the producer on Croc, Legend of the Gobos, a Sony Playstation game that went Platinum. He spun-out and joined ARC, a new company in the semiconductor intellectual property industry. Mr. Edelson, as Senior Vice President of ARC, helped grow ARC from 10 to 300 people. Mr. Edelson has previous professional experience at 3DO Company, SGI and Price Waterhouse. He has a BA from Yale and an MBA from Harvard. He served in the Peace Corps in West Africa for two years. As the proud father of two children, Mr. Edelson has a deep interest in technology for education.
Giving Back
Time4Learning strives to be a great employer and member of our community. Time4Learning is a member of the Better Business Bureau and the Better Business Bureau Online.
Time4Learning proudly contributes to the following worthwhile organizations that have overlapping interests with Time4Learning and its staff:
Books for Cameroon
– From Wendy, the Peace Corps Volunteer who organized the Books for Cameroon Project:
Wendy wrote about her time as a Peace Corps Volunteer in Cameroon…
I began teaching English at the 4-room primary school by my house. Through my interaction with the children, I realized they can't read, at all. Even at a 5th grade level, many of the kids can't read. And then I realized most of these kids have never even seen a story book in their life. I thought how differently my childhood and life would be if my mom hadn't dropped me off at the library during her errands and busy afternoons.

Most of us take the ability to read for granted
. But being here allow me to see the harsh reality that in fact, a lot of people have trouble reading. Even the adults in my business classes. While they can read, they can't read at ease. Hardly anyone in village ever read for leisure. I wanted to change this, and I thought it would be the easiest to begin at the schools. Bring books into the country, and then provide training so people know what a library is and how to utilize it.
I never imagined that I would be building 30 libraries
.
Breakthrough Collaborative
launches high-potential, low-income middle school students on the path to college and inspires high school and college students to pursue careers in education.

One Laptop per Child (OLPC)
– The mission OLPC is to empower the children of developing countries to learn by providing one connected laptop to every school-age child.

Net Family News
: A high quality newsletter and forum providing in depth up-to-date information for parents and educators about technology and children.
In previous years, Time4Learning has contributed to:

Grassroot Soccer
: Founded by former professional soccer players in 2002, Grassroot Soccer (GRS) trains African soccer stars, coaches, teachers, and peer educators in the world's most HIV-affected countries to deliver an interactive HIV prevention and life skills curriculum to youth.
Time4Learning is a registered member of:

ICRA (the Internet Content Rating Association)
Time4Learning strives to be a great employer and member of our community. Time4Learning is a member of the Better Business Bureau and the Better Business Bureau Online.
To Learn about the Educational Panel . . .