Homeschooling Online with Time4Learning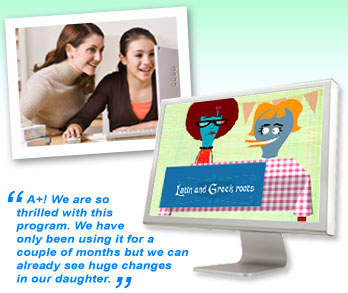 View Our Lesson Demos!
Kids love to be online, so take advantage!
Time4Learning provides a preschool to 12th grade online homeschool curriculum using an approach that takes advantage of today's technology and the internet. Our online education tool teaches math and language arts lessons correlated to state standards. Science, social studies and art are also provided for most grades. Foreign language is available as an optional add-on for an additional fee.
Time4Learning is a convenient, online home school curriculum that combines education with interactive fun. Student-paced multimedia lessons, printable worksheets, ongoing assessments and detailed reporting make our learning system an effective and affordable choice for homeschooling.
Kids like using the computer to learn. The online curriculum gives students who are homeschooled the independence they crave, as they progress at their own pace.
Have a look at our online curriculum overview for more details.
Get Your Free Guide: Welcome to Homeschooling
Get all the information you need to homeschool with confidence. Order your free guide now.
Time4Learning values your privacy. We will never sell or distribute your information.
A Valuable Tool and Trusted Partner For Many Homeschool Families
Homeschooling families share their reasons for using Time4Learning…
"My child can work independently or with my involvement. Time4Learning has enriched his education & simplified my life"
"Homeschooling can get repetitive if you let it. So, the online lessons provide a welcome change of rhythm to the day"
"Time4Learning provides the core curriculum in a fun interactive format. The printable worksheets are great reinforcement and are included for free"
"Unlike other vendors, Time4Learning returns my calls."
"Time4Learning has the flexibility to support the homeschooling approach that I'm taking with my children."
"My children's favorite part of the day is their hour on Time4Learning. After two months, I can say that is the easiest and most consistently productive homeschool curriculum we've used."
Time4Learning is vibrant, engaging, educational, and funny. It sure beats our previous homeschool curriculum which was textbook/workbook based.
Time4Learning is so effective that very little intervention is required. This works great if you're homeschooling multiple children.
Parents See Steady and Ongoing Improvements in Math and Reading Skills
The Time4Learning online homeschooling curriculum features:
Combines 1000+ animated lessons, printable worksheets, and graded activities
Online math and language arts lessons correlate to state standards
Online science, social studies and art are provided for most grades
Students get individual logins and work on their own schedule and pace
Parents can set the grade level independently for each subject
The grade above and below are available for review and additional study
An online playground rewards and motivates
A time-stamping feature on the activities tracks attendance
An automated system grades lessons and keeps printable reports
It is totally web-based. There is nothing to download, no CDs, and nothing additional to purchase, so our child can learn anywhere that there is an internet-connected computer!
Homeschooling Software
The Time4Learning homeschooling software is easy to use because it is web-based. That means that there is nothing to download and you can access it from any computer. The lessons are taught in short chunks, and are followed by interactive software exercises for reinforcement and discovery learning. The homeschool software includes online lessons and quizzes. Students can work as much as they want every day. Most importantly, the educational software is flexible and easy to use. Time4Learning allows students to repeat lessons whenever they want.
Helpful Parent Tools and Resources
Welcome to Homeschooling Guide – Are you new to homeschooling? This guide was written by seasoned homeschoolers to answer some of the difficult questions new families often struggle with.
Curriculum Lesson Plans – An overview of the lessons that are included for each grade and subject. All students have access to at least 2 (and in most cases 3) grade levels of curriculum for each subject, so they can move ahead or review at their own pace.
Lesson Planning Worksheet – Wondering how many lessons to have your child do each day? Estimate the number of activities per day using this easy to use, printable worksheet.
Online Parent's Forum – Reach out to homeschoolers in your area, join discussions, ask questions and trade ideas on our online community of homeschooling parents. Having the support of seasoned homeschoolers can really help make your homeschooling journey a success.
Interactive Homeschooling Curriculum that is Proven Effective
Time4Learning provides homeschooling curriculum using multimedia instruction, animated interactive lessons and printable worksheets for reinforcement. It has a low monthly price, does not require a contract, and provides a money-back guarantee.
Time4Learning has helped thousands of children Start Helping My Children Now.