Unit Study Supplement: Nevada Facts, U.S. 36th State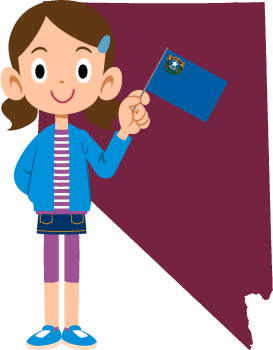 The rich history and diverse geography in Nevada creates a great study and wonderful visiting destination. Nevada is more famously known for its extravagant hotels and casinos in the city of Las Vegas. However, in this study, you will discover transitions Nevada experienced before entering the United States, reasons for statehood and familiarize yourself with the various areas of lands and activities Nevada contains.
In this unit study supplement, you will learn fun facts about Nevada, geography, educational field trip opportunities, free printable downloads, and more that will enhance your study of the state.
You can also download our list of PreK-12 interactive lessons that align with your study of interesting facts about Nevada.
Nevada Fast Facts
Became a State

October 31, 1864

Order it Joined the Union

36th state

State Capital

Carson City

State Abbreviation

NV

Border States
State Flag
State Songs
State Flower

Sagebrush

State Nicknames

Silver State
Battle Born State
Sagebrush State

Notable Nevadans

Andre Agassi, Professional Tennis Player
Pat Nixon, Former first lady
Lute Pease, Pulitzer Prize winner, artist
Henry Fountain Ashurst, producer/actor
Bryce Harper, baseball player
Amy Purdy, professional snowboarder
Kurt Busch, professional racer
Historical Facts About Nevada
Modern day "Nevada" was inhabited long before Europeans arrived on set. Several Native American tribes lived in this land many years before. These tribes included the Shoshone, Paiute, Washoe, and Mohave tribes. Francisco Garces, a Spanish explorer and missionary was the first European to enter Nevada. Afterwards, Europeans continued to trickle in throughout the 1800's. In 1827, an explorer named Jedediah Smith primarily mapped out the area for later travelers.
At first, Nevada was a part of Spain, until Mexico claimed it during their War of Independence. In 1821, Mexico won their independence from Spain, and officially owned Nevada as a part of their territory of Alta California. However, The United States soon acquired Nevada and much more land in the Mexican-American War through the Treaty of Guadalupe Hidalgo. America gained over 525,000 square miles of land in exchange for $15,000,000.
As official territory of the U.S.,  Nevada was included in the Mexican Cession Territory until it combined with the territory of Utah in 1850. Mormons created a settlement along the future border of Nevada and Utah, but conflict quickly arose between them and residents of Nevada. Federal troops were sent to the territory after receiving complaints regarding the Mormons. As a result, the Mormons left, then non-mormons took over and launched a separate statehood. On March 2, 1861 Nevada split from Utah and became its own territory. During this time, many people passed through Nevada on their way to the California gold mines amid the Gold Rush from 1848 -1855. Nevada's population was later boosted when large amounts of silver were found within the territory in 1859.
Despite Nevada's small population that disqualified their admittance into the union, they were accepted eagerly and urgently as a state. Nevada was one of two states that was accepted into the Union during the Civil War (hence the nickname: Battle Born State). Abraham Lincoln's reelection was falling short and he required the support of an additional state in order to be elected again and incorporate his Pro-Northern ideas into the constitution and end the war. Urgently, Nevada requested statehood, sending a 16,543 word telegram, costing $4,303.27 (equivalent to $67,332 in 2017) to assure timely acceptance. On October 31, 1864 Nevada was admitted into the United States as the 36th state, just 8 days before the 1864 presidential election. Nevada then, supported Lincoln through the end of the war.
TimeLine
1775
Francisco Garces is the first European in Nevada.
1821
Mexico claims territory after winning Independence from Spain.
1827
Jedediah Smith enters Las Vegas Valley.
1828
Peter Skene Ogden travels the Humboldt River.
1848
Mexico cedes Nevada and other territories to the U.S. after the Mexican-American War.
1850
Nevada added to Utah Territory.
1851
Mormons set up a station that lead to California goldfields.
1857
Federal troops sent to Nevada after complaints sent from non-mormons in Nevada.
1859
The Comstock Lode, a silver deposit is found.
1860
Paiute War (also known as Pyramid Lake War).
1861
Nevada becomes a territory separate from Utah.
1861
Carson City is named the capital of Nevada.
1864
Nevada is admitted into the Union and becomes the 36th state of the nation.
1912
Pat Nixon, first lady (1968-75) to President Richard Nixon born in Ely, Nevada.
1931
Nevada legalized gambling again. Boulder (now Hoover) Dam construction begins
1935
Hoover Dam renamed after President Herbert Hoover is completed.
1941
Las Vegas strip was established.
1951
 Nuclear testing in Nevada begins.
1956
Flamingo Hotel opens.
1966 – 1998
Circus Circus, MGM Grand, Mandalay Bay, Venetian and The Bellagio hotels and casinos open.
1992
Nuclear testing in the state ceases
Bring history and geography to life with Time4Learning's interactive online social studies curriculum for grades 2-12.
Geographical Facts About Nevada
Nevada geography contains deserts, rivers, lakes, and mountains; within its beauty is diversity and extremity. The State holds 17 counties with a population of 2,998,039 (as of 2017).  It is 33rd largest in population, but 7th largest in land area. Nevada posses 150 mountain ranges, making it the most mountainous state. 30 of her mountains exceed 11,000 feet and the highest (Boundary Peak) reaches 13,140 ft.
Furthermore, Nevada is also the driest state in the U.S., holding many deserts like The Great Basin Desert, Colorado Plateau, Mojave Desert, Sonoran Desert and Smoke Creek Desert. Ironically, Nevada also includes many bodies of water such as Lake Tahoe, Colorado River, Lake Mead, Pyramid Lake and more. Indeed, the land of Nevada carries many diversities in land, from mountains to deserts to lakes.
Below are some interesting facts about Nevada's geography:
Nevada was named for its snowy mountains in the winter. "Nevada" means "snow covered" in Spanish.
Nevada is the largest gold-producing state in the nation and second in the world behind South Africa.
Nevada once held a destination that tested nuclear weapons. 928 nuclear tests took place between 1951 to 1992. The destination was located in the southeastern Nye County, Nevada desert about 65 miles northwest of Las Vegas.
The Hoover Dam was built during the Great Depression in 1931. It is located between the U.S. states of Nevada and Arizona. It increases electric power, helps flood control and controls river regulation. The construction was completed in 1936.
Nevada contains the second lowest point in the Western Hemisphere, 282 ft below sea level.
Las Vegas, located in southern Nevada,  holds more hotel rooms than any other place in the world.
85% of Nevada is owned by the federal government.
Nevada State Map
Download our FREE Nevada state map printable. Use it as a coloring page or use it to plot the state's geographical features.
Activities for Children in Nevada
One of the many perks of homeschooling is that you can take the learning outside. Do you currently homeschool in Nevada or plan to visit the state in the near future? If so, there are a plethora of educational opportunities, even some free ones, all around the state. Below are just a few ideas to get you started:
Nevada Freebies and Deals for Homeschoolers
Nevada Learning Games for Children
Take your kid's online learning experience a bit further with these resources to assess your child's knowledge about Nevada and learn even more about the Silver State.