Juneteenth History and Celebrations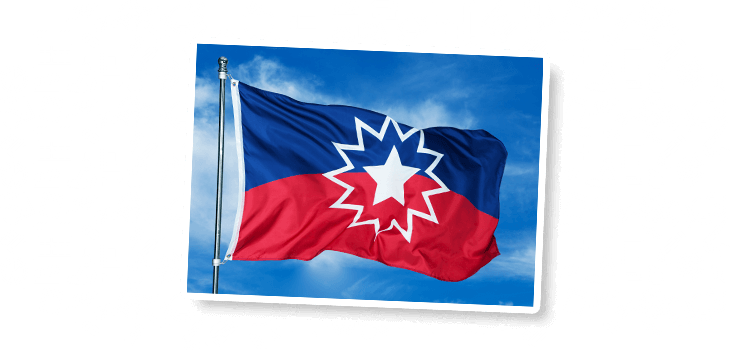 Each Fourth of July, our nation celebrates independence from Great Britain. Did you know our nation has a second holiday dedicated to freedom? Juneteenth is a day designated to honor and commemorate the end of slavery in the United States. On June 19, 1865, federal troops finally reached one of the deepest parts of the former Confederacy located in Galveston, Texas where they enforced the law proclaiming all enslaved people were freed. In 1938, by proclamation, and later in 1979 through legislation, Texas became the first to designate Juneteenth as a state holiday with other states joining in over time.
While June 19th is the oldest and longest-running African American holiday, and long ago earned its place in U.S. history, it didn't become an official federal holiday until June 17, 2021. This date is now recognized as a significant milestone in American history, offering an opportunity for all citizens to reflect on our nation's past, celebrate this vital step forward, and look to the future.
Why is it called Juneteenth? The name became an abbreviated version of the month (June) and date (nineteenth). It is also known as Jubilee Day, Emancipation Day, and Freedom Day. Learn more about our nation's newest federal holiday as you plan your family's Juneteenth celebration!
The History of Juneteenth
President Abraham Lincoln issued the Emancipation Proclamation on January 1, 1863, declaring all slaves being held in states rebelling against the Union, "shall be then, thenceforward, and forever free." Since this targeted those states of the Confederacy, the actual enforcement did not progress until the Union Army advanced and gained control of each area – one by one.
Due to its somewhat isolated location from the rest of the Confederacy, Texas did not get a lot of attention from Union troops during the Civil War. Because of this, more slave owners moved to the area. By 1865 the estimated population of enslaved people in the Lone Star State grew to 250,000.
After the fall of New Orleans, Galveston, Texas served as a vital Confederate supply port on the Gulf of Mexico until the Union Army secured control of the Mississippi River, cutting Texas off from the rest of the Confederacy. Its role quickly diminished for the war effort, but the area continued to experience growth in imports, exports, and immigration. Those enslaved played an invaluable part in this expansion.
On June 19, 1865, U. S. Major General Gordan Granger and his men arrived in Galveston. It was almost two-and-a-half years after the Emancipation Proclamation was signed, and over two months after the official end of the Civil War. Major General Granger read the following General Order No. 3 which states in part:
"The people of Texas are informed that, in accordance with a proclamation from the Executive of the United States, all slaves are free. This involves an absolute equality of personal rights and rights of property between former masters and slaves, and the connection heretofore existing between them becomes that between employer and hired labor."
As word quickly spread, the newly freed men and women launched jubilant celebrations. The first Juneteenth was born. Later that year, the 13th Amendment was added to the Constitution formally abolishing slavery in the United States.
The Juneteenth Colors and Flag
The original Juneteenth flag was designed in 1997 by Ben Haith, activist, and founder of the National Juneteenth Celebration. It was revised and patented in its present form in 2000.
The Juneteenth Flag is rich in symbolism. The choice of red, white, and blue signifies the tie to the U.S. flag – showcasing equal freedoms allowed to all Americans, including those formerly enslaved and their descendants. The placement of the colors is also significant. The blue above represents a new, rising horizon for Black Americans. The red below is symbolic of a foundation soaked in the blood, sweat, and sacrifice of slaves for generations. The star at the center is a nod to the Lone Star state, home of the first Juneteenth celebration, and also represents the spread of freedom for Black Americans in all 50 states. The larger starburst represents the expanding new beginnings for the formerly enslaved. The arch showcases rising opportunities for those freed from bondage and oppression of slavery.
The Juneteenth flag was created specifically for this holiday. The red, black, and green Pan-African flag created in 1920 to represent the African Diaspora may also be displayed at Juneteenth celebrations.
How to Celebrate Juneteenth
For many African American families, Juneteenth celebrations have long been a part of their traditions. Outdoor gatherings with family, friends, and communities for barbecues, concerts, parades, contests, and rodeos are often a part of the festivities. Here are some Juneteenth activities that you can enjoy with your family.
Food – The warm weather is perfect for tasty grilled entrees and veggies. A Juneteenth menu historically includes foods and drinks that are red as a symbol of strength and resilience.
Music – As music played an important role during slavery – to uplift and encourage, share messages, convey history, and more – it is also at the forefront of Juneteenth celebrations. June is also Black Music Month! Enjoy live music or tune into favorite musical artists and genres inspired by African Americans including spirituals, blues, jazz, gospel, R&B, and hip hop. You can also visit the National Museum of African American Music as an additional resource.
Genealogy – Family ties are extremely valuable. Many African Americans had to rely on word of mouth to share and pass family history down through the years. This Juneteenth, dive into your family's roots. Create a family tree together and make a copy for each family member.
View the Emancipation Proclamation on the National Archives' website. Upon signing the Emancipation Proclamation, Abraham Lincoln declared: "I never in my life felt more certain that I was doing right than I do in signing this paper. . . . If my name ever goes into history it will be for this act, and my whole soul is in it."
Discuss racism with your children. Juneteenth opens the door to talk about this subject in an age-appropriate way. Share the historical context, the strides forward that have been made, and ways we can continue to improve race relations as a family, a community, and a nation.
Arts – There are many fantastic African American artists who share their experience and heritage through paintings, photography, sculptures, and more. The National Gallery of Arts offers an activity and lesson plan called "Paths from Enslavement". For those seeking a hands-on experience – create your own Juneteenth decorations, including flags, pictures, and banners!
Visit area museums and historic sites offering exhibits promoting Black history and culture. Many may offer free or discounted events for Juneteenth. Check our state field trip resources for suggestions.
Explore National Parks! Parks have long been a choice location for Juneteenth celebrations. Visit an African American Heritage site in person or virtually.
Research the Civil War, the end of slavery, the Civil Rights Movement, and leaders like Martin Luther King, Jr., and other historical figures who have impacted Black history.
Writing – Challenge your student to craft a poem or essay on Juneteenth from the perspective of one of the main participants. Example: As a federal soldier arriving in Galveston and witnessing what happened on June 19, 1865.
Watch documentaries, TV shows, and movies showcasing black history, culture, and Juneteenth, such as the PBS docu-series, Juneteenth Jamboree.
Read all about it! There are thousands of books showcasing Black history available for all grade levels. "Juneteenth for Mazie" by Floyd Cooper and "All Different Now" by Angela Johnson are just two examples.
Support Black-owned businesses in your area! Share your favorites with family and friends!
We hope you enjoyed our list. Above all, get involved! Use Juneteenth as a catalyst to make a positive impact on our nation. It can include something like volunteering to help a neighbor or cleaning up a local park, donating to a cause you believe in, or seeking ways to contribute to justice and equality issues. Encourage your kids to recognize that they can make a difference!
Read more about key figures and events in African-American History:
We would love to hear your family's Juneteenth traditions! Please share in the comments.