Unit Study Supplement: Utah Facts, U.S. 45th State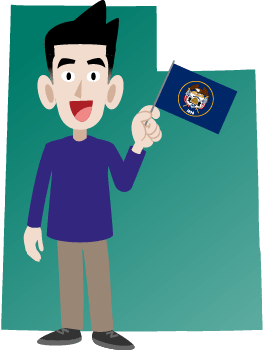 A theory that is largely accepted as a fact about Utah, is that its name is derived from the Native American tribe "Ute" which could mean "they who are higher up" or "people of the mountains". However, the origin and etymology of the name Utah is unclear.
Widely known as having the best snow on Earth, and famous Arches National Park, this unit study supplement will help you navigate through some of the most interesting Utah facts for kids! Make sure to stay tuned to Time4Learning's series of United States unit study supplements. Your homeschooler can learn about each state with tons of information that includes historical and geographical facts, educational activities, field trip ideas, and more. You can also download our list of PreK-12 interactive lessons that align with your study of Utah facts and history.
Utah Fast Facts
Became a State

January 4th, 1896

Order it Joined the Union

45th state

State Capital

Salt Lake City

State Abbreviation

UT

Border States
State Flag
State Songs
State Flower

Sego Lily

State Nicknames

The Beehive State

Notable Utahns

David Archuleta- singer, songwriter and actor
Julianne Hough- professional dancer, actress and singer
The Osmonds- family music group
Chrissy Teigen- model and author
Brendon Urie- singer and songwriter
Wakara- Shoshone leader in the late 1800's who acted as a diplomat and warrior
Butch Cassidy- Outlaw from Circleville
Philo T. Farnsworth- The inventor of the television
Historical Facts About Utah
Thousands of years before the arrival of Europeans the Navajo, Shoshone, Goshute, Paiute, Anasazi and Ute peoples inhabited the area. Ancestral pueblo tribes carved their houses into the sides of mountains, lived in teepees, or constructed their houses of straw. The cliff dwellings of the Anasazi can still be seen today.
Juan Antonio de Rivera was the first European to lead an expedition through Utah in 1765. He found the Colorado river and claimed the land for Spain. In 1776, Franciscan priests from Mexico also explored the land looking for a way to California. Between the late 1700s and early 1800s travelers through Utah were mostly fur trappers looking for new hunting grounds. Jim Bridger was one of these men. He was the founder of the Great Salt Lake. Jedediah Smith, another Utah pioneer, traveled through the area and found a pass through the Rocky Mountains. John C. Fremont was another prominent explorer who made detailed maps of the area. These maps greatly helped future settlers.
In 1830, Joseph Smith formed the religious group called the Mormons. The Mormons were persecuted wherever they tried to settle. In 1844, when Joseph Smith was killed by an angry mob in Illinois, the Mormons decided they needed to find a new place to settle. They decided on Utah, since at the time it was so sparsely populated. In 1847, led by Brigham Young, a group of 148 Mormons settled in Utah. The following year 1,650 more Mormons arrived. The settlements grew rapidly forming new towns such as, Ogden, Provo, and Farmington. By 1850 there were more than 11,000 Mormons in Utah. They called their land the State of Deseret.
In 1848, the United States gained control of Utah from Mexico during the Mexican-American war. Over the following years, disagreements between Mormon leaders and the U.S government kept Utah from becoming a state.
In the 1860s, Utah had started to become more connected to the rest of the country. In 1861, the final link of the First Transcontinental Telegraph was connected in Salt Lake City. In 1869, the Transcontinental railroad was also connected in Utah. On January 4th, 1896, Utah finally became a state.
Today, Utah is growing rapidly. The major industries are mining, cattle ranching, salt production, and tourism to its many natural wonders.
Online learning for kids is fast, simple and easy using the timeline below to put Utah's history facts into perspective.:
500 B.C
The Anasazi people lived in the region.
1300 A.D
The Anasazi civilization disappears.
1600s
The Native American Ute and Shoshone inhabit Utah.
1765
Juan Antonio de Rivera explores Utah.
1776
Franciscan priest from Mexico venture North looking for a route to California.
1821
Mexico becomes independent from Spain and claims Utah.
1824
Jim Bridger is the first European to find the Great Salt Lake.
1847
The Mormons settle in Utah and found Salt Lake City
1848
Utah becomes part of the United States after the Mexican-American war.
1849
The Mormons name the area the state of Deseret.
1850
The Utah territory is established by U.S Congress.
1861
The First Transcontinental Telegraph is connected in Salt Lake City.
1869
The First Transcontinental Railroad is completed in Utah.
1896
Utah becomes the 45th state.
1919
Zion National Park is established.
2002
The Winter Olympics are held in Salt Lake City.
Geographical Facts About Utah
Can your homeschooler locate Utah on this printable U.S. map? The mountainous valleys of Utah are home to pine forests. Not only mountainous, Utah's biomes also include sand dunes and arid deserts. Utah connects the Rocky Mountains, Great Basin, and Colorado Plateau.
The Eastern half of the state is very arid because Utah is in the rain shadow of California's Sierra Nevada and the Wasatch Mountains. Utah is home to stunning landscapes, as evidenced by their various National Parks, like Zion and Arches.
One cannot talk about Utah's geography without mentioning the Great Salt Lake. Coined "America's Dead Sea", it is the largest saltwater lake in the Western Hemisphere, even saltier than the ocean.
To enhance your study of Utah's geography, explore a map of the state, then download our printable Utah map below and mark it up with your child. Here are some Utah geography facts you and your homeschooler may want to note about Utah's unique features.
Known as the "mighty five," Utah has five National Parks: Zion, Bryce Canyon, Capitol Reef, Arches, and Canyonlands.
The Rocky Mountain range encompasses the center and Eastern part of Utah. The annual snowfall in Utah's section of the Rocky Mountains is 47 inches, making it a popular ski destination.
Utah is the 13th largest state by area at 84,899 sq miles.
The Great Salt Lake is located in the Northwest section of Utah and has eight official islands. The largest is Fremont Island in the Northeastern part of the lake.
The Great Salt Lake has an average depth of 13 feet, and is 34 feet deep at its deepest point.
Salt Lake City, the state's capital is located north-central part of the state. A little over 100 miles south of the border with Idaho.
Rainbow Bridge is nature's abstract sculpture carved of solid sandstone. It is the world's largest natural rock span. It stands 278 ft wide and 309 ft high. It is located in the South of Utah about 6 miles from the border with Arizona.
Utah is made up of 29 counties.
Utah State Map
Download our FREE Utah state map printable. Use it as a coloring page or use it to plot the state's geographical features.
Activities for Children in Utah
Whether you homeschool in the state of Utah, or are just visiting, below is a list of field trip ideas that will bring the facts about Utah to life. You'll find everything from science museums to outdoor activities in national parks.
Bryce Canyon National Park – Majestic and full of activities for nature lovers. Some of these activities include stargazing, hiking, scenic driving and winter sports. The park has exceptional stargazing and you can take a class with a Park Ranger on how to use a telescope to view planets (most commonly Venus and Jupiter). During winter, enjoy snowshoeing and cross country skiing.
Zion National Park – See the splendor of narrow canyons that have been whittled away by rivers. During peak season you can catch a free shuttle ride through the main roads of the park. Nearby is Grafton ghost town, which was featured in the movie "Butch Cassidy and the Sundance Kid." The trails vary in intensity, and there are many options depending on your level. In addition to trails, there are many points with observation views. One of these observation points is Canyon Overlook which offers views of the national park's gorge.
Dinosaur Quarry (Jensen) – The Quarry is part of Dinosaur National Monument. This area contains some of the highest concentrations of dinosaur fossils from the Jurassic Period. Observe dinosaur bones that are on display, as well as dinosaur bones that are still being excavated and are exposed in the rock. You are able to touch many of the dinosaur bones.
Utah Freebies and Deals for Homeschoolers
Utah Learning Games for Children
Learn even more about the Beehive State and test your child's knowledge about Utah facts and information with these free learning resources.