Unit Study Supplement: Colorado Facts, U.S. 38th State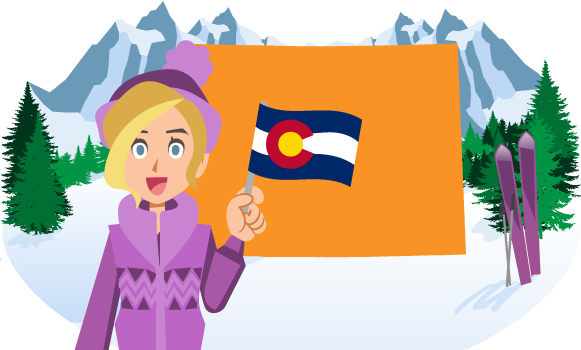 Colorado has a lot going on, between its beautiful nature and its deep history. Did you know that the state got the name Colorado, which is Spanish for "colored red," because of the river that runs through it? It is also one of the states that make up the Four Corners National Monument!
Discover more about the history and geography of the Centennial State in this homeschool unit study supplement. This is part of Time4Learning's full series of United States unit study supplements.
You can also download our list of PreK-12 interactive activities that align with your study of interesting facts about Colorado.
Colorado Fast Facts
Became a State

August 1, 1876

Order it Joined the Union

38th state

State Capital

Denver

State Abbreviation

CO

Border States
State Flag
State Song
State Flower

Blue columbine

State Nickname
Notable Coloradans

Clara Brown, slave
Tim Allen, actor
M. Scott Carpenter, astronaut
Byron White, Justice of U.S. Supreme Court
John Kerry, politician
AnnaSophia Robb, actress
Historical Facts About Colorado
The history of Colorado began long before the state joined the Union. In 500 A.D., a group of American Indians called the Anasazi culture inhabited Colorado. The culture was known for making and weaving baskets, and were hunter-gatherers. The Anasazis developed and lived in Adobe structures that were located on the sides of cliffs.
As the years went on, different Indian tribes called Colorado their home: the Comanche, Apache, Cheyenne, Ute, and Arapaho tribes. Some of these tribes were still in Colorado when the land was first visited by Europeans.
In 1541, Spanish explorer Francisco de Coronado first visited Colorado in search of gold. Once he found that there was no gold, Francisco left, and the land remained unexplored until 1682. That year, French explorer Robert de La Salle claimed the land for France.
For a while after France's purchase, Colorado remained undeveloped. However, in 1803, the United States bought Colorado as part of the Louisiana Purchase, with help from Thomas Jefferson. An American by the name of Zebulon Pike began to map out the land in 1806. However, Zebulon and his crew were taken as prisoners by the Spanish when they accidentally crossed the Mexico border. They were released a year later.
By 1821, settlers had begun to move into Colorado with help from the Santa Fe Trail. This trail went from Missouri to New Mexico, and allowed easier access to southeast Colorado. In 1833, the first permanent settlement, Fort Bent, was created along the Santa Fe Trail. However, further development was halted during the Mexican-American war.
Once the war ended in 1848, development of western Colorado began. This exploration led to the discovery of gold in 1858, leading to spike in the state's population. Because of this growth, the U.S. designated Colorado as an official territory in 1861.
More growth led to the Denver Pacific Railway in 1870, and Colorado finally became a state on November 7th, 1876. It was nicknamed the Centennial State because it became a state in honor of the 100th year of the Declaration of Independence. This occurred under the administration of President Ulysses S. Grant.
To increase your child's love for online learning, they can study the timeline which includes highlights of important dates in the history of the Centennial State as well as interesting facts about Colorado.
500
Anasazi, meaning "ancient ones," first occupy Colorado. They are known for their basketmaking.
1541
The Spanish explorer Francisco de Coronado is the first European to explore Colorado, searching for gold. He is unsuccessful and leaves.
1682
French explorer Robert de La Salle claims Colorado land for France.
1803
The United States gains control of Colorado from France after acquiring the Louisiana Purchase.
1806
Colorado is first explored by Zebulon Pike and his crew. They begin hiking up a tall mountaintop, later named Pike's Peak after the explorer. The crew is captured and imprisoned in Mexico by the Spanish.
1807
Zebulon Pike and his crew were released from imprisonment, after realizing that the crew crossed into Mexico accidentally.
1821
Population in Colorado has increased since being added to the United States. The Santa Fe Trail, which connects New Mexico to Missouri, is created and Colorado becomes more accessible.
1833
Colorado's first permanent settlement and trading post is established in Fort Bend, located along the Santa Fe trail.
1848
Mexican-American war ends, and the United States takes ownership of western Colorado.
1858
Gold is discovered in the newly explored land of western Colorado. This discovery opened the door for more people to come to the city.
1861
All the growth caused by the gold rush leads to Colorado becoming a U.S. Territory,
1870
The Denver Pacific Railway ran between Wyoming and Colorado, attracting even more people to the state.
1876
Colorado officially becomes the 38th state to join the union, one hundred years after the Declaration of Independence was created.
1900
Gold production in Colorado continues; the small city of Cripple Creek is the second richest gold camp in the world.
1923
Oil is discovered in a field north of Fort Collins, and the economy booms.
1982
Economy collapses in the state when Exxon announces its closure of oil development fields in three counties. Several thousand are fired.
2007
Colorado's largest recorded avalanche strikes at Berthoud Pass, a skiing location.
Bring history and geography to life with Time4Learning's interactive online social studies curriculum for grades 2-12.
Geographical Facts About Colorado
Colorado is a diverse state in its nature; it is home to many different landscapes, such as mountains, glaciers, forests, rivers, and lakes.  It is ranked 8th in terms of land size, but 22nd for population size, which means a lot of its land space is not heavily developed. The state is also part of the four corners monument, which is the point where the states Colorado, Arizona, New Mexico, and Utah meet.
When studying Colorado's geography, start by having your homeschooler locate the state on this printable map of the United States. To get a more in-depth view, explore this map of the state, then download our printable Colorado map below and have your child label important cities and landmarks. Learn more about Colorado's geography and its unique features with these interesting facts.
The state is best known for skiing because of its mountains and cold weather. As the leading ski state in all of North America, Colorado makes $4.8 billion off of the sport annually.
The name Colorado is a Spanish word that means "colored red," and was given to the state because of the red-mud color of the Colorado River, which runs southwest from the top center of the state.
Four Corners, which is the meeting point of Colorado, Arizona, New Mexico, and Utah, is the only place in the U.S. where four states meet.
The capital of Colorado, Denver, is called the Mile High City because it has an elevation of 5,280ft above sea level. That means Denver is exactly one mile above sea level!
Boulder, about 25 miles northwest of Denver, is the only city in the U.S. with a glacier.
The highest city in the United States is located in Colorado. It is called Leadville, about 100 miles southwest of Denver, and has an elevation of 10,430ft above sea level.
The Rocky Mountain National Park is also located in Colorado, about 70 miles northwest of Denver. The mountain range continues north and south of park as well.
The United States Air Force Academy is located 60 miles directly south of Denver, and was chosen because of all the open land that was available.
36% of Colorado's land is owned by the U.S. Government because of its many national parks, monuments, and sanctuaries.
The Colorado state flag has a white stripe in the middle of it to represent the snow capped mountains.
Pikes Peak, which was the first mountain discovered in Colorado, is about 100 miles southwest of Denver, and about 20 miles west of Colorado Springs. It inspired the song "America the Beautiful" because of its gorgeous views.
Colorado State Map
Download our FREE Colorado state map printable. Use it as a coloring page or use it to plot the state's geographical features.
Activities for Children in Colorado
Do you homeschool in the state of Colorado? Are you planning a trip to the Centennial State soon? With lots of land to explore, there's so much to see! Below are a few field trip ideas that are fun and educational, and will help supplement the Colorado facts unit study. Have fun!
Colorado Freebies and Deals for Homeschoolers
Colorado Learning Games for Children
Looking for additional ways to learn fun facts about Colorado? Want to find out how much your children have learned about the Centennial state? The free learning resources below allow you to test their knowledge, and also give your students the opportunity to practice their vocabulary, spelling, and more.