Unit Study Supplement: Thomas Jefferson, U.S. 3rd President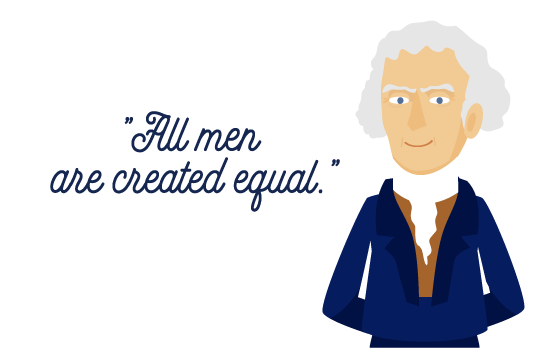 A study of our third president, Thomas Jefferson, lends itself to a wide variety of educational topics: the American Revolution, slavery, international trade, Westward expansion, foreign languages, and many more. There is enough content to keep students busy for weeks! No single American Presidents unit study could teach you everything you'd like to know about our founding fathers, but we've created a resource that will cover some of the important facts about Thomas Jefferson.
Would you like to know how long Jefferson was president? Have you wondered, "What is Thomas Jefferson known for?" Are you curious how many cities are named after him? Then read on to discover these Thomas Jefferson facts and many more.
Thomas Jefferson Fast Facts
Presidential Order
3rd President
Political Party
Democratic-Republican
Born
April 13, 1743
Death
July 4, 1826
State of Birth
Virginia
Name of Spouse
Martha Wayles
Served as President
1801-1809
Age When Elected to Office
57 years old
Vice Presidents

Aaron Burr
George Clinton
I was bold in the pursuit of knowledge, never fearing to follow truth and reason to whatever results they led, and bearding every authority which stood in their way.
Thomas Jefferson Timeline
1743
Before America was even a country, Thomas Jefferson was born in the colony of Virginia in his family home, Shadwell.
1757
Upon his father's death, he inherited approximately 5,000 acres of land, including the Monticello plantation.
1758
Began boarding with the Reverend James Maury where he studied history, science, and the classics.
1760
Entered the college of William & Mary where he studied multiple foreign languages, the violin, and law.
1767
Was admitted to the Virginia bar.
1768
Began construction on his primary residence, Monticello, with the work completed by local craftsmen and Jefferson's slaves.
1769
Began serving a six-year term in the VA House of Burgesses, where he often pursued slavery reforms.
1770
His Shadwell home was destroyed by fire, including 200 cherished books he had inherited from his father.
1772
Married his third cousin, a 23-year old widow, Martha Wayles Skelton.
1775
Became the primary author of the Declaration of Independence.
1776
Was elected to the VA House of Delegates for Albemarle County.
1779
Was elected governor of Virginia this year, and the following year, for single-year terms, during which time he transferred the capital of the state from Williamsburg to Richmond.
1781
Escaped Richmond, VA just ahead of its capture and burning by British forces.
1782
Martha Jefferson dies following the birth of her sixth child with Thomas.
1783
Was appointed as a VA delegate to the U.S. Congress of the Confederation.
1784
Authored the "Land Ordinance of 1784," which outlined nine new states and banned slavery in all U.S. territories.

Was sent as a minister to France to help negotiate trade agreements with England, France, and Spain.
1789
Returned to America, intending to return to France soon, but was instead appointed by President George Washington as the first Secretary of State of the U.S.
1796
Ran for, and lost, the presidency but became Vice President to John Adams.
1800
Elected the third president of the U.S.
1804
Re-elected for a second term.
1819
Founded the University of Virginia, which he envisioned as a university free of church influences.
1821
Began writing his autobiography, primarily focused on the Declaration of Independence, and the reforming of the government of VA.
1826
Died on July 4, on the 50th anniversary of the Declaration of Independence.
1927
Was carved as one of the figures of the Mount Rushmore National Memorial.
1943
Had the Jefferson Memorial in Washington D.C. dedicated in his honor.
Interesting Facts About Thomas Jefferson
Naturally, a Thomas Jefferson unit study should definitely include his main personal, political, and historical accomplishments. However, homeschoolers will also enjoy discovering some of the lesser known facts about the 3rd President of the United States.
Thomas Jefferson was a polyglot. That means he knew multiple foreign languages. It's believed that he knew English, French, Latin, Greek, Spanish, and Italian.
An avid reader, by the time he was 54 years old, Jefferson had collected over 6,500 books.
When the Library of Congress was burned down by the British in 1814, he sold them more than 6,000 of his own volumes.
From 1780-1785 Jefferson compiled notes and helped to write a book called "Notes on the State of Virginia," about the history, geography, politics, and culture of the state. It was published first in French in 1785, then in English in 1787.
During his time on the Congress of the Confederation, Jefferson recommended an American currency based on the decimal system, which was adopted and still is used to this day.
Because he discovered that his mail was often opened by postmasters, he created an invention called the Wheel Cipher that could encrypt all his future important communications.
During his Vice-Presidency, he and James Madison secretly wrote the "Kentucky and Virginia Resolutions," which declared that the federal government had no right to exercise powers not specifically delegated to it by the states. Some historians believe this document even helped contribute to the Civil War.
Thomas Jefferson's likeness appears on two forms of American currency: the nickel and the two-dollar bill.
14 cities in the U.S. are named after Thomas Jefferson.
During his first term as president, the United States acquired 828,000 miles of land from France, the Louisiana territory, now called the "Louisiana Purchase."
This purchase led to the Lewis and Clark Expedition, which was the first American expedition across the western portion of the continent.
Thomas Jefferson battled with pirates. During his presidency, he sent the American Navy to battle pirate ships that had been attacking American merchant vessels.
At the time he lived there, the White House was called "The Presidential Mansion."
He wrote his own epitaph for his tombstone, where he listed what he felt were his major accomplishments.
Hands-On Activities for Thomas Jefferson Unit Study
You've learned a lot about Thomas Jefferson's accomplishments and life story, but we all know there is no better way to make learning stick than by multisensory learning. Below, you will find ideas, organized by grade level, for incorporating hands-on learning into your Thomas Jefferson President Facts unit.
Elementary Thomas Jefferson Activities
How many more books did Jefferson have than you? Find out! Have your student search throughout the house and do an inventory of all your books (this is a great time to teach tally marks, the unary numeral system). Then, when you know the total, have them subtract it from Jefferson's number of volumes, 6,500.
Using a printable map of the United States, chart out the land covered by the Louisiana Purchase to visualize just how much property was added to the U.S. during Jefferson's presidency.
Middle School Thomas Jefferson Activities
Like Jefferson did, have your middle schooler create his/her own cipher code and practice writing a short letter using the code, which a sibling, friend, or parent can try to decode.
Most of Thomas Jefferson's life and even political career were centered in the state of Virginia. Use this Virginia vocabulary list and games to practice spelling, vocabulary, and writing activities.
High School Thomas Jefferson Activities
After Jefferson wrote his first draft of the Declaration, the other members of the Declaration committee, and the Continental Congress made 86 changes to Jefferson's draft, including shortening the overall length by more than a fourth. Have your high schooler practice revising sentences with these free writing resources.
Have your high schooler begin to understand the complexity of international trade by choosing a popular product and discovering exactly how it is created from concept to sale. How many different countries contribute to materials? Manufacturing? Shipping? Sales?
Quick Thomas Jefferson Spelling Words
| | |
| --- | --- |
| declaration | slavery |
| independence | Virginia |
| ordinance | territory |
| colonist | Louisiana |
| resolution | expedition |
Additional Learning Links for Thomas Jefferson