Unit Study Supplement: West Virginia, U.S. 35th State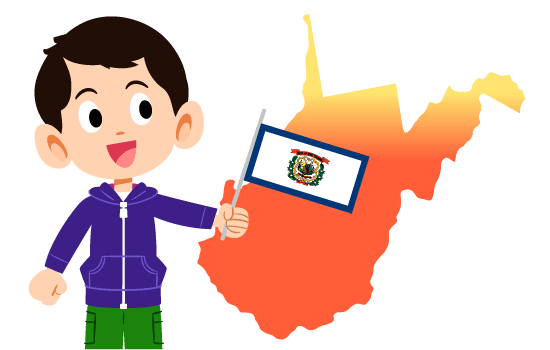 How did West Virginia get its name? What is it known for? What happened in the state throughout its history? Find the answers to these and other questions in our West Virginia unit study supplement!
At first, it was going to be called "Kanawha" in honor of a Native American tribe living in the area; however, instead officials decided to capture the state's history as being part of Virginia (until the Civil War) by naming it "West Virginia." You may know that Virginia was named after the nickname of Queen Elizabeth I, who was known as the Virgin Queen.
West Virginia's nickname of The Mountain State arose because it is the only state completely within a mountain region, that of the Appalachian Mountains.
Want to learn even more interesting facts about West Virginia? Keep reading to learn more historical facts about West Virginia, through a West Virginia history timeline, geography facts and more. Time4Learning members can download our list of PreK-12 interactive activities that align with your study of West Virginia. Here are a few West Virginia facts for kids:
West Virginia Fast Facts
Became a State:

June 20, 1863

Order it Joined the Union:

35th state

State Capital:

Charleston

State Abbreviation:

WV

Border States:

State Flag:

State Song:

State Flower:

Rhododendron

State Nickname:

Notable West Virginians:

Brad Paisley, singer
Chuck Yeager, first pilot to break the sound barrier
George Brett, baseball player
Deron Williams, basketball player
Michael W. Smith, singer
Pearl S. Buck, author and civil rights activist
Randy Moss, football player
Thomas "Stonewall" Jackson, Confederate general
West Virginia Historical Facts
Discoveries of spear points in West Virginia have dated the arrival of humans to be at least 10,500 years ago (some say about 14,000 years ago). Moundbuilders (500 BC to 100 AD), called the Adena, created earthworks that are still visible in Charleston and Moundsville. When European explorers arrived, they found several Native American people living in the area. These included the Cherokee, Iroquois, Occaneechi, Nottaway, Manahoac, Monacan, Tutelo, Meherrin, and Saponi tribes.
West Virginia began as a part of Virginia following the British arrival in the 1600s. Settlement of Virginia's western frontier increased as a result of Virginia's second charter and was further encouraged by Virginia's Governor William Berkeley after 1660. In 1730, Virginia's government, controlled by the British, offered families 1,000 acres each to settle in what is now West Virginia. This resulted in the taking over of Native American lands, so many tribes began to support the French against the British in the French and Indian War (1756-1763). Since England won, West Virginia remained a part of Virginia during the American Revolution (1775-1783) and beyond.
However, once the American Civil War broke, in 1861, western Virginia refused to secede from the Union with the rest of the state. Abolitionist activities, such as the raid on Harpers Ferry in 1859, signaled some of the opinions of the time. During the raid on Harpers Ferry, the abolitionist John Brown had tried to gain weapons to jumpstart the fight against slavery. Although the raid failed, the intensity of the anti-slavery movement increased. West Virginia separated from Virginia in 1861 and entered the Union as a free state two years later, in 1863.
Let's learn more interesting facts about the Mountain State using the West Virginia history timeline below. Learn the dates when these historical facts about West Virginia took place.
1671
Robert Fallam and Thomas Batts explored the Appalachian Mountains and discovered Kanawha Falls
1726
German settlers founded New Mecklenburg
1730
Virginia's government offered free land to those who would settle in West Virginia
1731
Morgan Morgan, a Welsh immigrant, established a settlement on Mill Creek
1748
George Washington surveyed the area
1756
Beginning of the French and Indian War between the British and the French over lands including West Virginia
1762
Shepherdstown, the oldest town in West Virginia, was founded
1763
End of the French and Indian War with a British victory (West Virginia remained part of Virginia)
1859
Raid on Harpers Ferry, which increased the momentum of the anti-slavery movement
1861
Beginning of the American Civil War, with West Virginia refusing to secede the Union along with the rest of Virginia
1862
Voters approved a new state constitution under the leadership of Governor Francis H. Pierpont
1870
Charleston became the capital of West Virginia
1875
Capital moved back to Wheeling
1885
Charleston became the capital once again
1908
Mother's Day was first observed in Grafton at Andrews Church
1921
West Virginia became the first state to have a sales tax
1977
The New River Gorge Bridge, the longest steel bridge in the western hemisphere, was built in Fayetteville (It is featured on the state quarter!)
Bring history and geography to life with Time4Learning's interactive online social studies curriculum for grades 2-12.
West Virginia Geography Facts
Now that you've learned some West Virginia history facts, let's check out the state's geography.
Do you see the shape of West Virginia as a leaping frog hopping to its southwest corner? With a western border consisting of the Ohio River and an eastern border following the Appalachian Mountains, its shape is definitely unique.
Almost 75% of West Virginia is covered in forest (the third most forested state in the US). Trees consist of cedar ash, cucumber tree, hemlock, hickory, pitch pine, and red spruce, as well as red and white oak, sugar and red maple, beech, yellow poplar, basswood, yellow birch, black cherry, locust, elm, chestnut, and dogwood. Wildflowers also cover the state, including the Virginia strawberry, potato, buttonweed, and bluebell. Wild onions called ramps are also grown in the state and are very popular.
A large variety of animals inhabit West Virginia. There are over 70 kinds of mammals,about 300 species of birds and more
Discover West Virginia's overall geography on this map of West Virginia. Then read through the following West Virginia geography facts. Print out the map of West Virginia provided below and add these items to the map.
Although somewhat up to interpretation due to its shape, West Virginia is bordered by Pennsylvania in the north, Virginia in the south, Ohio and Kentucky in the west, and Maryland and Virginia in the east.
The capital, Charleston, lies in the west-central part of the state.
The Ohio River forms much of West Virginia's western border.
The Potomac River, including its north and south branches, flows into the northeastern part of Virginia.
The Greenbrier River follows close to the border along the southeastern edge of West Virginia.
The Big Sandy River forms part of the border with Kentucky.
Northeast of the Big Sandy River is the Guyandotte River, and the Kanawha and New Rivers are even further northeast. Did you know that the New River is actually one of the oldest rivers in the world and flows south to north (unlike most rivers) as it was formed prior to any mountains?
The Elk River flows through central West Virginia.
The Cheat River is west of the Potomac in northern West Virginia.
Bluestone Lake is in the southeastern part of the state.
West Virginia's highest point is Spruce Knob, at 4,861 feet above sea level, on the South Branch of the Potomac River near the border with Virginia.
The lowest point is the Potomac River, at 240 feet above sea level, near Harpers Ferry.
West Virginia State Map
Download our FREE West Virginia state map printable. Use it as a coloring page or use it to plot the state's geographical features.
Activities for Children in West Virginia
How else can you learn fun facts about West Virginia? Take a trip to the Mountain State! Homeschoolers in West Virginia might have it easier, but both locals and out-of-towners will want to know about the best educational places to visit. Here are a few ideas to help you learn some West Virginia state facts:
Looking for more things to do with your kids in West Virginia? Check out this post full of field trip ideas in West Virginia!
West Virginia Freebies and Deals for Homeschoolers
If you don't have a lot of money to spend, you can still learn more West Virginia facts and information by visiting some free or low-cost places in the state. Visit the state's many fee-free state parks or check out some of these ideas:
West Virginia Learning Games for Children
Have you learned some interesting things about West Virginia? Test your knowledge of West Virginia facts for students with these free games and activities:
Custom text depending on what was picked.