Unit Study Supplement: Theodore Roosevelt, U.S. 26th President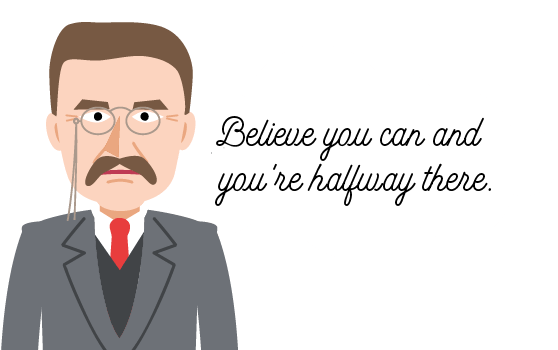 Theodore Roosevelt was the youngest president to serve and an extraordinary one. He worked very hard to improve the quality life for the average American. Born and raised in New York, Roosevelt was homeschooled, then went on to attend Harvard University and then later studied Law at Columbia. He entered the politics field afterwards, becoming a part of the New York legislature. After a tragic loss of his first wife and mother, he went to work on the ranch.
In 1886, he returned to New York and began to work in a variety of government jobs over the next few years. When the Spanish-American war broke out he created a volunteer cavalry regiment that became known as the "Rough Riders." He was a conservationist, creating land for future parks and helping to establish the forest service in the United States. Today, we will be exploring some facts about Theodore Roosevelt's presidency and life.
Theodore Roosevelt Fast Facts
| | |
| --- | --- |
| Presidential Order | 26th |
| Political Party | Republican |
| Born | October 27, 1858 |
| Death | January 6, 1919 |
| State of Birth | New York |
| Names of Spouse | Edith Kermit Carow Roosevelt |
| Served as President | 1901-1909 |
| Age When Elected to Office | 43 |
| Vice Presidents | Charles Warren Fairbanks |
Theodore Roosevelt Timeline
1858
Theodore Roosevelt born on October 27th
1876-77
September – Begins education at Harvard University
1880
June 30 – Graduates from Harvard with an A.B. Magna Cum Laude
October 27 – Marries Alice Hathaway Lee on his 22nd birthday
December – Enters Columbia Law School
1881
November – Elected to the New York State Assembly (youngest ever elected to the office)
1882-83
Roosevelt's first book, The Naval War of 1812, is published. The book helps modernize and build the U.S. Navy.
August 1 – Joins the National Guard; commissioned a Second Lieutenant
January 1 – Elected Speaker of Republican Assembly (minority leader)
1884
Returns home after receiving telegram his wife and mother are ill
February 14 – Mother Martha Bulloch Roosevelt dies of typhoid fever; hours later, wife Alice Hathaway Lee Roosevelt dies from kidney failure
June 3 – Delegate to the Republican National Convention
1889
May – Starts as U.S. Civil Service Commissioner in Washington, DC; holds position until 1895
1895
May 5 – Resigns Civil Service Commission to become Police Commissioner of New York City
May 6 – Elected President of the Board of Police Commissioners
1897
April 19 – Appointed Assistant Secretary of the Navy by President William McKinley
1898
Receives Lieutenant-Colonel commission and forms the "Rough Riders"
May to August – Serves in Cuba during Spanish-American War; promoted to Colonel
August 14 – The Rough Riders land at Montauk, Long Island, to begin a six-week quarantine
September 27 – Nominated by the Republican Party for Governor of New York State
November 8 – Elected Governor of New York State; serves until end of 1900
1900
November 6 – Elected vice president
1901
March to September – Serves as vice president
September 6 – President McKinley shot while Roosevelt is hiking in the Adirondacks
September 14 – Becomes 26th President of the United States, youngest to ever hold the office
1902
February – Begins first of 45 antitrust suits to dissolve business monopolies
1904-1905
Re-elected president
Establishes United States Forest Service
1906
Establishes numerous national parks and monuments
December – Awarded Nobel Peace Prize for mediating treaty of Russo-Japanese War
1909
March – Presidency ends
By 1909 there was an established 230 million acres of public lands
1910
Accepts Nobel Peace Prize (from 1905) in Norway
1912
February – Receives petition from Republican governors to accept nomination for president
August – Nominated as presidential candidate for Progressive party
October 14 – Shot in the chest before campaign speech; finishes speech totaling 84-minutes
November 5 – Despite receiving largest number of votes for a third-party candidate, loses presidential election to Woodrow Wilson
1914
February to April – Embarks on an expedition to explore an uncharted tributary of Amazon River
Sustains severe leg injury during expedition and nearly dies
May – Publishes Through the Brazilian Wilderness and Life Histories of African Game Animals
1919
January 6 – Dies in sleep at Sagamore Hill
Interesting Facts About Theodore Roosevelt
While learning about Theodore Roosevelt's accomplishments may be interesting, homeschoolers may also enjoy discovering the lesser known facts about the 26th President of the United States.
Roosevelt was able to recite obscure poetry and other content well over a decade after he read the documents.
Theodore and Franklin Roosevelt were fifth cousins. Eleanor Roosevelt was Theodore's niece. And Uncle Theodore presented the bride at Franklin and Eleanor Roosevelt's wedding.
Roosevelt was a college dropout, while Roosevelt graduated from Harvard, he left law school at Columbia without receiving a degree. Roosevelt had become focused on local politics and lost interest in a legal career.
In 1906 Theodore Roosevelt became the first American to win the Nobel Peace Prize for his success in ending the Russo-Japanese War
His nicknames include; Teddy, Trust Buster, TR and the Great Conservationist
Theodore Roosevelt had two pets a guinea pig; who he named Father O'Grady and a snake called Emily Spinach!
A sculpture of Theodore Roosevelt's head, measuring 60-foot high (18 m) is carved into the granite of Mount Rushmore, South Dakota
The teddy bear was named after Roosevelt, in response to a cartoon showing the president refusing to shoot a bear after it had been tied to a tree.
As the first conservationist president, he spearheaded the creation of the United States Forest Service, and established five new national parks.
His other jobs were quite varied: cattle rancher, deputy sheriff, historian, naturalist, explorer, author of 35 books, police commissioner, assistant Secretary of the Navy, governor of New York, war hero, and lawyer.
At 42, he was the youngest person to become president, when President McKinley was assassinated.
President Theodore Roosevelt officially named the White House in 1901.
Hands-On Activities for Theodore Roosevelt Unit Study
Now that you've learned about Theodore Roosevelt's accomplishments, try out some of these ideas, which we've organized by grade level, to enhance your Theodore Roosevelt Presidency Facts study.
Elementary Theodore Roosevelt Activities
Theodore Roosevelt was very active in the creation of the United States Forest, responsible for 42 million acres. Print out a map of the United States and have students color in the states where national parks were created.
Mr. Roosevelt was known as the father of our country, have your students use colored pencils or crayons to draw the sculpture at Mount Rushmore, where he is featured along with George Washington, Thomas Jefferson, and Abraham Lincoln.
Middle School Theodore Roosevelt Activities
Theodore Roosevelt wrote over 35 books. Have your child pick out a favorite book or article, and see how many words per minute they can read.
Theodore Roosevelt led a volunteer group, known as the "Rough Riders" into the Spanish American War. Write a short summary on the causes of the war.
High School Theodore Roosevelt Activities
In 1906, Mr. Roosevelt won the nobel peace prize for his success in ending the Russo-Japanese War. Write a short report on what he did to help assist this success.
Theodore Roosevelt was very active in writing, look at two of his books and write a comparison paper on the two pieces of work.
Quick Theodore Roosevelt Spelling Words
| | |
| --- | --- |
| youngest | desegregation |
| wealthiest | sophistication |
| heroism | upperclassman |
| courage | gentlemanly |
| assassination | visionary |
Additional Learning Links for Theodore Roosevelt
Want to extend your American presidents unit study even further? The following learning resources offer even more interesting facts about Theodore Roosevelt's life and times and will also give your homeschoolers the opportunity to test their knowledge of what they've learned so far.