Unit Study Supplement: Iowa, U.S. 29th State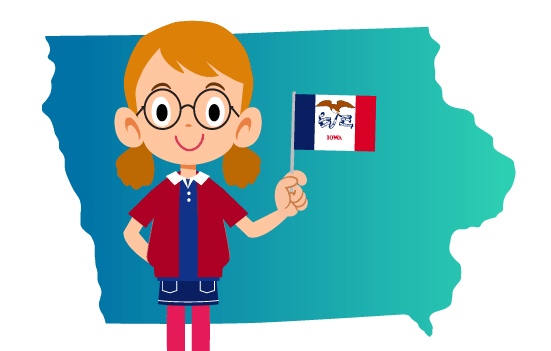 How old is Iowa? What is Iowa best known for? What is the state animal of Iowa? Learn these and other interesting facts about Iowa in our Iowa history timeline, fast facts and geography facts section.
Your students will learn fun facts and information about Iowa in this series of unit study supplements about all the states in the USA. Time4Learning members can download our list of PreK-12 interactive activities that align with your study of Iowa.  Let's start with the Iowa state facts below:
Iowa Fast Facts
Became a State:

December 28, 1846

Order it Joined the Union:

29th state

State Capital:

Des Moines

State Abbreviation:

IA

Border States:

Illinois
Minnesota
Nebraska

State Flag:

State Song:

State Flower:

Wild Prairie Rose

State Nickname:

The Hawkeye State

Notable Iowans:

Ashton Kutcher, actor
"Caroline Keen" (Mildred Wirt Benson), author of the Nancy Drew series
Cloris Leachman, actress
George Nelson, astronaut
Grant Wood, painter
Herbert Hoover, president
Johnny Carson, talk show host
Historical Facts About Iowa
Iowa is named after the Iowa River, which likely got its name from the local Ioway Native American tribe. Iowa's history began thousands of years ago (over 12,000 years ago), when the first Natives inhabited the area. Some of the Native American tribes that lived in what is present day Iowa were the Sauk, Mesquaki, Ioway, Sioux and Oto.
By the time European explorers arrived in the area, Native Americans already had complex social, economic and political systems in place. However, with the arrival of European trade, it also brought diseases that had a dramatic impact on the Native American population in Iowa.
In 1673 Marquette and Joliet explored the Mississippi region, including present day Iowa. By 1682, Robert Cavalier, Sieur de la Salle claimed all of the land that was drained by the great river and its branches for France. However, in 1762 France gave the territory to Spain and the region was under Spanish rule until 1803, when Napoleon Bonaparte gets the Louisiana Territory (which Iowa was part of) back for France. Although Napoleon had big plans for the region, he ultimately sold the Louisiana Territory to the newly formed United States government that same year.
Once under United States rule other Native American tribes such as the Illini moved into Iowa when they were forced to move west of the Mississippi river. However, this did not last as the westward expansion continued and Native Americans were forced to relinquish their lands for white settlers to move in. In 1833, the official settlement began, most of whom were French. Today's population in Iowa is mainly of German descent.
Read the Iowa history timeline below to learn some more important historical facts about Iowa through the events that occurred in this state.
1673
French explorers, Louis Jolliet and Jacques Marquette, arrived in Iowa
1682
French explorers claimed Iowa for France
1762
France gives control to Spain over the area
1803
Iowa was acquired by the US through the Louisiana Purchase
1813
Fort Madison was defeated in the War of 1812
1829
Native American tribes in western Illinois were forced to move across the Mississippi River into the Iowa region.
1833
Lands of Iowa open to settlers for the first time
1838
Territory of Iowa was established with Burlington as the capital
1841
State capital is moved to Iowa City
1846
Iowa became the 29th state under President James Polk
1851
Last purchase of Sioux lands was made in northern Iowa
1857
Des Moines became the capital of Iowa
Fox and Sauk tribes returned to Iowa to settle in the Mesquakie reservation
Spirit Lake Massacre, final act of violence between the Sioux Indians and the European settlers
1861-1865
Iowa's frontier period, which included violence and lawlessness among the settlers
1884
Iowa Civil Rights Act outlawed racial discrimination
1948
Civil rights cases were won under the Iowa Civil Rights Act, essentially ending the practice of racial discrimination
Bring history and geography to life with Time4Learning's interactive online social studies curriculum for grades 2-12.
Iowa Geography Facts
Let's move on to some interesting facts about Iowa's geography. Iowa is known for its cornfields and rolling hills, making the state a large farmland. Also, Iowa is sandwiched between the Mississippi River on its eastern border and the Missouri River and its tributary, the Big Sioux River, on the western border, making it the only state with two parallel rivers as borders.
Iowa's wildlife has been harmed by the focus on farming, but efforts have been made to conserve wildlife, which now includes foxes, weasels, squirrels, chipmunks, raccoons and white-tailed deer, as well as a variety of birds (such as the bald eagle, wild turkey and ring-necked pheasant), reptiles, and amphibians.
Check out this map of Iowa to start getting familiar with the state. Then read through the following Iowa geography facts. Print out the map of Iowa provided below and add these items to the map.
Iowa is bordered by Minnesota in the north, Missouri in the south, South Dakota and Nebraska in the west, and Wisconsin and Illinois in the east.
The capital, Des Moines, lies in the center of the southern half of the state.
The Mississippi River forms the entire eastern border with Wisconsin and Illinois.
The Missouri River forms the western border with South Dakota and Nebraska.
The Des Moines River flows diagonally between northwestern and southeastern Iowa.
Farther east, the Ohio River flows almost parallel to the Des Moines River from north-central to southeastern Iowa.
Okoboji Lake is in northwestern Iowa, with the smaller Spirit Lake slightly northeast of it.
Storm Lake is also in the northwestern corner of Iowa, south of Okoboji Lake.
Saylorville Lake, Lake Red Rock, and Rathbun Lake are in south-central Iowa, with Saylorville Lake and Lake Red Rock on the Des Moines River, and Rathbun Lake on the Chariton River.
Coralville Lake is located in mid-eastern Iowa on the Iowa River.
Iowa's highest point is Hawkeye Point, at 1,670 feet above sea level, in northwest Iowa.
The lowest point is on the Mississippi River, located in the southeastern corner of Iowa where the Des Moines River enters the Mississippi River, at 480 feet above sea level.
Iowa State Map
Download our FREE Iowa state map printable. Use it as a coloring page or use it to plot the state's geographical features.
Activities for Children in Iowa
How can you experience the fun facts about Iowa in a more hands-on way?  Visit the state to see some of its unique places.  Homeschoolers in Iowa can make a quick local stop or plan a day trip.  Out-of-towners can schedule a longer stay. Here are a few ideas to help you learn some more Iowa state facts:
Looking for more things to do with your kids in Iowa? Check out this post full of field trip ideas in Iowa!
Iowa Freebies and Deals for Homeschoolers
You can also learn about Iowa facts and information for little to no cost.  Below are just a few ideas:
Iowa Learning Games for Children
Now that you have learned some interesting things about Iowa, test your knowledge of Iowa facts for students with these free games and activities:
Custom text depending on what was picked.