Unit Study Supplement: South Dakota Facts, U.S. 40th State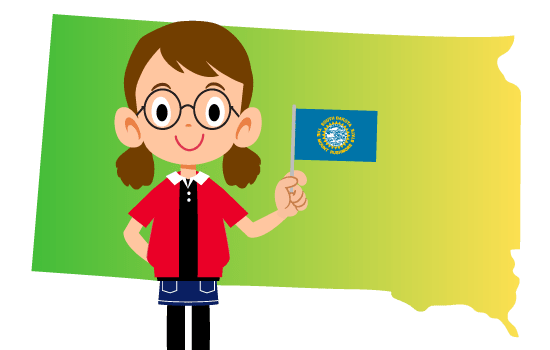 South Dakota is a state rich with Native American history and striking geography. Did you know that Mount Rushmore, the giant sculpture of four US presidents, is found in South Dakota? Did you know that another rock monument, the Crazy Horse Memorial, is still under construction in South Dakota and will be 563 feet tall when it is finished? South Dakota is known for its farming (corn, soybeans, sunflowers, and wheat) and its historical mining of gold and current mining of construction materials such as sand, granite, limestone, and gravel.
In this article you'll learn interesting facts about South Dakota, including South Dakota's history timeline, geography facts and more. Time4Learning members can download our list of PreK-12 interactive activities that align with your study of South Dakota.
South Dakota Fast Facts
Became a State:
November 2, 1889
Order it Joined the Union:
40th state
State Capital:
Pierre
State Abbreviation:
SD
Border States:

North Dakota
Minnesota
Iowa
Nebraska
Wyoming
Montana

State Flag:
State Song:
Hail! South Dakota!
State Flower:
American Pasque flower
State Nickname:
The Mount Rushmore State
Notable South Dakotans:

Adam Vinatieri, football player
Bob Barker, game show host
Crazy Horse, Sioux Indian Chief
January Jones, actress
Laura Ingalls Wilder, author
Mike Miller, basketball player
Sitting Bull, Dakota Indian Chief
Tom Brokaw, newscaster
Historical Facts About South Dakota
Named after the Sioux word, "Dakota," which means something like "friends" or "allies," South Dakota has a long Native American history that continues today.  Its people go back at least 13,000 years ago, and South Dakota has been the home of several Native American tribes such as the Dakota Sioux, Lakota, Arikara, Ponca, and Cheyenne.  Currently, nine Native American tribes make up part of the nearly 900,000 people living in South Dakota.
These Native American roots have shaped the history of the state. Added to the United States as part of the Dakota Territory through the Louisiana Purchase, the area now belonging to South Dakota has a history of clashes and treaties with the Native Americans.  South Dakota and North Dakota were added to the union on the same day with some controversy about which state would be listed first. President Benjamin Harrison shuffled the bills and signed one randomly, but North Dakota is generally listed as the 39th state with South Dakota as the 40th.
Partially as a result of its geology, South Dakota has also had a history of unique events.  The first nearly complete Tyrannosaurus Rex was found near Faith, South Dakota. The largest collection of still unmoved Columbian mammoth and Woolly mammoth bones was found at the Mammoth Site of Hot Springs.  The White River Badlands continue to be a source of fossilized mammals, including saber-toothed cats. Pierre's capitol grounds are now the site of a World War II Memorial showing six soldiers in salute, the first of its kind in the world.  These unique features of the state's history, in addition to its two famous rock sculptures, have made tourism a major part of South Dakota's economy.
Read the South Dakota history timeline below to learn about important events that occurred in this state.
1743
Vérendrye brothers claimed the area for France
1803
Land was sold to the US as part of the Louisiana Purchase
1804
Region was explored by Lewis and Clark
1831
Yellowstone, the first steamboat on the Missouri River, traveled to Fort Tecumseh (now Fort Pierre), allowing trade and the first permanent European settlement in South Dakota to flourish
1864
US Army established Fort Wadsworth (now Fort Sisseton), one of the nation's best-preserved military forts
1874
Gold was discovered in the Black Hills by an expedition led by Lt. Col. George A. Custer; Deadwood became a mining camp bringing characters like Wild Bill Hickok and Calamity Jane
1876
Outlaw Jesse James was said to have escaped a posse by spurring his horse across Devil's Gulch (20 feet wide and 50 feet deep)
1878
Rush for land, known as the "Great Dakota Boom," began
1889
Dakota Territory was split into North Dakota (the 39th state) and South Dakota (the 40th state)
1890
Battle/Massacre of Wounded Knee occurred
1927
Construction of Mount Rushmore began
1941
Mount Rushmore was completed (although not fully according to the original plans); USS South Dakota, which downed 64 planes during World War II, was launched
1948
Construction of the Crazy Horse Memorial began
1973
American Indian Movement occupied Wounded Knee to protest policies toward Native Americans
2001
World War II Memorial was unveiled on Pierre's Capitol Grounds
Bring history and geography to life with Time4Learning's interactive online social studies curriculum for grades 2-12.
South Dakota Geography Facts
Now that you've learned some of South Dakota's history facts, let's explore South Dakota's geography. A state filled with glacier-carved lakes, tall grasses, wildflowers, pines, weeping willows, and spruce, South Dakota is home to coyotes (the state animal), buffalo, antelope, elk, jackrabbits, porcupines, eagles, and prairie dogs.  You can also find ring-necked pheasants (the state bird) and burrowing owls, as well as softshell turtles and tiger salamanders in its rivers and streams. Check out this map of South Dakota to start getting familiar with the state. Then read through the South Dakota geography facts listed below. Finally, print out the map of South Dakota provided below and add these items to the map.
South Dakota is bordered by North Dakota in the north, Minnesota and Iowa in the east, Wyoming and Montana in the west, and Nebraska in the south.
The Missouri River runs north to south through the middle of the state.
Pierre, the state's capital, is located near the center of the state, where the Missouri River meets the Bad River.
The Drift Prairie lies to the east of the Missouri River and contains low hills, rich farmland, and lakes.
The Dissected Till Plains, full of streams and hills, are found in the southeastern corner of the state.
Part of the Great Plains takes up the western two-thirds of South Dakota. This area contains buttes and canyons and the famous Badlands where important fossils (like the saber-toothed cat) have been found.
South Dakota's highest point is Black Elk Peak, which is part of the Black Hills, a range of mountains in the southwest.
Mount Rushmore, the nearly 60-foot tall rock sculpture showing four US presidents, is located near Keystone, in the eastern part of the Black Hills National Forest.
South Dakota State Map
Download our FREE South Dakota state map printable. Use it as a coloring page or use it to plot the state's geographical features.
Activities for Children in South Dakota
Is there a better way to learn more interesting facts about South Dakota? Visiting South Dakota's monuments are a sure way to expand your knowledge of the state, but you can also learn a lot about nature and geography through its park systems.  Homeschoolers in South Dakota can certainly find day trips that will be both educational and fun, and visitors can plan their trips to include some important places in South Dakota. Here are some possibilities:
Looking for more things to do with your kids in South Dakota? Check out this post full of field trip ideas in South Dakota!
South Dakota Freebies and Deals for Homeschoolers
South Dakota Learning Games for Children
Test your South Dakota facts knowledge with these free games and activities: