Unit Study Supplement: Maryland Facts, U.S. 7th State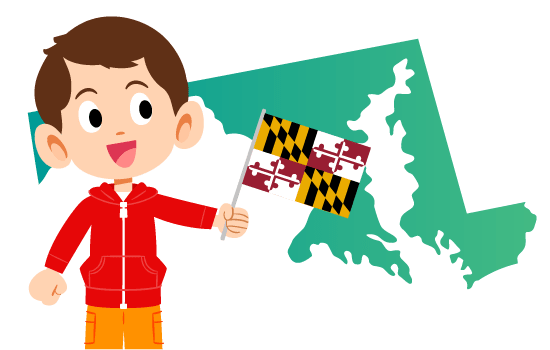 Did you know that Maryland is called "Little America"? Maryland is a relatively small state, however, there's so much history and so much to do in this state that it's been labeled "America in Miniature".
What is Maryland famous for? Aside from the role Maryland played in our history, Maryland is famous for its seafood, particularly its blue crabs and soft clams.
In this article you'll learn interesting facts about Maryland, including  Maryland's history timeline, geography facts and more. Time4Learning members can download our list of PreK-12 interactive activities that align with your study of Maryland.
Maryland Fast Facts
Became a Colony:

1632

Became a State:

April 28, 1788

Order it Joined the Union:

7th state

State Capital:

Annapolis

State Abbreviation:

MD

Border States:
State Flag:
State Song:
State Flower:

Black-Eyed Susan

State Nickname:

Old Line State, Little America/America in Miniature, Free State

Notable Marylanders:

Clara Barton, founder of the American Red Cross
Tom Clancy, author
James Brown, musician
David Hasselhoff, actor
Michael Phelps, swimmer
Thurgood Marshall, Supreme Court Justice
Frederick Douglas, abolitionist
Harriet Tubman, champion of the Underground Railroad
Historical Facts About Maryland
Originally populated by Native American tribes such as the Lenape, Nanticoke, Powhatan, Susquehannock, and Shawnee tribes, archaeologists believe Maryland was inhabited as far back as 21,000 years ago.
Think you know everything about Maryland? Named after King Charles I's wife, Queen Henrietta Maria, this mid-Atlantic state is one of the 13 original colonies. It is home to the first railroad, first post office, first dental school, first printing business, the first successful manned balloon launch, and the first umbrella factory.
From 1783 to 1784, the nation's capital was Annapolis, Maryland. This small state led the way to true religious freedom through the Maryland Toleration Act, which was voted into law in 1649 and allowed freedom of worship to Christians. It was then repeated in 1692, extending the same freedom to other religions.
Read the Maryland history timeline below to learn about important events that occurred in this state and helped shape the entire nation's history.
1608
Chesapeake Bay was explored by Captain John Smith
1631
England established a trading post on Kent Island
1632
King Charles I granted Cecil Calvert (son of George Calvert, known as "First Baron Baltimore") the Maryland Charter (the Calvert crest is on the state flag)
1634
Colonial settlers arrived in Maryland (celebrated each March 25 as "Maryland Day") on two ships, the Ark and the Dove
1649
Puritans founded Annapolis
1664
Maryland legalized slavery
1696
The first school in the United States, King Williams School opened.
1727
The Maryland Gazette (oldest continuously published newspaper) was founded and continues to run to this day.
1767
Mason-Dixon Line was created as the northern border of Maryland
1776
Four individuals from Maryland signed the Declaration of Independence; Annapolis Convention was organized to discuss the new form of US government
1788
Maryland was the 7th state to ratify the US Constitution
1791
Maryland cedes land to the Federal government to form Washington D.C.
1813
Town of St. Michaels "fooled" the British by hoisting lanterns to the tops of trees and ship masts, causing cannons to overshoot their targets (with the exception of one "Cannonball House"), resulting in the first blackout
1814
Francis Scott Key, a lawyer from Maryland, wrote the US national anthem while watching the bombardment of Fort McHenry
1830
First railroad station in the US, Mount Clare Station, was built in Baltimore by the Baltimore & Ohio Railroad Company
1845
United States Naval Academy was founded at Annapolis
1898
Town of Garrett Park made it illegal to harm any tree or songbird, (later, in 1982, it became the first nuclear free zone in the US)
1902
Maryland became the first US state to enact Workmen's Compensation
Bring history and geography to life with Time4Learning's interactive online social studies curriculum for grades 2-12.
Maryland Geography Facts
Now that you've learned some of Maryland's history facts, let's explore Maryland's geography. First, check out this map of Maryland to start getting familiar with the state. Then read through the Maryland geography facts listed below. Lastly, print out the map of Maryland provided below so you can mark up the areas you just learned about.
Maryland is bordered by Pennsylvania in the north, Delaware and the Atlantic Ocean on the east, Virginia in the south and West Virginia in the west.
Annapolis, the state's capital, is located practically in the middle of the state, halfway down the Western shoreline of Chesapeake Bay.
The Appalachian Plateau extends through the northwestern corner of the state and is home to Maryland's highest point, Backbone Mountain (3,360 feet above sea level).
The Chesapeake Bay is the largest body of water, it cuts through the state and divides Eastern and Western Maryland.
The Potomac river is the most significant river of the state as it forms the entire southern border and flows into the Chesapeake Bay.
The Chesapeake & Delaware Canal runs for 14 miles and connects the Delaware River with the Chesapeake Bay. This commercial waterway carries 40% of all ship traffic in and out of the Port of Baltimore.
The largest waterfall, Muddy Creek Falls (63 feet) located inside Swallow Falls State Park, is in Maryland's panhandle, approximately 6 miles east of the border with West Virginia.
Nearly 43% (2.7 million acres) of the state's land is covered in forests.
Maryland's shorelines expands about 7,719 miles.
Maryland's lowest point is called Bloody Point Hole (174 feet below sea level). It's located on Kent Island, right in the middle of the Chesapeake Bay and about 15 miles southeast of Annapolis.
Maryland State Map
Download our FREE Maryland state map printable. Use it as a coloring page or use it to plot the state's geographical features.
Activities for Children in Maryland
Is there a better way to learn more interesting facts about Maryland? As the name suggests, Little America has tons of day trip opportunities for homeschoolers in Maryland. The list below will help you put together some fun trips to enhance your child's learning experience.
Looking for more things to do with your kids in Maryland? Check out this post full of field trip ideas in Maryland!
Maryland Freebies and Deals for Homeschoolers
Maryland Learning Games for Children
Test your Maryland facts knowledge with these free games and activities: