Unit Study Supplement: Kentucky Facts, U.S. 15th State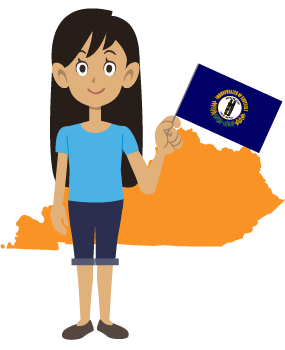 In 1808, two very famous leaders were born just miles away from each other in the state of Kentucky: Abraham Lincoln and Jefferson Davis, the two leaders of the Civil War. While Kentucky was the 15th state to be established, it still had a large role in the development of the United States.
Why not discover more about the history and geography of the Bluegrass State? This dedicated unit study supplement is part of Time4Learning's full series of United States unit study supplements. You can also download our list of PreK-12 interactive activities that align with your study of interesting facts about Kentucky.
Kentucky Fast Facts
Became a State

June 1, 1792

Order it Joined the Union

15th state

State Capital

Frankfort

State Abbreviation

KY

Border States
State Flag
State Song
State Flower

Goldenrod

State Nicknames
Notable Kentuckians

Jefferson Davis, Leader of the Confederacy
Henry Clay, United States Senator
Alben W. Barkley, 35th Vice President
Muhammad Ali, Professional Boxer
John Mason Brown, Drama critic and author
Historical Facts About Kentucky
Prior to being colonized, the land that would become Kentucky had no ownership by Native Americans. This land was called the "Great Meadows," and it was rather unclear who had control over it. Even once colonizers began to survey the land, they were delayed by the French and Indian War in 1754. It wasn't until 1774 that James Harrod created the first settlement in Kentucky, located in Fort Harrod. This led to the development of other settlements shortly after.
Kentucky was originally created as a county within Virginia, one of its bordering states, in 1776. However, Kentuckians wanted to have their own state, and thus a separation movement was created. After much debate, Kentucky became its own state in 1792. During the Civil War, Kentucky was divided between the Confederacy and the Union. However, the Confederate Army invaded, and Kentucky officially joined the Union side. Here are some more historical facts about Kentucky your homeschooler may find interesting:
Daniel Boone visited Kentucky twice to explore the region  – once in 1767, and again in 1769. He eventually created Fort Boonesborough, a Kentucky State Park, in 1775.
17 years before Daniel Boone even stepped foot in Kentucky, Dr. Thomas Walker was the first frontiersman to explore the state.
Over half of the soldiers killed in the War of 1812 came from Kentucky, even though no battles were fought in the state.
The two leaders of the Civil War, Abraham Lincoln for the Union and Jefferson Davis for the Confederacy, were both born in Kentucky.
It took nine different conventions to discuss and agree upon the separation of Kentucky from Virginia.
After the Civil War, burley tobacco became more popular and Kentucky switched over to the production of tobacco to make money.
In 1936, the U.S. Treasury Gold Vault was created at Fort Knox, just south of Louisville, KY. For a brief period of time, America's founding documents were also held in Fort Knox for protection in World War 2.
Fort Knox is the most secure and guarded place on the planet. No single person knows how to get in; it takes multiple people who all know different combinations to open the door.
Kentucky is home to the Kentucky Derby, which had its first race in 1875, and made racing and raising horses very popular.
Bring history and geography to life with Time4Learning's interactive online social studies curriculum for grades 2-12.
Geographical Facts About Kentucky
Kentucky, being just west of the Appalachian Mountains, made it one of the most difficult states to colonize. When it was colonized, the Bluegrass region was the first to be developed on, since it is the best agricultural land. This is how Kentucky's nickname came to be the Bluegrass State.
Kentucky is home to plenty of natural resources and has a diverse range of landscapes to explore. Here are some interesting facts about the geography of Kentucky your homeschooler may enjoy:
Almost half of Kentucky is covered with forests, and it is one of the top three producers of hardwood in the United States.
Kentucky is also number three in the nation for the production of coal, since much of its land is dedicated to coalfields.
There are six different geographical regions in Kentucky: the Mountain Region, the Knobs Region (full of knob-shaped hills), the Bluegrass Region, the Pennyroyal Region, the Western Coalfield Region, and the Lowland Region
The Pennyroyal region, which was named after the mint plant that grows there, is home to Mammoth Cave – the world's largest cave system. This cave system is located near the center of Kentucky, about 90 miles southwest of Louisville.
The Jackson Purchase widened the borders of Kentucky by 2,570 square feet after it was added in 1818. This Purchase created the little tail seen in western Kentucky, bordered by Missouri, Illinois, and Tennessee. Can you find it on the map?
Most of Kentucky is rural, and there are only two cities with a population greater than 100,000 residents: Louisville and Lexington. Louisville is in the northern portion of Kentucky, just on the border shared with Indiana. Lexington is just about 80 miles east of Louisville, and 80 miles south of Cincinnati, Ohio.
Almost all of the bordering states are separated from Kentucky by rivers, except for Virginia and Tennessee.
Fort Knox, the most secure place on the planet, is just 40 miles southwest of Louisville. It is surrounded by a dense forest, just south of the Ohio river.
Kentucky State Map
Download our FREE Kentucky state map printable. Use it as a coloring page or use it to plot the state's geographical features.
Activities for Children in Kentucky
Do you homeschool in the state of Kentucky? There are so many fun and educational destinations to explore that can enrich your homeschooling experience. Whether you're looking to get outdoors and get some exercise, learn about the state's history, or take in the arts, there is something for everyone to enjoy.
If you are visiting Kentucky, or call it home, below is a list of field trip ideas that will help supplement the Kentucky facts unit study.
Kentucky Freebies and Deals for Homeschoolers
Kentucky Learning Games for Children
Boost your child's online learning experience by checking out these available resources to assess your child's knowledge about Kentucky and learn even more about the Bluegrass State.