Unit Study Supplement: New Mexico, U.S. 47th State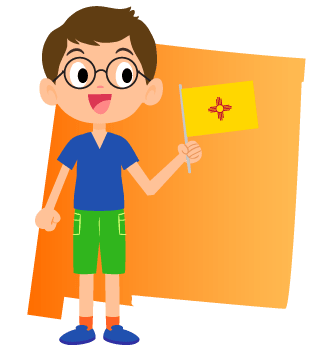 How did New Mexico get its name? Who lived in New Mexico first? And what is it known for? These and other questions are answered in our New Mexico unit study supplement, which includes interesting facts for kids, a history timeline about New Mexico, geography facts and more!
Time4Learning members can download our list of PreK-12 interactive activities that align with your study of New Mexico.  Here are some New Mexico facts for kids:
New Mexico Fast Facts
Became a State:

January 6, 1912

Order it Joined the Union:

47th state

State Capital:

Santa Fe

State Abbreviation:

NM

Border States:

State Flag:

State Song:

State Flower:

Yucca

State Nickname:

The Land of Enchantment

Notable New Mexicans:

Al Unser, auto racer
"Billy the Kid" (William Bonney), outlaw
Demi Lovato, singer
Demi Moore (Demi Guynes Kutcher), actress
Georgia O'Keeffe, artist
Jeff Bezos, founder of amazon.com
John Denver, singer
Neil Patrick Harris, actor
Val Kilmer, actor
Historical Facts About New Mexico
New Mexico got its name from the Spanish when they first explored the region. Hoping they would find the riches they had previously found in Mexico they called it "Nuevo (new) Mexico", however, once under US rule the name was anglicized to what it is today.
New Mexico's history began approximately 12,000 years ago when people from Russia crossed the Bering Strait during the last Ice Age. Later, the Native American tribes Apache, Navajo, Pueblo, and Zuni lived in New Mexico. The ruins of Pueblo can still be found throughout the state today.
Europeans arrived in 1540 from Spain, followed by years of exploration by friars and soldiers.  Finally, in 1595, contracts for colonization were given to Juan de Oñate of New Spain, and permanent settlements began.  Santa Fe, the current capital, was founded in 1610. Missionary work followed, but the Pueblo Indians resisted attempts to change their religion and culture.  They rebelled in 1680, pushing Europeans out of the region for 12 years. By 1700, Spain was able to begin establishing permanent settlements again, including that of Albuquerque, which became an important center for the northern part of the region.
Spanish settlers engaged in subsistence farming and began to raise sheep and horses, which allowed for trade with the Comanche.  The population increased to as much as 25,000 by 1800, but the region remained mostly underdeveloped. French traders arrived from New Orleans, but the Apache and Comanche attacked the settlements.  In 1806-07, the US army entered New Mexico under the leadership of Lieutenant Zebulon Montgomery Pike. Pike was captured and imprisoned but managed to write a report that brought American traders and fur trappers into the area.  Beginning in 1821, the Santa Fe Trail became an important route for trade.
The region became part of Mexico in 1821 when Mexico declared its independence from Spain, but the US was able to earn it as a territory by winning the Mexican-American War.  The Territory of New Mexico was established by the US Congress in 1850 with Santa Fe soon becoming its first and only capital. During the American Civil War (1861-1865), an invading Confederate force was driven out after a short stay in the region; however, most people from the southern part of the territory supported the rebels.
The next period brought violence and unrest.  After much fighting, Navajo tribes were forced to settle on a reservation near Fort Sumner in 1864.  Apache were forced onto two reservations in 1880 but continued rebelling until 1886, particularly in southwestern New Mexico.  Range wars were fought between cattle and sheep ranchers and landowners, and outlaws like Billy the Kid struggled with lawmakers.  The arrival of the railway brought new immigration, and farming increased with new resources and methods of irrigation. However, the region maintained its frontier image beyond the start of its statehood in 1912.
Use the New Mexico history timeline below to learn more facts and information about the state:
1595
Juan de Oñate of New Spain (now Mexico) was given permission to colonize the region
1610
Santa Fe, the oldest capital city in the US, was founded
1680
Pueblo Rebellion occurred in response to missionary attempts to destroy Indian religion and culture
1700
Spain had begun to establish permanent settlements in the area again
1706
Albuquerque, today's largest city in New Mexico, was founded
1821
Mexico declared its independence from Spain, making the region part of Mexico
1848
US won the Mexican-American War, earning New Mexico as a US territory
1850
US Congress established the Territory of New Mexico
1851
Santa Fe became the capital of the Territory of New Mexico
1862
During the American Civil War, Santa Fe was occupied for two weeks by Confederate forces under General H.H. Sibley
1864
Apache were forced onto a reservation near Fort Sumner
1868
Apache were given a large reservation, located in northwestern New Mexico and Arizona
1878
Bloodiest year of the range wars in Lincoln County, where Billy the Kid struggled with lawman Pat Garrett
1880
Atchison, Topeka, and Santa Fe Railway reached Albuquerque
1886
End of the Apache rebellions
1912
New Mexico became the 47th state in the US, under President Howard Taft, with Santa Fe as its capital
1942
Research facilities in Los Alamos created the first atomic bomb
1999
World's first underground storage facility for radioactive waste opened in southeastern New Mexico
Bring history and geography to life with Time4Learning's interactive online social studies curriculum for grades 2-12.
New Mexico Geography Facts
Now that your students have learned some interesting facts about New Mexico's history, we can explore the state's geography. New Mexico's beautiful scenery is the reason for its nickname, the "Land of Enchantment."  The state has a diverse terrain, ranging from forests to the Chihuahuan Desert to the Sangre de Cristo Mountains. Part of the Great Plains cover the eastern part of the state, consisting of a high plateau and deep canyons (including Carlsbad Caverns).  The Rocky Mountains (of which the Sangre de Cristo are part) are found in northern New Mexico while the central-southwestern part of New Mexico consists of flat deserts, mountain ridges, and white gypsum sand dunes.
New Mexico's geography and climate are favorable for certain kinds of plant growth, including the desert willow, New Mexico olive, piñon pine, and Rio Grande cottonwood trees, as well as wildflowers, cacti, and succulents.  Wildlife includes cougars, coyotes, bighorn sheep, black bears (state animal), rare black-footed ferrets, vultures, hawks, scarlet tanagers, orioles, greater roadrunners (state bird), and some amphibians like the western green toad, whiptail lizard, and tiger salamander.
View this map of New Mexico to get an overview of the state. Then read through the following New Mexico geography facts. Print out the blank map of New Mexico provided below and draw and label the geographical features listed here.
New Mexico is bordered by Colorado in the north, Mexico in the south, Arizona in the west, and Oklahoma and Texas in the east.
The northwest corner of the state touches Arizona, Colorado, and Utah, to form the only location in the US where four states meet.
The capital, Santa Fe, lies in the center of the northern half of the state.
The Rio Grande River, the state's largest river, flows roughly north-south just to the west of the center of New Mexico.
The Pecos River begins near Santa Fe and works its way to the southeastern corner of New Mexico.
The city of Albuquerque, New Mexico's largest city, can be found just southwest of Santa Fe on the Rio Grande River.
Conchas Lake is in the northeastern quarter of the state on the Canadian River, which crosses the border into Texas.
Sumner Lake is on the Pecos River about halfway between the northern and southern borders of New Mexico.
The Chihuahuan Desert spans the southwestern corner of the state near the border with Mexico and Texas.
The Sangre de Cristo Mountains, the southernmost subrange of the Rocky Mountains, extend down from the Colorado border toward Santa Fe, just east of the Rio Grande River.
New Mexico's highest point is Wheeler Peak, at 13,161 feet above sea level, in the northeastern quarter of New Mexico.
The lowest point (2,842 feet above sea level) is Red Bluff Reservoir, located on the Pecos River, just 40 miles north of Pecos, Texas.
New Mexico State Map
Download our FREE New Mexico state map printable. Use it as a coloring page or use it to plot the state's geographical features.
Activities for Children in New Mexico
There are still many more fun facts about New Mexico you can learn?  Take a trip to the "Land of Enchantment" to learn more interesting facts about New Mexico.  For Homeschoolers in New Mexico, this may be a simple day trip.  Others may have to plan a longer stay.  Here are a few ideas to help you learn some New Mexico state facts in a hands-on way:
Looking for more things to do with your kids in New Mexico? Check out this post full of field trip ideas in New Mexico!
New Mexico Freebies and Deals for Homeschoolers
You can also learn more New Mexico facts and information without breaking the bank.  In fact, some of New Mexico's most scenic locations can be accessed for free if you do your research.  Here are just a few ideas:
New Mexico Learning Games for Children
After learning some interesting things about New Mexico, test your knowledge of New Mexico facts for students with these free games and activities:
Custom text depending on what was picked.