Unit Study Supplement: North Carolina Facts, U.S. 12th State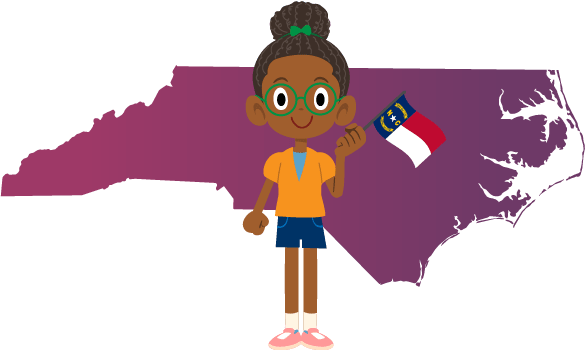 Resting along the coastline and containing rivers, forests, and mountains, the beautiful state of North Carolina not only offers gorgeous geography but great history as well. As one of the original 13 colonies, North Carolina's historical legacy is strong; beginning some of the first initial attempts of colonization in the New World and holding stories of pirates, wars, mysteries, and independence. This unit study supplement gives you information regarding North Carolina facts and history, geography, and fun, beautiful destinations to visit within the state.
You can also download our list of PreK-12 interactive lessons that align with your study of interesting facts about North Carolina.
North Carolina Fast Facts
Became a State

November 21, 1789

Order it Joined the Union

12th state

State Capital

Raleigh

State Abbreviation

NC

Border States
State Flag
State Songs
State Flower

Flowering Dogwood

State Nicknames

Tar Heel State
Old North State

Notable North Carolinians

O. Henry, Short Story Writer
Michael Jordan, Professional NBA Player
Dale Earnhardt, Professional Race Car Driver
James K. Polk, 11th U.S. President
Andrew Johnson, 17th U.S. President
Clay Aiken, Singer
Charlie Rose, Television Journalist
Andy Griffith, Actor
Historical Facts About North Carolina
Throughout its history, North Carolina experienced many shifts and changes regarding the inhabitants. The territory is believed to have been inhabited 10,000 years before Europeans arrived in the 1500's. At this time, many indian tribes were established, including the Chowanoke, Roanoke, Coree, Cape Fear, Waxhaw, and Catawba. Then, upon discovery of the land, Europeans began to trickle in and attempt colonization.
Giovanni da Verrazzano began the exploration of North Carolina by mapping out the coast in 1524. Following him, several other spanish explorers launched expeditions to gather territory or colonize the land. One explorer, Juan Pardo arrived in North Carolina with the intention of claiming territory for Spain. As he traveled through the New World, he established 6 forts, leaving men to watch over each. Fort San Juan was established in modern day Burke County, North Carolina in 1567. Unfortunately, after 18 months, native indians attacked and killed most of the stationed men at Fort San Juan and burned the structure to the ground.
Following Spanish failure, Englishmen began colonization for their country.  In 1584, Queen Elizabeth I granted permission to Sir Walter Raleigh for settlement in present day North Carolina. Raleigh sponsored several expeditions including one by Philip Amadas and Arthur Barlowe as well as the attempted colonization of Roanoke Island off the coast. The "Lost Colony" of Roanoke leaves a living mystery. When the small colony who had arrived on the Island in 1587 began lacking supplies, they sent their governor, John White, back to England. Leaving his family and colony, White traveled to England to beg for supplies and help. His immediate return to Roanoke was delayed for 3 years due to the Anglo-Spanish War. When he finally arrived back at Roanoke Island in 1590, he found it completely deserted with only one previous sign of them; the word "Croatoan" carved into a wood post. This was the name of a nearby Island and Indian tribe with the same name.
The rocky coasts of North Carolina prevented easy access, thus, the territory became widely populated by Englishmen moving down from Virginia in 1650. These people became the first permanent settlers in North Carolina. Later, King Charles II granted permission for colonization in North America in 1663; this grant led to the general establishment of the "Province of Carolina" borders. Soon, extreme tensions and differences between the North and South of Carolina led to their division in 1712.  Following the separation, North Carolina temporarily became an English Royal Colony.
On April 12, 1776, North Carolina became the first to instruct its delegates to vote for independence against the British. Then, following the American Revolution, North Carolina became the 12th state to ratify the constitution on November 21, 1789.
In 1860, during the Civil War, North Carolina was a slave state. However she refrained seceding from the Union until President Lincoln asked them to attack South Carolina. The command caused their secession on May 20, 1861. Although few battles were fought in the state, they sent more troops to fight for the confederacy than any other confederate state.
Get your child learning about North Carolina's history with these quick highlights in the timeline below.
1524
Giovanni da Verrazzano maps out the coastline.
1539
Hernando de Soto begins exploring West Central North Carolina in search for gold.
1566
Juan Pardo explores the land.
1567
Juan Pardo establishes Fort San Juan.
1568
Indians destroy Fort San Juan.
1584
Queen Elizabeth I grants Sir Walter Raleigh permission for colonization in America.
Expedition by Philip Amadas and Arthur Barlowe.
1587
The small colony arrives at Roanoke Island.
John White sails for England to gain supplies and help.
1590
White returns to Roanoke Island to find it abandoned.
1650
English people migrated down from Virginia.
1663
King Charles II grants Carolina colony to 8 supporters who helped him ascend to the throne.
Carolina colony is founded. It was named after Charles I. It included North and South Carolina.
1705
The first town in North Carolina, Bath is founded.
1712
North Carolina and South Carolina divide.
1718
Blackbeard arrives and dies off the coast of North Carolina.
1729
North Carolina becomes a royal English colony after 7 of the 8 proprietors sold their shares to the crown.
1767
Construction of Tryon Palace begins.
1771
Tryon Palace is completed.
1776
Votes for independence.
1788
Raleigh chosen for capital.
1789
Becomes the 12th state.
1836
Construction of the Wilmington and Raleigh Railroad begins.
1861
Seceded from the Union to join the Confederacy
1861
Seceded from the Union to join the Confederacy
1865
Troops surrender
1868
Rejoins the Union
1903
The Wright brothers successfully fly their plane in North Carolina in Kitty Hawk.
1943
UNC becomes the nation's first four-year college for Native Americans in Pembroke, NC
Bring history and geography to life with Time4Learning's interactive online social studies curriculum for grades 2-12.
Geographical Facts About North Carolina
The beautiful destination of North Carolina contains a variety of natural features including rivers, forests, beaches, and mountains. It is ranked as the 28th largest state land wise, and 9th most populous with 100 counties. The geography of North Carolina divides into 3 main sections: the mountainous area in the west, the central Piedmont Plain and the Atlantic Coastal Plains in the east.
Parts of the Appalachian Mountains are located in North Carolina's mountainous quarter along with other mountains like The Great Smoky Mountains and Blue Ridge Mountains. Central Piedmont Plain is the most populated and urbanized region, including 6 of North Carolina's highest populated cities. This area also consists of rivers and small, isolated mountains like Pilot Mountain, the Uwharrie Mountains, the Brushy Mountains, and the South Mountains.
Finally, the Atlantic Coastal Plain is the largest part of North Carolina, consuming 45% of the land. In this region, there are barrier islands, rivers, and coastal forests, along with rich soil beneficial for growing tobacco, cotton, soybeans and melons.
The first successful flight in history occurred at Kill Devils Hills on the coast of NC, 200 miles east of Raleigh.
Raleigh, the state capital is located in the northeast central region of the state.
Mount Mitchell, the highest mountain in Eastern North America and of the Appalachian Mountains  is located in North Carolina. The height reaches 6,684 ft.
North Carolina is a native home to the Venus Flytrap plant.
The first gold nugget discovered in North America was found in Little Meadow Creek,  just northeast of Charlotte,NC.
The waters of Cape Hatteras are nicknamed "Graveyard of the Atlantic" in reference to numerous shipwrecks the dangerous waters have caused. The Cape Hatteras is located off the east coast of North Carolina.
Forests cover nearly 60% of North Carolina.
High Point is the only city in North Carolina that extends into 4 counties.
The nickname "Tar Heel State" comes from a time when the state produced high amounts of tar.
North Carolina has 18 rivers within its borders including Cape Fear River, Neuse River, Pee Dee River and Catawba River.
North Carolina State Map
Download our FREE North Carolina state map printable. Use it as a coloring page or use it to plot the state's geographical features.
Activities for Children in North Carolina
Whether you are a homeschooler in North Carolina, or just a family who is planning a trip to the Tar Heel State in the near future, you should be aware of some of the educational destinations in the state. Enhance your North Carolina state facts study with these homeschool field trip ideas.
For more educational field trip ideas in North Carolina read this post!
North Carolina Freebies and Deals for Homeschoolers
North Carolina Learning Games for Children
Make sure to check out these available resources to assess your child's knowledge about North Carolina.