Unit Study Supplement: Washington D.C. Facts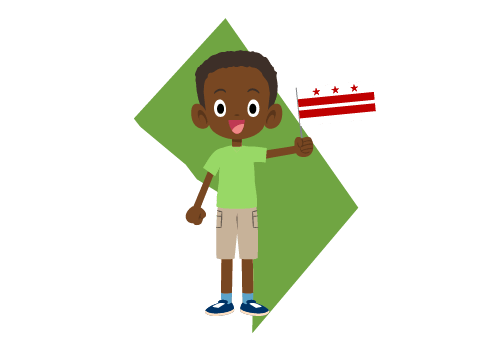 Washington, DC has breathtaking wetlands, rivers, streams, and remains as a unique American city because it was established by the Constitution of the United States to serve as the nation's capital. The site of the District of Columbia along the Potomac River was first selected by President George Washington. This unit study supplement gives you information regarding Washington DC facts and history, geography, and fun, beautiful destinations to visit.
Washington, D.C. Fast Facts
Became Nation's Capital

1790

Abbreviation

DC

Border States
Official Flag
Official Flower

American Beauty rose

Official Nicknames

Nation's Capital

Notable Washington D.C. People

Kevin Durant-basketball player
Bill Nye-TV show host
Marvin Gaye-singer
Samuel L Jackson-movie actor
Dave Chappelle-comedian
Al Gore-U.S. Vice president
Historical Facts About Washington, D.C.
Before Washington D.C. became our nation's capital, there was much debate about where it should be located. All 13 colonies wanted to ensure they were represented equally and that the location should be somewhere in the middle. Not too north, not too south. In 1790 the location was designated right between Maryland and Virginia and was named Washington DC in honor of George Washington and DC "District of Columbia" in honor of Christopher Columbus.
During the War of 1812 against Great Britain, enemy forces invaded the city and burned much of it to the ground, including the newly completed White house, the Capitol and the Library of Congress.
After the devastation, the city remained small, especially in terms of permanent residents. The city only increased in size as a result of the Civil War. Slaves owned in Washington were emancipated on April 16, 1862, nine months before the Emancipation Proclamation, and it therefore became a hub for freed slaves. After, it remained a home to a significant and vibrant African American population, which included abolitionist Frederick Douglass.
The first neighborhoods were those that grew up around the Capitol, the Center Market, and the White House. The expansion of streetcar lines in the mid-19th century spurred creation of new suburbs.
It remains a vibrant and culturally diverse city today. After more than 200 years as the nation's capital, Washington has developed as a city enjoyable for locals and visitors.
Today, you can have the best of both worlds by delving into the nation's past with a visit on the National Mall and museums or local residences.
The timeline below puts Washington, D.C history facts into perspective:
1790
A bill passed to locate a new capital along the Potomac River. George Washington picked the site.
1800
The federal government officially moved to Washington, D.C.
1801
Library of Congress established
1802
Charter granted creating City of Washington municipal government
Robert Brent, first mayor appointed
1812
British burned the city during the War of 1812
1815
Old Brick Capitol houses Congress during rebuilding of Capitol
Congress votes to keep Washington as nation's capital and votes funds for city's reconstruction
1819
The Congress moves back into reconstructed Capitol.
1833
Treasury building burns to the ground
1862
Slavery was abolished in Washington, D.C.
1888
Washington Monument opened
1895
First section of Highway plan submitted
1896
Public Library established
1897
First automobiles drive on city streets
Library of Congress building opens
1907
Union Station opens, largest train station in country
1909
Orville Wright's demonstration flight for the federal government takes him from Fort Myer to Shuter's Hill and back
1914
The Lincoln Memorial was completed
1943
Jefferson Memorial was completed
1953
The restoration of the White House was finished
Geographical Facts About Washington, D.C.
Here are some Washington, D.C. geography facts you and your homeschooler may want to note about Washington, D.C's unique features. To enhance your study of Washington D.C.'s geography, check out the geographical facts mentioned below.
Washington, D.C., is bordered on the west by the Potomac River, which divides D.C. from Virginia. The Anacostia River runs through its east side.
Rock Creek Park has over 32 miles of hiking trails
Washington, D.C. is only about 68 square miles. It is divided into four sections including the Northwest, Southwest, Northeast, and Southeast, meeting in the center at the U.S. Capitol building.
The Washington Monument is 555 feet, 5 1/8 inches tall. It is the world's tallest stone structure and tallest obelisk.
The Old Stone House at 3051 M Street NW in Georgetown, Washington, D.C. is the oldest unchanged building in the district. It dates back to 1765.
Activities for Children in Washington, D.C.
Whether you homeschool in Washington D.C., or are just visiting, below is a list of field trip ideas that will bring the facts about Washington D.C. to life. You'll find everything from science museums to outdoor activities in national parks.
Smithsonian's National Zoo – at the National Zoo you can count on your family's experience to be special and enriching. Make sure to check out the Zoo activity sheets to keep your little ones (and big ones too) busy. You can also enroll your children in their fall and summer camps for a wild time learning experience!
National Mall and Memorial Parks – One of DC's most popular attractions is in fact a national park. There are around 146 acres, featuring America's monuments to founding fathers, civil rights leaders and fallen soldiers, as well as breathtaking museums with amazing collections of art and artifacts. You can feel so close to history with a visit to one of these amazing memorials.
Constitution Gardens – Take a break from the bustling city, and visit this magnificent display of gardens. There are over 55 acres and it is a living legacy to the developers of the United States Constitution. The gardens serve as a unique urban nature preserve.
Washington D.C. Freebies for Homeschoolers
Smithsonian Museum – the operation operates not one but 17 museums in the D.C. Metro area that offer free admission. Many of these are on the National Mall—including the Natural History Museum, American History Museum, the Air and Space Museum, and the Hirshhorn Museum and Sculpture Garden.
Listen to the Drum Circle at Meridian Hill Park – Off the normal tourist track, the drum circle is one of the city's longest-running traditions. For 50 years, men and women have been gathering at this National Park Service-run park on Sundays in the summer, bringing their own instruments to join in, or just listening to enjoy the afternoon.
Rock Creek Park – The oldest urban park in the National Park Service system, Rock Creek Park is more than 2,000 acres long in Northwest D.C. It's got hiking trails, picnic grounds, an amphitheatre with a summer concert series, bicycle paths, a tennis center, ranger-led programs, a nature center, a planetarium, and more.
Washington, D.C. Learning Games for Children
Learn even more about the nation's capital and test your child's knowledge about Washington, D.C. facts and information with these free learning resources.