Using Technology as a Learning Tool
STORIES, NEWS & INFORMATION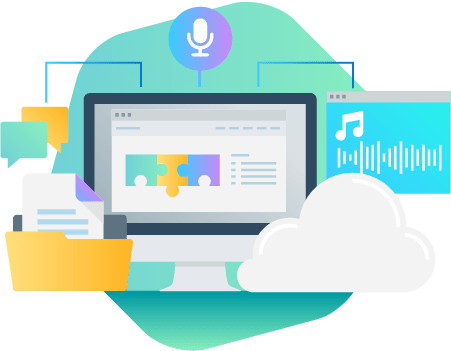 Many educators are introducing technology as a learning tool into public schools and homeschools. It makes sense. These tools, such as online curriculum products, electronic worksheets, phonetic spelling software, amongst others, can maximize childrens' learning strengths and help reduce their weaknesses.
But the benefits of technology in education go above and beyond that.  These tools can also give students confidence and as such bring additional  joy in their lives. They're finally getting a chance to learn and enrich, not only their education, but their well-being too!
There are also educational technology tools that work very well for students with disabilities and help improve their educational experience.  Read on to find out more.
Using Technology to Help Students With ADHD
If you've tried hiring a tutor, working one-on-one with your child, and almost every other teaching outlet, perhaps it's time to make a switch. Using educational technology tools for students with ADHD has many benefits. Here are some examples.
Helps them overcome distractions
Improves focus
Assists in developing better organizational skills
Helps them with unfinished tasks (they can't move on to the next chapter,  or level without finishing the previous one.)
Allows for frequent breaks for those who suffer fidgetiness
You may be surprised how different educational technology tools help children. Experts Kristin Stanberry and Marshall Raskind, Ph.D., say that, "Children who struggle in school are often overly dependent on parents, siblings, friends, and teachers for help with assignments. Assistive technology can help students with ADHD achieve success by working independently."  The types of tools are readily available.
Audio books and reading software such Kurzweil 3000, which improves reading speed and comprehension
Online curriculum products such as Time4Learning, which allow students to organize and work out problems on a computer screen
Talking calculators with a speech synthesizer that reads aloud each number, symbol, or operation key a student presses
Word-prediction software "predicts" the word your child is intending to type. This helps expand their vocabulary and grammar
Optical character recognition (OCR) programs let students scan printed material into a computer
How cool is that? I know friends who are so psyched about these new tools and so proud of their children. It makes me so happy when I hear their success stories of how assistive technology helps students with disabilities.
How Does Technology Improve Education for Students With Dyslexia
The Society for Neuroscience reports that, "A staggering 5 to 15 percent of Americans — 14.5 to 43.5 million children and adults have dyslexia."  It also says that it doesn't matter how hard a person tries or how smart they are, it still impacts their reading, writing, and spelling.
Fortunately, there are educational technology tools for students you can use if your child has dyslexia. And these tools assist in many ways, some include:
Helping with spelling words correctly
Offering the user independence
Improving confidence
Allowing kids to focus on their strengths rather than their struggles
Building self-reliance (Kids no longer will completely depend on teachers or parents)
Many experts believe that the benefits of technology in education will help young students thrive. They are super excited about being able to read, write, and spell on their own. It's a wonderful feeling for them. That's why so many parents are using technology as a learning tool. If you want to know how technology can improve education, check out these tools.
Electronic worksheets help students with their words, equations and more in a correct manner.
Phonetic spelling software understands the students intentions when typing and will automatically changes the word that they meant to write.
Computer based learning programs, which helps improve skills in reading, writing, typing and using numbers.
Mind-mapping software helps dyslexic students plan their work more effectively.
Speech recognition software converts speech into text.
Smart pens that track what's being written and reconstructs the text in digital form.
Audiobooks improve word recognition and comprehension
Jamie Marten, who specializes in finding AT solutions for students and adults with dyslexia really hits home with this statement. He says, "That's why I love teaching families about technology solutions. When I see a child's eyes light up the first time they use technology to help with reading, it warms my heart." Wow!
Technology as a Learning Tool for Autism
No one knows how educational technology has helped students with autism, better than a parent who uses these tools for their own child. My friend Tina, has a son with Autism Spectrum Disorder (ASD). She is more than happy to talk with other parents about how technology has changed her son's life.
She says, "My son is a visual learner, so using a smartphone or an online educational product that incorporates images has been magical! Computer graphics and interactive lessons help him process information faster. These things capture his attention and keep it. It's funny, I once thought, 'How can technology improve education?'  Now I know! When he wasn't using technology, he couldn't concentrate. Now he's engaged and happy!"
Technology assists students with autism in many ways.
Increases verbal skills
Improves social skills
Boosts confidence
Helps process information more efficiently
Further develops attention skills
If you're looking for assistive educational tools for students, there are many available. As Tina noted about her son being a "visual" learner, Temple Grandin, author, speaker, and a person with ASD, says "pictures are their first language, and words are their second language." These technical tools will help with all types of learners.
Visual scene display apps create interactive displays and stories with text-to-speech voices
Online curriculum products that include graphics and interactive activities
Speech generating devices that can be installed on a tablet or phone
Video modeling products and games such as Facesay that improve social skills
Voice dictation tools that assist with writing skills
Smartphones and tablets present information to students via messaging, podcasts, graphics, and videos
What's cool about educational technology tools for students is, the products  can be used with devices that most families own. Almost everyone owns a smartphone. The Indiana Resource Center for Autism says, "The touch screen and layout are more accessible for individuals with coordination or learning difficulties—sliding and tapping are easier than typing. Technology allows for adaptability and motivation."  That's a win-win!
Technology as a Learning Tool for Down Syndrome Students
Just last week I had a great conversation with a person who works with Down Syndrome students. He told me that "Students with Down syndrome struggle with delayed mental processing and task completion, and lack fine motor skills, as well as hand-eye coordination." He thinks that technology improves education when used at home or in a classroom setting.
The benefits of technology in the education of a Down Syndrome students vary.
Makes tasks easier to complete
Provides multi-sensory learning experiences
Allows students to learn at their own pace
Promotes independence and autonomy
Improves memory and processing
The ultimate benefit of these educational tools is they give students a chance to complete assignments on their own. They take pride in finishing a task without assistance. And they can take part in tasks that other students are working on. So, if you're wondering "how does assistive technology help students with disabilities", check these products out.
Rigid key guards allows users to rest their hands on the keyboard without ruining their assignment
Smartpens simultaneously make a digital copy of everything you write and also records everything you hear or say as you write
Simple smartphone are more user friendly while still offering many apps, and they have a support program built in
Online curriculum programs teach reading, writing, grammar, math skills, and more using graphics, sounds and interactive lessons
Talking calculators provide visual and/or audio support. Users can set up and calculate math problems independently
I love that these products all provide what sometimes is missing in the education of a student with special needs — inclusion. You'll notice that whether used in a classroom or at your homeschool, your student with Down Syndrome will be a part of the group!
These tools ensure that students with special needs are no longer on the outskirts or are separated from their peers. The tools give all students the ability to learn on a level playing field. They not only teach the core subjects, they help develop organizational skills, boost confidence levels, and give special needs kids a sense of a job well done.  It's an exciting time in the education field, take advantage of technology as a learning tool and watch your children blossom!