Celebrate Earth Day All Year Long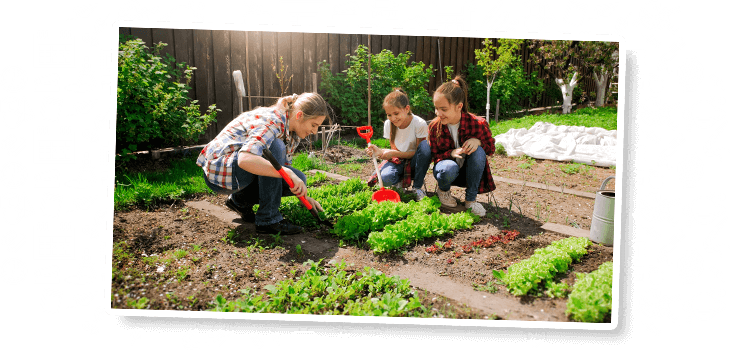 Each April we celebrate Earth Day. It's that perfect time of year to begin making more eco-friendly decisions and to let your children's passion for the planet flourish.
This love for Mother Nature also has other benefits. Research shows that playing and learning outdoors in the natural world benefits children's physical health and social-emotional development.
Earth Day Activities
Keeping the environment clean is a valuable lesson that your children can practice throughout their whole lives. The following tips are educational, fun and will help Mother Nature thrive now and in the future.
Promote awareness on Earth Day by creating a sign. Have your children paint or color signs that commemorate this important day. Let them use their imaginations and express their personal feelings on the importance of our planet.
Invest in a reusable water bottle. Reusable water bottles not only reduce the amount of single-use plastic you use but also save you money. If you're concerned about the quality of your tap water, consider using a water filter. Many earth-friendly organizations sell reusable bottles and donate a part of their proceeds to a good cause.
Encourage birds and pollinators to visit your yard by providing food, shelter, and water sources. Your children can take pictures or videos and collect data on the different birds that visit your habitat.
Make a rain bucket with your kids. For this, you'll need a 55- to 75-gallon plastic rain barrel or garbage can, leaf screens, and spouts. Keep the rain barrel covered to prevent bugs and debris from getting in. This will help protect you, your children, and your pets. Use the water on flowers, shrubs, and the lawn.
Celebrate Earth Day with Long-Term Sustainability Projects
Although Earth Day is April 22, celebrating Earth Day shouldn't be confined to just one day. There are ways to engage your child in learning more about keeping our planet clean and sustainable throughout the whole year. Here are some Earth Day project ideas that your family can take part in year round. Kids will love to see the progress that they're making.
Reuse and recycle at home: Many families already recycle, but this project takes it to another level by looking at recycling on a more granular level. In this project, your kids will create a chart that analyzes how you are currently disposing of waste, whether items being thrown away could be reused, recycled, or composted, and ways the family can make improvements. This tool will not only help track activities, but it will also serve as an effective visual reminder to keep this topic top of mind. This free recycling guide will help you get started.
Embrace community engagement: Earth Day is a perfect time to lend a helping hand to local organizations that support your community and have the environment in their best interest. Churches, youth groups, environmental clubs, and other local civic organizations are often looking for young volunteers. This type of community involvement could lead to scholarship opportunities and would look especially good on future transcripts and resumes. Above all, you will be making a difference by supporting organizations that help others – a true win-win!
Try sustainable fashion: Did you know that 60% of all clothing is made of synthetic fibers and that washing them releases harmful microplastics, contributing to 35% of all ocean microplastic pollution? Investing in eco-friendly clothing made from natural materials, such as organic cotton, linen, or hemp can help alleviate that waste. Other ideas for sustainable fashion include repairing your own clothes, and buying recycled fabrics and clothing brands that are environmentally responsible and manufactured in local communities. Buying locally reduces harmful emissions related to travel too.
Plant a vegetable garden: Vegetable gardens benefit the environment in various ways. Locally grown vegetables reduce carbon emissions from burning fossil fuels and reduce harmful pesticides and other chemical applications. Investigate different growing methods such as organic and environmentally-friendly soil mixtures. You can save money by growing your own food and having easy access to veggies will foster a healthier lifestyle!
Give up single-use items. Just think about all the straws that restaurants throw in the trash. By giving those up altogether, or using reusable ones, your children will be investing in the environment. Also, if you always have leftover food, bring your own containers to the restaurant. Every little bit helps.
These are just a few long-term projects and sustainability tips. There are many others, such as creating a space in your yard using native plant species that offer a functional and supportive habitat for the local wildlife. The opportunities are endless, so use your imagination and experiment with a few others.
Earth Day is not just about our planet, it's about the people who live on our planet!
When children become passionate about a topic, parents take notice. Using math, science, reading, art, critical thinking, technology, environmental studies, and problem-solving skills, kids take ownership of their Earth Day projects and actually feel like they are making a difference. That's a powerful feeling for all kids – and you can help them achieve it.