Can an Online Summer Program Benefit Your Child?
AFTERSCHOOL RESOURCES & SKILL-BUILDING IDEAS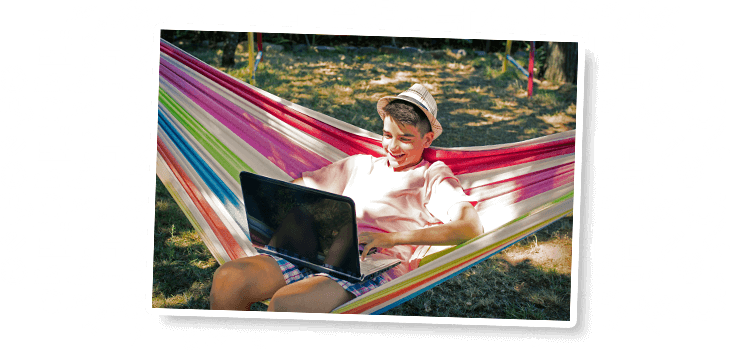 Summer is right around the corner. For families, so is the opportunity to discover the awesome power of summer to help their kids catch up and thrive in their homeschool or traditional brick-and-mortar school. With the season's warmer weather and longer days, summer is synonymous with outdoor activities, family vacations, and a more relaxed routine. For many families, it's also the perfect time of year to help children fill in learning gaps, prevent summer slide, and set them up for success in the fall.
Identify and Fill Learning Gaps
As we approach the end of the school year, now is the time to create a summer plan to address learning gaps. Learning gaps refer to the difference between what children were expected to learn, and what they actually learned during the school year. If they are not addressed, these gaps can increase over time, leading to students falling further behind and a regression in foundational skills that can have lifelong implications.
With most families on summer break from schoolwork, summer is an ideal time of year to identify gaps in your child's learning, and set a game plan for filling them up and turning things around! For parents with children in traditional schools, learning gaps may have already been identified by teachers and presented in the form of progress reports and report cards throughout the year. For homeschoolers that use curricula with reporting tools such as Time4Learning, quizzes and test scores can help you identify learning gaps in math, reading, social studies, and science.
Asking the right questions can help when evaluating your student's learning growth. Don't be afraid to have a candid conversation with your child on which areas they feel they need to improve. Depending on their age, and comfort level in sharing their thoughts with you, you may be able to pinpoint areas that need to be addressed in no time, while building trust and allowing you to be more engaged with your child's learning.
Reverse and Prevent Summer Slide
While learning gaps refer to learning losses during the academic year, summer slide refers to what happens when little or no learning happens altogether during the summer. Studies show that most children tend to lose some academic skills over the summer, particularly in math and reading, yet children of color living in under-resourced communities are disproportionately affected. The COVID pandemic exasperated the situation, especially for students enrolled in traditional schools. According to one study, by the start of the 2021-22 school year, these students were, on average, four months behind in math, and three months behind in reading. Now, more than ever, children need to leverage summer learning to reverse and prevent the annual summer slide from taking root in the first place.
Get Ahead and Prepare for the Upcoming School Year
The great news is that by filling in learning gaps and engaging children in fun summer learning, they will be better prepared, and more confident for the upcoming school year! Whether it's summertime prep for preschoolers and kindergarteners, elementary or middle schoolers, or students in high school, planning is key.
Start by looking at next year's curriculum and lesson plans to get a sense of what skills your child will be expected to learn. Then, use the summer to focus on developing those specific skills. Setting summer goals that are attainable will boost your child's confidence. Avoid overloading your child with too many lessons over such a brief period of time. Instead, use a scaffolding approach, where you introduce and build upon concepts at a pace that feels comfortable and manageable for your child.
All children are different and require a plan that is customized specifically to them. There is no one-size-fits-all approach to learning. Summertime prep for preschoolers and kindergarteners can be spent on making connections between letters and the sounds they represent as well as building vocabulary and basic sight word fluency. For elementary and middle schoolers, summer learning can focus on improving foundational math and reading skills, or more advanced concepts that will be taught in the upcoming year. For high schoolers aiming to go to college after graduation, summer is a great time to prepare for SAT exams and reduce test anxiety. Others aiming to enter the workforce or military after graduation can build a wide range of skills over the summer by volunteering or taking courses at a technical school.
Time4Learning as Your Summer Solution
There are many benefits to using Time4Learning as your summer learning solution. Not only is it affordable and easy to use, but it's also fun! As parents, we all know how easily children can tune out if they find instruction to be boring or repetitive. Time4Learning has got you covered with thousands of interactive activities to keep kids engaged.
Families with children in traditional schools can use Time4Learning's standards-based curriculum as a summer supplement to build their core skills in math, language arts, social studies, and science. For families thinking of homeschooling, summer is a great time of year to try it out, and Time4Learning is the perfect partner to have by your side. Since 2004, we have served over 1 million homeschoolers. For current homeschooling families, Time4Learning is a great way to keep the learning going over the summer to prepare for the upcoming homeschool year.
Time4learning includes reporting tools to help you keep track of your child's performance and make any necessary adjustments along the way. Parents of younger students will be pleased to know that Time4Learning memberships also include a free subscription to Time4MathFacts ($39 value), which helps students master math facts in addition, subtraction, multiplication, and division.
Above all, Time4Learning is all about flexibility. As a parent or guardian, you are in the driver's seat. There are no schedules to follow and students are free to log in and learn on their time and at their own pace. Make the most of the next few months by helping your child get back on track and giving them the confidence to succeed. Whatever their goals are, Time4Learning can help!