What is Roadschooling?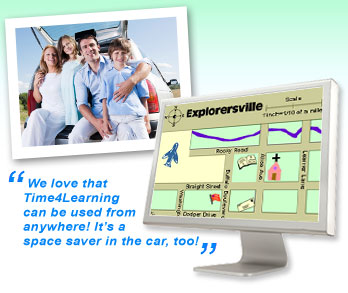 Try Our Lesson Demos
Imagine learning about colonial America by seeing it from a settler's perspective. Instead of just reading facts and looking at pictures from a textbook, you could tour Colonial Williamsburg and see firsthand how the early settlers lived. Imagine learning biology by taking an adventure-filled hike through a national park and studying plant life you encounter rather than just looking at diagrams of plants. For many road schooling parents, this is a reality. They use the sights and attractions the road has to offer to teach their children.
Roadschooling is a growing trend in which families pack up their belongings and hit the road to take the trip of a lifetime. Rather than teaching what is dictated by textbooks or state curriculum, these parents teach their children based on where the road takes them.
Roadschooling follows a more hands-on approach to learning. Families use the landmarks and attractions available throughout the country as a means for educational exploration.
How does Time4Learning fit into Roadschooling?
Roadschooling parents seek to make the most of the sights and opportunities that present themselves while homeschooling on the road. Students don't just get to read about the Constitution, they actually get to view the original document. Even stopping for pizza turns into a teachable moment as a pepperoni pie becomes a tool in learning about fractions.
Time4Learning is an online education program that combines 1000+ multimedia lessons, printable worksheets and graded activities in a student-paced environment that brings concepts to life. Math and language arts lessons are correlated to state standards. Science, social studies and art are also provided to most grades. It's a great complement to the learning that takes place on the road. View our curriculum overview to see what's available.
Time4Learning is a paperless curriculum. Since space can be limited and books and other educational materials take up a lot of room, Time4Learning is a great alternative for homeschooling on the road families. There is no need to pack and move books and learning supplies — the entire program is web-based. With Time4Learning, all you need is a laptop and an internet connection to begin a fun and exciting roadschooling program.
Custom Approaches to Roadschooling
When starting to homeschool, parents are faced with the challenge of deciding which approach to take when schooling their child. There are a number of different teaching decisions that parents must make when mapping out their road schooling plan. While using a single method may work for some children, many parents find that blending a variety of different teaching methods works best for their child. Just as traditional schooling is too narrow in its definition of learning, other approaches to schooling may also fail to meet the individual needs of each child. A custom approach to learning combines a variety of different pedagogical approaches into a custom educational plan for the individual child.
Because Time4Learning doesn't assign the curriculum, you have an entire year's worth of material that can be navigated as you see fit.Using the activity finder located on your student's account, you can find lessons that best fit your travel plans. While on your way to see Gettysburg, you can select history lessons that focus on the Civil War. When planning your next trip, you can use math lessons that will give your child the skills needed to calculate miles per gallon. The possibilities are as endless as the road ahead of you.
Lesson Activity Finder Tool
The lesson activity finder is one of the many helpful tools that Time4Learning offers its members. The activity finder is a shortcut that makes it easy for parents to preview lessons or find extra practice for their child.
Every lesson in the curriculum has a unique activity number, referred to in the lesson plans as an "LA Number." These numbers can be found on either the scope and sequence pages or the lesson plans in the Parent Dashboard.
The activity finder can be found in the lower left hand corner of the Student Dashboard. To use it, members simply log in to their child's account, type the Learning Activity (LA) number of a lesson into the Activity Finder and click "Go" to open it.
For additional information, please visit our hints and help section, which gives more details about the activity finder.
Key Features of Time4Learning's Home Education Program
Time4Learning.com combines 1500+ multimedia lessons, printable worksheets and graded activities in a student-paced environment that brings concepts to life. Math and language arts lessons are correlated to state standards. Science, social studies and art are also provided to most grades.
Parents get access to lesson plans, printable worksheets, teaching tools (located in the Parent Dashboard), detailed reporting and parental support through our online Parent Forum.
Other key features of the program:
Students get individual logins and work on their own schedule and pace
Parents can set the grade level independently for each subject
The grade above and below are available in most grades for review and additional study
Detailed lesson plans available for parents who wish to review lesson contents
Access to an online playground that rewards and motivates
An automated system grades lessons and keeps reports for homeschool portfolio usage (shown below)
Sign up and get started on the same day!
Time4Learning is entirely web based, so there is no software to download, no CDs and nothing additional to purchase. Students will be able to access the program 24/7 from any computer with an internet connection.
Time4Learning offers a 14-day money-back guarantee and the ability to stop, start, or pause anytime. Browse lesson plans, try the interactive lesson demos, read curriculum reviews, or view the curriculum overview to see what's available.