Yes, You Can Start Homeschooling Anytime!
STORIES, NEWS & INFORMATION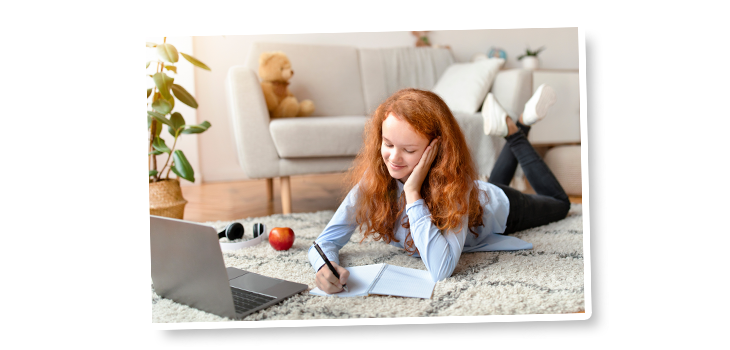 You may have been considering homeschooling for a while or perhaps you are just starting to look into this option. The many benefits that homeschooling offers, like the freedom to generate your own schedule and personalize curriculum to fit your child's strengths and challenges, are appealing. Your child's recent educational experiences (e.g., learning difficulties, bullying, or health/safety issues) could make this decision more urgent. You may wonder, can you start homeschool in the middle of the year? Making the homeschool leap mid-year is both possible and, if you follow a few simple steps, easier than you may think!
Can You Start Homeschooling Anytime?
Yes! Once you've made the decision to homeschool, you can start doing so any time, even if it's in the middle of a semester or school year. Homeschooling is legal in all 50 states, and many have specific procedures for getting started. Here are some steps for how to switch to homeschooling and get started on the right foot:
Learn Your State Requirements
Before beginning your homeschool adventure, make sure you become familiar with your state's homeschooling laws so that you know your rights and responsibilities as a homeschooler. States vary significantly with respect to requirements, from states like New York, which have stricter laws, to states like Texas, which is considered more homeschool-friendly with fewer requirements. Here are some topics you will want to research:
Do I need to notify educational officials of my intent to homeschool, and how do I do that? What are the deadlines?
Are there qualifications I need to have as the parent/homeschool guide in my state?
What options are available for homeschooling in my state?
Are there requirements for the number of days in a school year, number of hours per day, and/or subject areas that need to be covered?
What are the recordkeeping requirements in my state? Do I need to keep a portfolio of student work or submit periodic progress reports? Do I need to track attendance, hours, and/or other aspects of instruction?
Does my state require standardized assessments for homeschoolers? If so, which assessments are approved? How often, and for what grade levels, is testing required?
File an Intent to Homeschool
Depending on your state laws, you may be required to notify your school district that you want to withdraw your student from public school and begin homeschooling. Even if your state does not require such documentation, you may want to notify your school to avoid confusion or truancy issues. Be aware that notification may have to be done within a certain period before, or soon after, beginning homeschooling, which may affect your plans.
Many states require that you submit a specific notice of intent (NOI) or letter of intent (LOI) form when you begin homeschooling. This may be a one-time notice or you may have to file the intent to homeschool annually. The information on the form varies for each state and may include the name of the homeschool, the administrator (the parent), the child's name and grade level, and even a basic curriculum plan. Certain states offer the option of homeschooling under an umbrella (or cover) school, which may avoid the NOI altogether, so you may want to find out if such an option exists in your state.
Understand Your Homeschool Curriculum Options
Even if your state requires that certain subjects be covered, homeschooling gives you the flexibility to pick and choose lessons, assignments, materials, tools, and activities to help your child reach maximum potential. You may be tempted by a comprehensive "boxed" curriculum that claims to contain everything you need for your child to complete a particular grade level. However, if you have limited space to store materials or need the freedom of being more mobile, you may want to consider an online curriculum. In addition to being a better fit for today's tech-savvy student, they also take up far-less space, and are readily accessible. Alternatively, you may choose to take parts and pieces of various curricula to make a combination that best suits your child's learning styles, goals, interests, strengths, and challenges. Use this homeschool curriculum checklist when doing your research.
Many new homeschoolers choose Time4Learning because it provides a solid backbone of rigorous and engaging instruction in the four main subject areas (language arts, math, science, and social studies) and provides access to supplemental learning through Time4MathFacts, Time4Languages, middle school electives, and high school electives. Because Time4Learning covers PreK to 12, new homeschoolers know that they never have to change curriculums, and multiple children can use the same platform (at a reduced price). Best of all, it has the features new homeschoolers want for their busy families—24/7 online access, parent reporting tools, flexibility to choose courses, pick activities within courses, retest, and access one grade level below and above. New homeschoolers also love the low monthly price, no contracts, and that membership can be started at any time—including mid-year!
Set Goals and Plan
Goal setting is crucial because it provides targets for all that you and your child are doing. Foremost on your mind must always be the reason that you started homeschooling in the first place. Make this reason into a mission statement for the entire homeschool. From this mission statement, identify your goals for homeschooling and post them somewhere that you will see daily. If you are not an educator, and most of us aren't, you may even want to come up with some personal goals for yourself as a homeschool teacher.
Then, of course, you can set goals for your child. To do this, you need to know where your child is academically. Use any school records you already have and do your own investigation. Evaluate your child's learning progress and then compare to the scope and sequence of the curriculum you are using. While all homeschoolers who transfer from traditional schooling need to do this, you also need to determine where your child has progressed up to the current point in the school year. After you have identified your child's knowledge and skill levels, set individual goals in any necessary areas like reading, math, and science.
Next, you can begin to plan how your homeschool will look and feel. If you are using a curriculum like Time4Learning, use the online lesson planning and activity planner to choose courses, activities, and even create weekly and daily plans for what you want your child to accomplish. Time4Learning allows you the option to skip or repeat activities as desired. You can even choose different grade levels for individual subjects, useful for students that are struggling or excelling in a particular course. Embrace the freedom that you have as a new homeschooler!
Set Up Your Learning Space & Schedule
Homeschool learning spaces can be set up in many ways. Some homeschoolers utilize one room, including traditional chalkboards or whiteboards, desks, and supplies. Other parents use different areas in their homes, like kitchen tables or couches, and some have learning stations for different subjects. Others use the outdoors for learning experiences whenever they can. With Time4Learning, students can do their lessons from anywhere they have an internet connection. For many homeschoolers, the world is their classroom, and they seamlessly combine homeschooling and traveling into daily lessons. Find out more about roadschooling from this roadschooling family.
New homeschoolers often try to follow traditional school breaks and daily schedules. You may feel that doing so will help your child transition to homeschooling; however, remember that flexibility is a huge benefit of homeschooling. Depending on when your child learns best, you may decide to work in shorter sessions or incorporate evenings and weekends. You may also decide to take school breaks at different times to fit the needs of your family or create travel possibilities. You may even consider year-round homeschooling in the future! Rather than reinvent the wheel, look at resources for how to set a homeschooling schedule and lean on your network of fellow homeschoolers to set monthly/weekly and daily schedules for the remainder of the year.
Transition Away from Traditional School
To help your child transition into homeschooling, many homeschoolers recommend deschooling, a process of shedding the traditional schooling methods that you and your child experienced. It is a time for your child to decompress, break away from the typical learning process, and start adjusting to this new educational experience. Many parents don't do any formal schooling during this time. Instead, they often read aloud to their children, practice real life skills such as cooking or baking, play games, and discuss the future with their children.
Can you start homeschooling at any time? Absolutely! Starting homeschooling mid-year is like embarking on an adventure already in progress with highs, lows, and inspiring moments. You will experience all these things as you and your child adjust to this new world of homeschooling. Enjoy the journey!
Mid-Year Homeschool Transition Guide
Learn how to successfully transition your child from traditional schooling to homeschool any time of the year. Download this FREE resource to help new homeschoolers transition into homeschooling mid-year.