Memorial Day Activities for Homeschoolers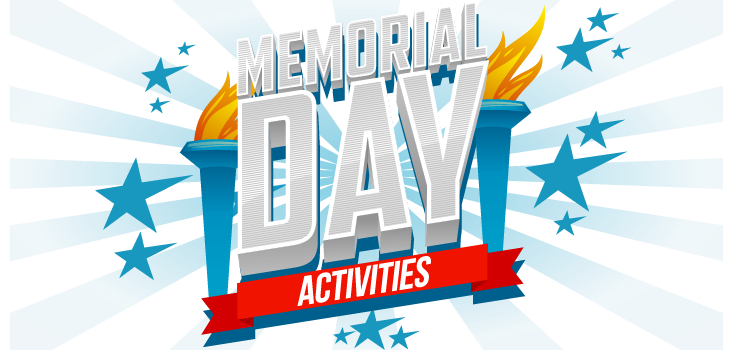 Every year, the last Monday of May is Memorial Day in the United States. It is a time when our nation collectively pauses to remember the service and sacrifice of all those in the armed services who have died. Most local towns or communities will schedule specific services, parades, or ceremonies for the service members. Many families will also organize barbecues or picnics on the day.
It's important for homeschoolers to go into the holiday with a little background knowledge of how and why we have a day dedicated to the lives of deceased members of the armed services. Knowing the key Memorial Day history facts can enhance your student's understanding of why we celebrate the holiday each year. The timeline below will give your student(s) a little background information about this important American commemoration.
Memorial Day Timeline
May 5, 1866
Waterloo, NY, is considered the "birthplace of Memorial Day" because it shuttered its businesses and held a community-wide event to honor those who gave their lives in the American Civil War. (However, many other towns had begun participating in unofficial springtime commemorations.)
May 5 1868
General John Alexander Logan was the leader of an organization for Civil War veterans in the North and he called for a nationwide day of remembrance, which would happen later that month.
May 30, 1868
President Ulysses S. Grant presided over the first Memorial Day ceremony at Arlington National Cemetery. Originally called "Decoration Day," it was attended by 5,000 citizens who decorated over 20,000 graves in the cemetery.
1967
A federal law officially names the yearly holiday honoring deceased service members as "Memorial Day."
June 28, 1968
Congress passed the Uniform Monday Holiday Act which established certain holidays to always fall on Mondays (to allow Federal Employees to receive 3 day weekends). Memorial Day was designated to be the last Monday in May from 1971 and forward.
Dec 28, 2000
President Bill Clinton signed the National Moment of Remembrance Act which asks Americans to stop at 3pm, wherever they are, to pause for one minute to personally honor those who died in the service of the country.
Why Have a Memorial Day Celebration in Your Homeschool?
One of the most cherished aspects of homeschooling is the ability to customize your curriculum to your children and your overall goals for them. If one of those goals is to increase your homeschooler's understanding of citizenship, and their place in their local, state, and national government, then you may want to take the time to incorporate national holidays into your lessons.
One special benefit of doing this for Memorial Day is that you can personalize your studies to include remembrances of specific family members and friends who died in service of the country. Homeschoolers will be captivated to learn stories of grandparents, great-grandparents, and distant relatives and friends who participated in various armed conflicts. These studies can often even lead to additional lessons on aspects of various wars or time periods.
Free Memorial Day Worksheet
Download our Memorial Day printable resources, which includes a Memorial Day reading comprehension passage and an engaging code breakers activity!
How is Veterans Day different from Memorial Day?
America is fortunate to have multiple patriotic holidays, so it's important for student to be able to distinguish between them. The two key holidays honoring service members of the U.S. Armed Forces are Memorial Day and Veterans Day. Memorial Day specifically commemorates those who have lost their lives in service to their country, while Veterans Day gives Americans the opportunity to pay tribute to all the men and women who have ever held active duty in the armed forces.
Get the big picture behind each of America's large military conflicts by signing up for Time4Learning's comprehensive high school courses in U.S. and World History.
Memorial Day Lesson Plans: Ideas by Grade Level
To aid you in your studies, Time4Learning has pulled together some educational Memorial Day activity ideas by grade level. Browse the lists below for inspiration on ways to bring your homeschooler's attention to this important holiday and thereby grow their civic knowledge as an American.
Memorial Day Activities for Preschoolers
(Note: Some of the themes of Memorial Day may be too sensitive for your preschooler. Take into account your individual preschooler's impressionability when choosing or customizing the activities below.)
Memorial Day is a good opportunity to introduce your preschooler to wreaths and how they have been used throughout history as a symbol of honor to the dead. What do you have around the house that you could make a wreath out of with your preschooler?
Preschoolers love to wave a flag. Provide your young child with a small flag and put on some patriotic music for them to march to while waving the stars and stripes.
Do you have a Memorial Day parade in your town? Plan to attend with your preschooler and be sure to point out all the patriotic displays included in the event.
Memorial Day Activities for Elementary Students
Use your upcoming Memorial Day parade to bring out the designer in your elementary student. Have them design and create a mockup of a patriotic float for the parade.
Many times we sing the anthem "America" without giving much thought to the words. Print out the lyrics to America and hold a verse-by-verse discussion with your elementary student about the significance of each stanza.
Does your local community have a war memorial? If so, take your student to visit, and be sure and research together the history behind the monument and who it specifically honors.
Memorial Day Activities for Middle School Students
If your middle schooler has a relative or family friend who served in the Armed Services, have them interview that person to get an inside understanding of what life is like for those who serve, particularly in times of active combat.
Does your area have a local military gravesite? Ask if your middle schooler might be able to volunteer to clean around some of the graves leading up to Memorial Day.
Memorial Day Activities for High School Students
There are many forms of etiquette related to Memorial Day that your high schooler may or may not be aware of. Have them research and make a list of ways to show respect such as not letting the flag touch the ground and placing your hand on your heart during the national anthem.
Research and write a narrative essay about one specific service member who lost their life while fighting for their country.
Each year on the eve of Memorial Day, PBS sponsors a National Memorial Day Concert featuring patriotic music, documentary footage, and dramatic readings that honor the sacrifice of service men and women. Watch this year's broadcast with your high schooler and use it as a jumping off point for discussions about the holiday.
Patriotic Learning Resource
Time4Learning members, make your holiday celebrations even more educational and meaningful with this free download of patriotic lesson plans for all grade levels.