Summer Project-Based Learning Ideas & Activities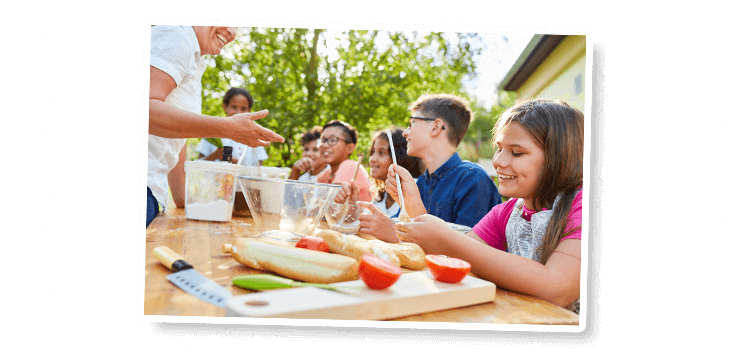 Project-Based Learning Ideas for Summer
Summertime is almost here. If you're still trying to come up with ways to keep the kids busy and engaged, have you considered project-based learning (PBL)? Although the concept of PBL has been around for well over 100 years, it's definitely gained popularity in the last few years, and not just in classrooms. More and more homeschoolers are making it a part of their routine, and with good reason, PBL offers so many benefits for students.
Below are a few project-based learning activities you can include as part of your child's summer learning. Not only are they educational, but they are tons of fun, and your kids will enjoy taking on a different kind of project. Plus, the skills and information they learn will stay with them past after the project has been completed.
Project-Based Learning Ideas for Elementary School
Go geocaching – This outdoor recreational activity provides a fun way to explore either your local area or a new destination. This 'treasure hunt' will have you searching high and low for clues, and provides the perfect opportunity to learn how to use a compass as well as gain mapping and tons of other outdoor skills.
Explore all the summer holidays – From Independence Day in the U.S. to Midsummer Eve in northern Europe to Picnic Day in Australia, have your child research all the different summer holidays celebrated around the world. They'll learn about their origins, who celebrates it, and how. They can then create a series of 'holiday' cards for people to share and send to one another.
Plan a summer vacation – As a family, start by choosing a destination and duration for your trip. Then, give your child a budget to work with and let them take it from there. Remind them to research and carefully budget for all the aspects of your trip: type of transportation (flight, car, cruise) and fuel (if applicable), accommodations, meals, tours, souvenirs, etc.
Project-Based Learning Ideas for Middle School
Become a travel agent – Have your child pretend he or she is a travel agent. Let them pick one destination, anywhere in the world, and have them create a travel brochure, flyer, or a set of postcards. They can do research online and use images and maps to navigate the city or country of their choosing. As they complete their project, they'll learn about geography and their destination's culture and history.
Come up with a summer camp – Unleash your child's creativity by having them design a summer camp. Whether it's a conventional summer camp or one based on a specific theme like science or art, your child will make all the decisions. They'll need to plan daily/weekly activities, meals, field trips, and anything else they'd like to include.
Research summer crops – With the heat of summer just around the corner, there are plenty of fruits and vegetables that thrive in the warm temperatures. Have your child research which crops are best to grow in summer and how long they take to harvest. They can create a chart with all the information they've collected and then create a garden with the fruits and/or vegetables of their choice. They can keep track of their growth in a journal with notes and pictures, and then complete their project once they've harvested their produce. They can then share which ones grew the most, tasted better, and what conditions were most favorable for growing.
Whether it's fruits, vegetables or flowers, challenge your child to start a garden. Have them research how long it takes different varieties of foods or flowers to grow, what time of year is best to grow them, and which is best to grow based on your region's climate. They'll learn about the science of food, botany, and so much more. They can also research different growing methods like soil and hydroponics, as well as how different types of soil and plant food can affect the growth.
Project-Based Learning Ideas for High School
Work on a genealogy project – Build your child's communication and literacy skills by having them write a book about your family history and ancestry. They can interview family members, use pictures in photo albums, newspaper clippings, and anything else that will help them understand where they came from and learn more about their ancestors. Their project can take any form they choose: a scrapbook, online presentation, a shadow box, or display board. The possibilities are endless.
Become a local tour guide – Instead of becoming a travel agent, have your child act as a tour guide for the city/town you live in. Students will learn and share information about their hometown's history and the important people who helped shape it. Students can also make a fun list of all the local events that take place throughout the year like festivals and fairs, popular restaurants, and outdoor activities visitors should try. At the end of the project, your child can take you on the tour they designed and share everything they learned.
Build a boat – Science and engineering skills are at the forefront of this project. Whether it's on the small side (to test in a tub or pool) or large enough to fit 2 people, have your child build a boat with the goal of making it float and carry a load. Students will need to research different materials to use, as well as tap into their knowledge about buoyancy, density, physics, and other concepts to help them accomplish their goal.
These project-based learning examples can help your child gain tons of valuable skills as they learn about things that actually affect their world and feed their curiosity. As a result, they'll take more of an interest in what they're learning and retain information better. You'll notice that when you give your child full rein of a project, they are quick to take the initiative, ask the right questions, and make important decisions based on their findings — all valuable skills that will help them succeed now and in the future.