This Day in History – January 4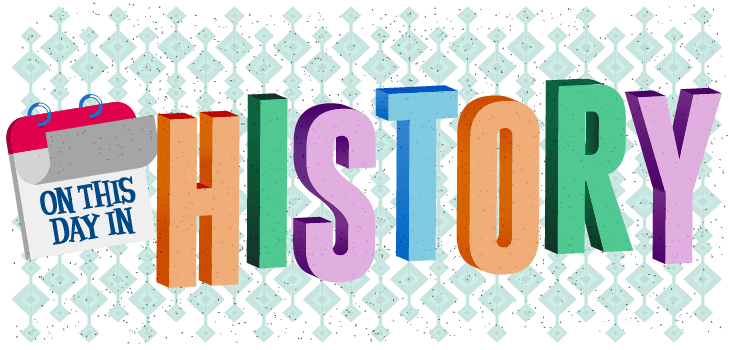 What's so special about today, January 4th? If you're scratching your head in wonder, follow along below to learn why this day stands out in history.
Fun Facts About January 4th
2010 – The Dubai Tower was inaugurated as the world's largest tower
1966 – Ronald Reagan runs for Governor of California
1954 – Rock 'n' Roll King Elvis Presley recorded his first demo
1948 – Burma gained its independence from the United Kingdom
1930 – Birth of Super Bowl coach Don Shula
1896 – Utah was granted statehood by President Cleveland and became the 45th state to join the United States of America
1809 – Louis Braille was born
The History of January 4 in the 2000s
Did you know, that on this day in 2010 Dubai held the title for having the world's tallest tower at 2,717 feet? While this is no longer the case, architecture sure reached new heights with this project. Here are some things the builders boasted about when the tower opened: World's tallest freestanding structure, world's highest occupied floor, world's highest outdoor observation deck, and world's longest-traveling elevator (1,640 feet, traveled in two minutes).
The tower has a combination of nightclubs, mosques, luxury suites and boardrooms and the world's first Armani hotel, the world's highest swimming pool, on the 76th floor, the highest observation deck on the 124th floor, and the highest mosque, on the 158th floor. The opening celebration featured parachute jumps, fireworks, and streams of water from the world's tallest water fountain. The estimated cost is $1.5 billion dollars.
The History of January 4 in the 1900s
Did you know that the 40th president of the USA Ronald Reagan decided to abandon his acting career to run for office? On January 4th, 1966 he announced his candidacy for Governor of California. Reagan said,  "I am not a politician in the traditional sense of ever having held a public office, but I think I can lay claim to being a citizen politician."
Did you know that on January 4, 1954, the King of Rock 'n' Roll Elvis Presley recorded his first demo record? He sure did, at Sun Records Memphis Recording Service in Nashville, Tennessee. The recording lasted 10 minutes and included two songs, "Casual Love Affair", and a country song, "I'll Never Stand in Your Way".  While neither song became a hit for Elvis, they were the beginning of a long and sometimes difficult road for him as he tried to make it big in the music business.
Increase your student's excitement about U.S. History with this interactive online course for high schoolers. 
Did you know that Burma once was controlled by the United Kingdom? For a while, Burma was part of British India, but it became a separate colony in 1937. Japan invaded Burma during World War II. The British fought many battles with the Japanese but when the war ended the Burmese government was poised to take over British control. In January 1947, General Aung Sang signed an agreement with the British Prime Minister that gave Burma full independence within a year.
Many football fans are thankful for this day because Don Shula, Super Bowl winning and Hall of Fame coach of the Miami Dolphins was born. He started his head coaching career with the Baltimore Colts but is best known as the head coach for the Miami Dolphins. There, Shula won two Super Bowls and helped his team to an undefeated season, something never accomplished in the NFL before or after that season. He currently holds the NFL record for most career wins as a head coach, with 347, and in 1997, Shula was inducted into the Pro Football Hall of Fame.
The History of January 4 in the 1800s
Did you know that January 4 marks the day when another star was added to the U S flag when Utah joined the Union? Well, Utahns tried several times for about 50 years to no avail. Utah finally became part of the USA on Jan 4, 1896, making it the 45th state of the nation.
Dive deeper into U.S. Geography with our series of FREE state unit study supplements!
Louis Braille was born on January 4, 1809, in Coupvray, France. Though he wasn't born blind, he lost his sight at a very young age. This didn't stop him from being an excellent student and then creating a simple system using dots. Today he is widely known for creating the tactile writing system for the visually impaired.