How Time4Learning Has Made Homeschooling Easier for One Grandmother
MEMBER INTERVIEWS & STORIES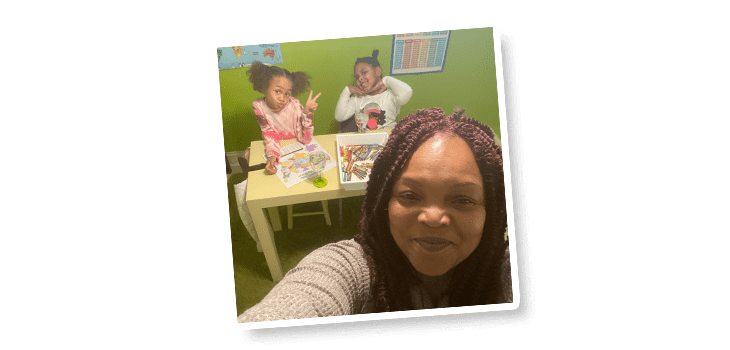 Mother, grandmother, home daycare provider, program director for an addiction treatment center, Sunday school teacher, youth pastor, and PTO president. These are just some of the titles that Ms. La, as the children who know her affectionately call her, has earned throughout her life. Today, it's that of a homeschooling grandmother and learning pod creator that are making the biggest impacts for this Chicago, Illinois resident, and more importantly, for children struggling during the pandemic.
Growing up, seven-year-old Sky spent a lot of time with her grandmother, Ms. La. As an educator herself, Ms. La effectively taught Sky essentials like the alphabet, counting, colors, and shapes. By the time Sky started preschool, she was well ahead of the other students. Yet, in kindergarten, she started to get bullied, and her family grew unhappy with the quality of the education she was receiving.
Ms. La recently joined us on our first episode of "Tales from the Homeschool Front." You can watch the full interview/chat here:
Ms. La pleaded with her daughter to enroll Sky in another nearby school. Then the COVID-19 pandemic started, and by this time, Sky was in first grade and doing remote learning. "I would watch her in school and there were barely any kids there," she says. "She was in the backyard doing cartwheels, and I said, aren't you in school?" Ms. La knew this wasn't going to work.
She started to look for information and research laws regarding homeschooling in Illinois. She came across Time4Learning and was immediately drawn to the user-friendly format and its engaging activities. "It was just so easy to understand and computer friendly," she says. This was in stark contrast to what Ms. La experienced many years back when she homeschooled her own children. "It was way too much." But with Time4Learning, it was a whole new ball game. "I was intimidated to be a teacher, but Time4Learning made it easy," she says.
"The teaching is already taken care of for you, as well as tons of the administrative tasks that come with homeschooling. A lot of the work was done for me in terms of grading, attendance, even down to how many minutes that they would take on various lessons."
Ms. La
In August of 2020, Ms. La took the leap and began homeschooling Sky. A few months later, Sky's best friend, Joy, joined them after moving back to Chicago from Arizona. The young girl was homeschooled in Arizona, yet struggled in public school in Chicago, particularly during remote-learning due to school closings. Ever since she started homeschooling with Time4Learning, things changed. "Her confidence has skyrocketed," says Ms. La. "She really didn't think she was smart."
Ms. La even created a website to document her unique homeschooling story. Soon after, a family from Indiana reached out for help because their two children were failing. Ms. La welcomed them to her growing homeschool learning pod with open arms. According to Ms. La, Time4Learning makes it easy for her to meet the learners where they are academically. "She uses it as the core curriculum for one child, and as a supplement for the other. "I love the fact that you have access to a grade below and a grade above. Every student has a strong area and a not so strong area. I could quiz them just to see where they're at." Just a few weeks ago, yet another student joined the homeschool learning pod.
For Ms. La, homeschooling is a school choice option that, contrary to popular belief, creates an abundance of opportunity for socialization among children.  "Sky and I are both extroverts. We love homeschooling because it gives her time to be social with other children," she says. Once Joy joined them, Ms. La noticed it had a positive impact on Sky, since Joy is more reserved. "Both of them complemented each other and balanced each other out."
To bring learning and engagement to another level, Ms. La has created her own set of electives that allow all the children to learn and work together. She teaches healthy cooking on Wednesdays where the kids create meals together, and learn about making smart food choices. They make salads and learn how the various colors of fruits and vegetables serve a unique purpose.
Thursday is Board Game Day. They play Monopoly and learn about saving and counting money, communications, teamwork, and other important life skills according to Ms. La. "They have to learn how to not win and be OK with it." On Fridays, the students learn Spanish with Time4Languages.
On team projects, the students collaborate with one another, learning how to work in teams. Since Sky and Joy have been using Time4Learning the longest, they help other students when they come across an issue. "All of that is socialization," says Ms. La. Once the pandemic is over, Ms. La is excited to get involved with homeschool groups in the area and go on field trips.
Ms. La offers this piece of advice to families who are considering homeschooling, yet are hesitant to take the leap: "Relax…you already have everything inside of you to teach, train, and direct your children. You've already been equipped and are already empowered."
With a program like Time4Learning, you have even less to worry about, she says. "It's so comprehensive and so well-thought out," she says. "The teaching is already taken care of for you, as well as tons of the administrative tasks that come with homeschooling. A lot of the work was done for me in terms of grading, attendance, even down to how many minutes that they would take on various lessons."
Students who are homeschooled have so much to gain too. Ms. La acknowledges that with the prevalence of bullying, these are hard times to grow up in. "When you homeschool, kids can just relax and be themselves without worrying about what those around them think. They don't have to worry about pleasing other kids or fitting in."
Even though it wasn't her intention to start a learning pod, Ms. La realizes how much these students need her, and she is just taking everything as it comes. "I'm doing what I'm supposed to do."