Learning Pods: The Best of Both Worlds for Some Homeschoolers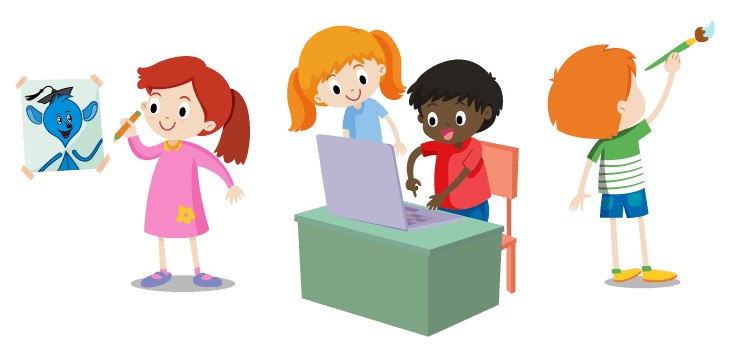 Prior to the pandemic, terms like learning pods and micro-schools were only familiar to those steeped in educational lingo. In a single year, they've risen to the top of the news cycle and into the vocabularies of the average family. As kids return to the classroom, though, we could probably expect those two words to disappear back into the English lexicon. But what if the trend of learning pods was adopted in new and creative ways by the educational segment that is always pushing boundaries and reinventing how learning happens? What if they offered a distinct and beneficial path for homeschoolers?
Let's explore learning pods more thoroughly and see how they could be a potential game-changer for families eager to find the right balance between home-based education and group learning.
Homeschool Learning Pods
Although homeschooling has grown exponentially during the pandemic, it is still a small segment within the educational community. Without the right level of support, homeschoolers can often feel isolated. Long before COVID-19, homeschoolers sought out socialization through local support groups, co-ops, athletic leagues, library and museum programs, and organized classes for youth.
The concept of a dedicated learning pod–a group of families who band together for regular learning and interaction–evolved more recently as a new and intriguing option for homeschool families. Learning pods bring together several families of same- or mixed-age students to share in an educational experience. Parents can trade off as facilitators, or they may even band together to hire a teacher or tutor for the group, meeting every day or during specific days of the week. Just as there is no one "right" way to homeschool, there is no limit on ways to set up a homeschool learning pod.
Potential benefits of homeschool learning pods include:
The opportunity to create friendships through regular contact with like-minded families
Options for group activities that individual families might miss out on such as special-interest clubs, physical education, science labs, and public speaking
Sharing expenses, equipment, group field trip discounts, and even curriculum
Sharing teaching duties to give parents a much-needed break from lesson planning, and provide more flexibility to work
Giving children a variety of learning activities to energy their school week
A Peek Inside a Pod
Delphine was surprised by how much her family took to homeschooling. Originally, she planned to pull her second grader and fourth grader out of school for a year–almost as an experiment. She was curious to see if her gifted learners, Talia and Zina, might benefit from being able to accelerate at their own pace and devote more time to their shared passion for bird watching with their dad, an ornithologist.
"Just as there is no one "right" way to homeschool, there is no limit on ways to set up a homeschool learning pod."
The girls thrived in ways Delphine never even expected. They became less anxious and more self-confident. They even got along better with less rivalry. The only downsides after a year of the homeschool experiment were that Talia and Zina were missing their school friends and Delphine herself was feeling stretched by all the new educational responsibilities.
Ultimate Homeschool Burnout Prevention Checklist
Discover how to prevent homeschool burnout and keep everyone happy and motivated!
As they tied up their first year of homeschooling, and Delphine was weighing her options about the next, she learned of a local homeschool learning pod. Four families in the same New York borough were meeting together three mornings a week for shared learning time. The primary homeschool parent in each family took turns once a month directing that week's activities.
When they agreed to add one more family, this felt like the perfect solution for Delphine. She would have several mornings a month to herself and the girls would get the benefits of regular socialization. And did they ever –they organized a book club, group science projects, park days. Their family even shared their love of birds with the pod by organizing a bird-watching field trip. This blend of independent and group learning convinced Delphine to continue her home education experiment indefinitely.
Setting Up Your Own Homeschool Learning Pod
Has the idea of a homeschool learning pod intrigued you enough to try and create one of your own? You got this! First off, you'll need to define the scope of your pod. If you are considering a full-time learning pod that meets daily and uses a planned curriculum, the homeschool laws in your state may stipulate whether you must organize as a private school or if you have the flexibility to share homeschooling responsibilities as a group.
Your next decision is to choose a focus. Will your pod be primarily focused on extracurricular activities, supplemental learning, or just the subjects that work better as a group, such as P.E., band, science lab, or drama? If you are thinking more along the lines of a general learning pod, you'll want to explore curricula that work well for groups. Perhaps you can set up individual computer workstations for students.
Third, it's time to find some families to join your pod! If you've been homeschooling a while, you likely have a network to start with. For newer homeschoolers, we recommend posting a query in your local homeschool Facebook group, the Nextdoor app, or even at your library branch. Don't be overly specific in your initial query. You'll get more responses if you make a general call-out and then you and the families who follow up can narrow down the details of your pod as you go.
One of those final details to narrow down will be choosing who will facilitate the pod. Will you hire a tutor or teacher for your group? There are often teachers with lapsed certificates who are looking for part-time work and even college students getting educational degrees who need hands-on experience. Perhaps you'll decide to share the teaching responsibilities within the group. This can be an ideal option because it requires no up-front costs, and families can organize a schedule that works ideally for each of them.
An important thing to note is that for any homeschool learning pod, adaptability is key. You may discover that your original scope was too narrow, or too broad. Your chosen curriculum will need tweaking. The curiosities of the individual students in the pod will often change the focus. Your tutor may suddenly take a full-time job, and families in your pod will move away and new families will show interest in joining. By keeping your homeschool learning pod malleable, you will ensure that it lasts longer and perhaps evolves into something more gratifying than you originally envisioned!