Homeschooling Solved Our Public School Safety Worries
MEMBER INTERVIEWS & STORIES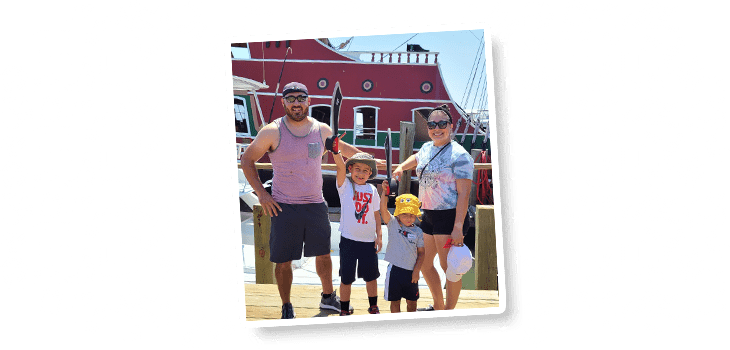 Across the country, many families are facing an important decision- send their children back to traditional school or homeschool.
We recently caught up with one parent and Time4Learning member, Amanda Flores, who made the decision to homeschool after growing frustrated by shifting mask mandates in her state. While it was not an easy decision, learn how her family is already experiencing some of the many benefits of homeschooling.
Q: Please walk our readers through your motivation to homeschool Jaxson?
A: The whole mask mandate issue here in Texas has been such a crazy roller coaster ride. There was a temporary mask mandate, and then it was overturned. We were just so skeptical of sending him back to school, then just didn't feel very safe. Jaxson's immune system is weak, and so we're not gonna send him back to school when a Delta variant is out there and there is no mask mandate. It really scared me. So it was just a lot of uncertainty.
Q: Have you ever thought about homeschooling before the pandemic?
A: We actually really hadn't, simply because my husband and I were working full-time in an office. Because of the pandemic and working fully remote, this opened up the option of homeschooling.
Q: So how did you find Time4Learning?
A: We definitely couldn't do a homeschool curriculum by ourselves. I started researching homeschooling options and Time4Learning kept coming up. So we took a look at it and it looked pretty good. We decided to take that step forward.
"We have gained so much family time with homeschooling. If he was going to school, we would have lost a lot of time commuting, sending them to school, and picking them up."
Amanda Flores
Q: What were some of your initial concerns about homeschooling?
A: My husband and I went to public school growing up. So we really wanted Jaxson to be part of that because that's what we know. That's what we were familiar with. But I started talking to some other people who I know that homeschool, and they just talked about the flexibility and how great it is and on your own time.
Q: How have you embraced homeschooling? The homeschooling community?
A: I joined a few groups on Facebook, including Time4Learning's Families Facebook Group, even before I purchased the subscription. I felt so reassured by everyone that was posting on there, supporting one another and talking about how great the program was for a very economical cost.
Q: Did you look at other options before you signed up with Time4Learning?
A: We did look at virtual schools, but they were expensive, somewhere from $5,000 to $6,000 a year or $580 a month. We also looked at private schools, but they also had shifting mask mandates, and were also expensive.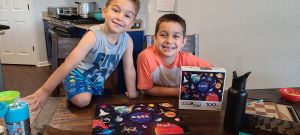 Q: How important is the support you receive from family?
A: It's very important. My mom watches my three-year-old so that opens up possibilities. So we didn't have to worry about entertaining him, working with Jaxson, and working full time from home.
Q: Did Jaxson experience remote learning due to the pandemic, and how is homeschooling different?
A: Yes he did, and I think that may have given my husband kind of a bad taste about homeschooling. Homeschooling is a totally different experience though! The public schools that don't typically do remote learning were having to scramble to put this curriculum together and get this process in place for remote learning. It was pieced together as best as possible, and it wasn't great.
Q: What are some of the benefits of homeschooling? How does your family enjoy it?
A: It's more of a fun experience for him to learn because we start on his own time. We're not having the race to the computer by 8:20 so that he can listen to announcements and stuff with the teacher, then trying to wait on other students to get situated so he could start his day. It's "wake up when you wake up," then they'll eat breakfast, get dressed, maybe watch TV for a little while, then we can start school at nine o'clock. I think he's really enjoyed that and Time4Learning really is fun for him because I think he feels like us parents. He sees us working on computers all day that he's like, "oh, this is my computer and I got to do my work too," and I think he kind of feels like he's "adulting" a little bit using his touchscreen computer.
Q: How else has homeschooling helped your family?
A: We have gained so much family time with homeschooling. If he was going to school, we would have lost a lot of time commuting, sending them to school, and picking them up. It could be 5:45 or 6:00 in the evening before we got home, after school and work. We have just gained so much precious family time and I'm so grateful for that, because I get to see him learn and where he struggles, and I get to see him for longer.
Q: How do you like Time4Learning? What are some of the tools/features you enjoy?
A: I feel empowered. We have that flexibility with lesson planning, where you can put in your breaks and you can put in when your child is not gonna be doing school work. It helps you set the amount of assignments they can complete to be able to finish by a certain time. You don't have to be on a regular school schedule. You could do some after work later in the evenings or some time on weekends if you need to.