How to Close Learning Gaps with Afterschool Enrichment
AFTERSCHOOL RESOURCES & SKILL-BUILDING IDEAS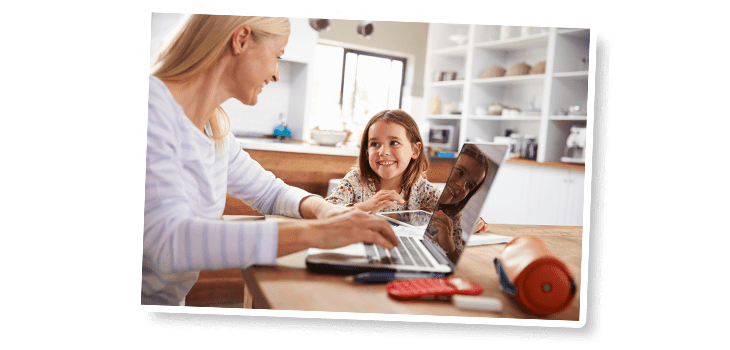 Are you concerned that your child may have some learning gaps? Do you fear that a summer break or lack of quality instruction in school has caused your child to experience learning losses? What should you do? You can have your child stay after school to practice what was learned earlier in the day, or hire an expensive tutor, but those aren't the only options!
Afterschool enrichment with a supplemental learning partner like Time4Learning can help you support your child in a way that is customizable, targeted, cost effective, and engaging.
Identify Learning Gaps
The first step in creating an effective afterschool enrichment program is to monitor and evaluate your child's learning so you can identify gaps in their skills and knowledge. How much does your child know and not know about a particular subject? What can they do well in that subject and what is more difficult? Building an afterschool enrichment program to target specific learning gaps requires gathering all the information you have available. Here are a few suggestions:
Collect what you can from the school, including anything that is graded or contains written feedback. This can include report cards, mid-term progress reports, or any correspondence with your child's teacher.
Observe your child doing homework, working on projects, or preparing for tests. Be involved as a helper, but also as a detective. Look for clues of learning loss, which may take the form of misunderstandings, hesitation to begin work, incomplete tasks, or signs of frustration.
If you identify a problematic area for your child, continue to pinpoint where the specific learning gaps are. Remember that much of academic learning builds on prior learning.
When necessary, use formal and informal assessments to monitor progress and evaluate your child's present levels of understanding and skills. It's better to spend some time and effort in assessments than to waste valuable afterschool time learning something that is too easy or too difficult for your child at the time.
Create Learning Goals
Once you have identified your child's learning gaps, the next step is to set goals for supplemental learning. What can your child accomplish during afterschool learning by the end of the quarter, semester, or year? Designing well-written goals in reading, math, or science, for example, can provide motivating targets for your child, and help you stay engaged and evaluate progress. It can also help you celebrate once these goals are met! Remember, too, that afterschool supplemental learning is occurring after a regular school day, which can be long, so be kind to yourself and your child. Make sure to also include afterschool activities that build on strengths and make learning as fun and engaging as possible.
Afterschool Enrichment Solutions
Time4Learning provides a student-paced afterschool enrichment solution that is easy and affordable for you and engaging for your child. The flexible course offerings allow you to choose subjects across grade bands to allow for subject-by-subject review, with access to learning activities for the grade prior if learning gaps are more foundational. As a member of Time4Learning, you can use the automated reports to easily gather the data you need to set goals and to measure progress. Repetitive use of quizzes and tests enables you to provide pre- and post-assessments for targeted areas, and you can select or deselect learning activities and assessments to specifically focus on the objectives of your afterschool enrichment program. The best part is that your child can take and retake quizzes and tests to build confidence while providing you with the information you need!
Here are just a few ways Time4Learning can be helpful in closing learning gaps for your child:
Reducing anxiety: Time4Learning can help your child maintain performance at least as high as grade-level peers, and build confidence while reducing both math anxiety and test anxiety. For example, if your child is struggling with math, Time4Learning's reporting features can help you identify learning gaps in specific concepts and monitor progress on goals while the engaging math curriculum, and additional features like Time4MathFacts for elementary students, can keep your child motivated.
Preparing for exams and standardized tests: In addition to combating test anxiety with improved confidence, Time4Learning can also help your child with afterschool test preparation for regular classroom tests (by providing alternative instruction and opportunities to test knowledge) and state standardized testing, as well as for assessments like the SAT, ACT, GED, GRE, or even college placement tests and certain AP exams.
Learning foreign languages: Time4Learning provides members with the option to add Time4Languages as an interactive way to practice verbal and reading skills in another language. Learning a foreign language in school can be difficult and anxiety causing for many students. Time4Languages can fill the learning gaps and build confidence from the comfort of home.
Time4Learning can be a powerful partner in your afterschool enrichment program. It is used by tutors and tutoring centers to fill learning gaps and prevent future learning losses for students across the country, so it makes sense as a supplemental learning tool for your family. Discover how the Blalock family has used Time4Learning to reverse learning loss and how Sarah Murphy has used Time4Learning to prevent her kids from falling behind in school.