Summer Learning Curriculum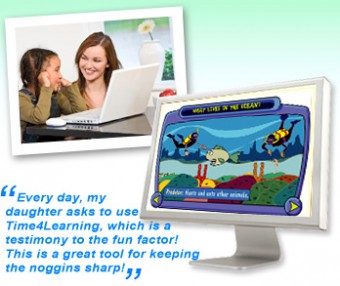 TRY OUR LESSON DEMOS
It's time to try a summer learning curriculum that feels more like a game than a comprehensive learning activity.
Years ago, June brought with it just two options; Summer School and Summer Camp. Students with the higher GPAs got some time away from their academics while those who struggled with grades went to summer school kicking and screaming.
If there was a third option that allowed your children to enjoy the summer AND stay sharp in their studies, would you try it? Let's say, for example, that your kids could retain what they learned during the school year, get ahead for the next year or catch up on what they missed… all by using a curriculum that felt more like video games than learning activities. Would you entertain that option?
Well, Time4Learning is now giving you option three. Our online education curriculum takes an "outside-of the-box" approach to summer learning and a refreshing alternative to sending your children to summer school. Check out the curriculum features!
A Summer Learning Currciculum That's Both Fun and Effective
They won't argue with you about option three. In fact, they're probably going to like it. Our summer learning activities are presented in a style that is both fun and effective. Kids genuinely enjoy the funny sound effects and the quirky cartoon characters delivering the material. Animated, interactive lessons feel more like video games than learning exercises to the kids. Plus, the student-paced nature of the curriculum gives them a feeling of independence and sense of ownership over their progress, which is a great motivator.
For you, this means everybody wins. You can relax, knowing that you are providing your kids with a productive outlet to stimulate their creativity and promote mental exercise into the summer months. Our curriculum is web based, so there is no software to download, no CDs and nothing additional to purchase.
Your kids will be able to access the curriculum 24/7 from anywhere with an internet connection. And now that Time4Learning is also available from most mobile devices using the Puffin Academy app, you can make summer plans knowing that they can use the curriculum, any time from anywhere.
A Summer Learning Curriculum With Substance
Time4Learning.com combines 1500+ multimedia lessons, printable worksheets and graded activities in a student-paced environment that brings concepts to life. Math and language arts lessons are correlated to state standards. Science, social studies and art are also provided as a bonus to most grades.
Curriculum features:
Individual logins allow students to work on their own schedule
Grade levels can be set independently for each subject
A grade above & below can be accessed for review and extra study in most grades (excludes high school courses)
Lessons are presented in a sequential order in small chunks
Students can repeat lessons if they don't understand a concept
An automated system grades lessons and tracks progress
24/7 access from any computer with an internet connection
Alternative explanations provided when questions are answered incorrectly
A lesson activity finder allows parents to preview lessons and hone in on lessons teaching specific topics (shown below).
Whether mainstream, gifted, or special needs, Time4Learning provides a flexible, student-paced approach. The learning curriculum is the perfect summer learning tool for your family. Help your kids retain what they've learned, catch up on what they haven't, and get ahead for next year.
Still not sure? Time4Learning offers a 14-day money-back guarantee and the ability to start, stop, or pause anytime.
After his first day using Time4Learning, my son looked over at me and said 'I'm really smart mom!' That statement is priceless!
Time4Learning started out as a supplement, but has now become more of a center piece to our homeschooling. I wasn't expecting that at all!
Lesson Activity Finder Tool – Great for Summer Use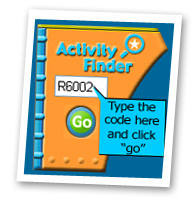 The lesson activity finder is one of the many helpful tools that Time4Learning offers its members. For summer learning, the activity finder makes it easy for parents to preview lessons, find extra practice for their child or hone in on a specific area of study.
Every lesson in the curriculum has a unique activity number, referred to in the lesson plans as an "LA Number." These numbers can be found on either the scope and sequence pages or the lesson plans in the parent administration area.
The activity finder can be found in the lower left hand corner of the Student LaunchPad page. To use it, members simply log in to their child's account, type the Learning Activity (LA) number of a lesson into the Activity Finder and click "Go" to open it.
For additional information, please visit our hints and help section, which gives more details about the activity finder.
The Time4Learning Curriculum Structure
Time4Learning has been refined through years of feedback from educators, parents, and students. Subjects are organized into chapters composed of interactive lessons, printable worksheets, quizzes and tests. Students are guided through the activities at their own pace by an automated system.
When students log in, they choose a subject, select a chapter, pick a lesson and complete the activities. A bright green arrow tells them where they left off, and completed work is clearly labeled with a check-mark or a gold star. Visual and auditory prompts guide students through the lessons, making it easy for even young learners to follow, and an online playground (controlled by parents) rewards and motivates them to finish their lessons.
Parents get access to printable lesson plans, teaching tools, detailed reporting and parental support through our online Parent Forum.
Does your child have different achievement levels for math and language arts? No problem! Time4Learning lets you set each individual subject at the appropriate graded level, making this curriculum great for special needs and gifted students.