Pros and Cons of Homeschooling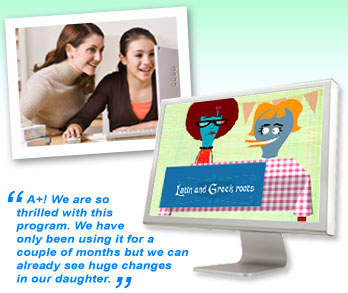 Try Our Lesson Demos
Are you thinking of homeschooling? Considering the Benefits of Homeschooling? Looking for Homeschooling Information? Wondering How to Start Homeschooling?
When I look at homeschooling books and websites, I'm struck by homeschoolers' passion and conviction. While this is generally a good thing, it can be off-putting to parents who are considering homeschooling. As one mother who was thinking of homeschooling put it:
"Unlike all the homeschooling articles and websites that I read, I am not sure that homeschooling is a great idea. I'm just a parent who has run out of school choices and so I'm looking into homeschooling. I'm thinking of homeschooling out of necessity, not passion. I'm simply trying to problem solve and do what would be best for my child, but when I read the websites, I fear that I am about to enter a world of people who were born to homeschool, not accidental homeschoolers* like me."
You can jump to the following sections:
How Parents Feel
Time4Learning receives a lot of phone calls and emails from parents who feel this way. Many express a feeling that they are different from "real homeschoolers" since they are doing it out of necessity, not desire. We believe that half of today's homeschoolers did not intend to homeschool and started by putting their children in a traditional school. Elise's story epitomizes the reality that many start down the homeschool path somewhat accidentally.
"I never envisioned myself as a homeschooler until events unfolded in such a way that there didn't seem to be any other choice. I'd say that I started as an accidental homeschooler, a category that also describes many of my friends. In my case, I had always assumed that my children would go to school, although I recognized that I might have to pay for private school. And indeed, this was the first route we took when our daughter entered kindergarten." Click to read the rest of my story which continues with: Problems at School – Confronted with Socialization Issues.
How Time4Learning Can Help
To respond to these concerns and to help new homeschoolers get off to a great start, Time4Learning provides the following:
A free Introductory Guide to Homeschooling written with extensive input from experienced homeschooling parents. The question that we asked experienced homeschoolers to answer was: What do they wish they had known when they first started to homeschool? From their answers, we compiled an e-pamphlet which is made available to everyone. Click to download Welcome to Homeschooling for free.
A series of case studies (i.e. stories) by parents on why they considered homeschooling and how they started. In collecting this information, one parent commented, "I had forgotten that, long ago, I was unsure that homeschooling would be a good idea. Until I looked back, I had forgotten how I used to be so full of doubts. But now that you mention it, I was confused and sometimes panicked about the decision."
An online homeschool forum where parents discuss the reality of their homeschooling questions. The discussions range from broad questions about homeschooling strategies involving the Internet to specific questions about organizing days and use of different resources.
Mostly, Time4Learning provides a unique service that both novice and experienced homeschoolers appreciate. The self-running educational system, the engaging interactive lessons, the timer, the reports, the low cost, the responsiveness of member support, and the useful tools such as detailed lesson plans and online help make Time4Learning a great partner.
My daughter always liked learning, but Time4Learning has turned "like" into love! I've never seen her so excited to do lessons, before!
It's amazing how quickly my kids are learning difficult concepts. The animation really helps them apply the lessons to something tangible!
Why Homeschool?
Homeschoolers appear to be in a world of their own. Those who are thinking about homeschooling their child can feel marginalized since it appears on the web as if all homeschoolers were sold on the idea from the beginning. The reasons for choosing to homeschool a child can be so varied, but in many cases, parents put their children in schools and had no thoughts or intentions to homeschool. After some problems in schools and maybe a school switch or two, some of the parents consider homeschooling as the best approach for their children. These "accidental homeschoolers" usually come to homeschooling somewhat later, and not necessarily out of choice. They might have made the decision to homeschool because of one of the following reasons:
Poor child-school fit
Inadequate school resources
Child's need for one-on-one guidance
Individualized program for a child with special learning needs or giftedness
School safety concerns
Health problems
Frustration with school staff or curriculum
The Five Stages of Homeschooling
Of course there are probably as many reasons for homeschooling as there are homeschoolers! But those families who are forced to make a sudden decision to school their child at home may feel inadequate to the task at the beginning. You may have hit some initial homeschooling bumps that even made you ask, "What was I thinking?!" Maybe it wasn't too long before you discovered that this was the first of five stages of homeschooling:
Homeschooling Denial and Isolation – I'm not like those other strange homeschooling families. I'll only be doing this until things get better.
Homeschooling Anger – If I have to look at another curriculum catalog I am going to scream! I didn't sign up for this! He never talked to his teacher this way!
Homeschooling Bargaining – If you will just do this one worksheet, we will go for a nature walk after lunch.
Homeschooling Depression – I didn't major in special education — I'll never be able to teach her what she really needs to know.
Homeschooling Acceptance – I can't believe how well he is doing in math now. He has come up two grade levels in two months. I guess this homeschooling thing is really working!
The most interesting thing about arriving at the last stage of the process is that you look back and begin to realize you don't even recognize the person from stage one. In fact, you realize you have become one of those strange homeschooling families, those families that plan their lives around their homeschooling schedule, that brag about their favorite curricula, that get excited when a used homeschool book sale is coming to town. Somehow, that whole homeschooling world that seemed so unfamiliar and scary collided with your own world and merged into a new comfortable daily rhythm.
Time4Learning is excited to be a part of this homeschooling adventure along with you. Why not try us out and see how fun and effective a multimedia homeschool curriculum can be?
*Accidental Homeschooler is a term created by Time4Learning to describe how many parents feel when they first approach homeschooling.
Key Features of Time4Learning's Home Education Program
Time4Learning.com combines 1500+ multimedia lessons, printable worksheets and graded activities in a student-paced environment that brings concepts to life. Math and language arts lessons are correlated to state standards. Science, social studies and art are also provided as a bonus to most grades.
Parents get access to lesson plans, printable worksheets, teaching tools (located in the Parent Dashboard), detailed reporting and parental support through our online Parent Forum.
Other key features of the program:
Students get individual logins and work on their own schedule and pace
Parents can set the grade level independently for each subject
The grade above and below are available in most grades for review and additional study
Detailed lesson plans available for parents who wish to review lesson contents
Access to an online playground that rewards and motivates
An automated system grades lessons and keeps reports for homeschool portfolio usage (shown below)
Sign up and get started on the same day!
Time4Learning is entirely web based, so there is no software to download, no CDs and nothing additional to purchase. Students will be able to access the program 24/7 from any computer with an internet connection.
Time4Learning offers a 14-day money-back guarantee and the ability to stop, start, or pause anytime. Browse lesson plans, try the interactive lesson demos, read curriculum reviews, or view the curriculum overview to see what's available.