Online Curriculum Reviews for Time4Learning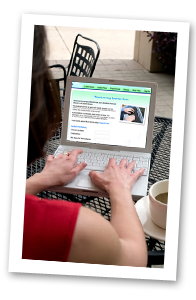 Submit Review
Would you like to be a reviewer? Are you an aspiring journalist or blogger, or do you just want to share your experiences about Time4Learning? We would like to offer you a chance to write your own homeschool curriculum review.
People enjoy sharing their life experiences, knowledge and opinions with others. Whether it's by word of mouth or a social media network, Time4Learning wants to hear what you have to say about our online curriculum.
We encourage members to post honest, candid reviews so we can continue our Constant Process Improvement. In fact, your feedback means so much to us, you will earn $25 when you submit your first review.
NOTE: Reviews should be posted on your personal blog or website, which has been active for at least six months and is open for public viewing. Reviews on Facebook, Twitter, forums and sites other than your own are ineligible. All member and non-member requests are subject to management review, as management reserves the right to limit or restrict the parent review program.
Already a member? The process is easy:
Write a candid review of your experiences using Time4Learning.
Post your review on your blog or website.
Log into your Parent Administration Page and fill out the Blog Review Form.
Don't have a blog or website? Refer a friend to spread the word and receive your choice of $25 or a free month of Time4Learning.
Curriculum Review – Terms & Methods
Members (must be active for at least 30 days to qualify): We will thank Time4Learning members for original, online, first time reviews with $25. If you want to write additional reviews, we have additional guidelines that we will notify you about once you have submitted your initial review. For more information, please contact us at [email protected].
Non-Members: If you are not yet a member, but are considering our program, you can request a free month trial in exchange for your written review. Time4Learning has a limited number of "reviewer spots" and may need to set priorities based on availability and potential impact.
Note: All member and non-member requests are subject to management review, as management reserves the right to limit or restrict the parent review program.
How do you make a review interesting? Some suggestions…
We would ask that you focus your review on something of importance and relevance to you. Reviews should be very specific to your situation. For instance, if you have a fourth grader struggling with reading comprehension, a preschooler ready for kindergarten level math, or a homeschooled child with special needs, please write the review from that point of view.
Maybe you are a busy homeschooling mother and you are looking for help organizing the lives and education of four children. Discussing how Time4Learning helps your situation keeps the review interesting and personal.
What about negative reviews?
We find that most people really like the overall program and feel it is a fantastic value. However, Time4Learning is not for everybody, so we do realize that not all users will have only positive comments. The purpose of reviewing is to help families understand whether the program would be right for them. Feedback helps us work toward providing better services to our customers.
What about disclosure?
We would ask reviewers to share with their readers their relationship with Time4Learning. A typical format is to note that the author's opinion is entirely her own and that the content was not written by Time4Learning, but the writer was compensated.
Please Note: Members who are involved in the review program are not eligible to receive a duplicate payment for a review they've been paid for and a referral based on that same review. This means reviewers should not request that readers or group members note them as a referral source. Our referral program is meant for those who spread the news about Time4Learning by word of mouth to personal friends and family members, not via a listserve, mass email, or website.
We like being able to accommodate our members and can continue to do so within our set marketing budget. We appreciate the ongoing support of our members and appreciate their adherence to our specified guidelines.