Language Arts is the Heart of a Great Education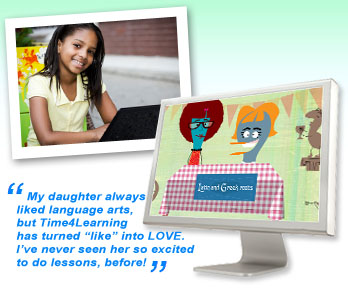 Try Our Lesson Demos
Wanting your child to have strong reading, writing and reasoning skills is not enough. You need the right language arts homeschool curriculum.
But there are so many computer language arts programs and approaches. How do parents choose the right homeschool language arts program? How do they mix other resources with their preferred homeschool curriculum?
Time4Learning is a new approach to homeschool. Our online learning system takes advantage of today's technology. Its convenient, interactive environment is perfect for children in homeschool, preschool to twelfth grade.
Children like using the computer to learn. Time4Learning's homeschool language arts and math program engages and challenges your children, letting them work at their own pace.
Parents like that it tracks progress and helps children advance by practicing language arts on the computer and teaching with individualized learning paths that assure coverage of the language arts skills and concepts that make children succeed.
Time4Learning is proven effective homeschool language arts program, has a low monthly price, and provides a money-back guarantee so you can make sure that it works for your children, Satisfaction Guaranteed! Sign up for Time4Learning as part of your overall homeschool program.
Choosing the Right Homeschool Language Arts Curriculum
Homeschool parents find one of the hardest homeschool tasks is picking a homeschool language arts curriculum. There is no more popular discussion on the web than homeschool curriculum reviews by homeschool families. After sifting through the homeschool curriculum reviews, most parents end up mixing and matching homeschool programs, trying to create the best match for their child. The benefits of blending several programs to language arts are particularly clear since language arts is so broad. Reading skills for instance, permeate the teaching of every subject and are also part of the family life of reading together at bedtime.
For families with more than one child, choosing a computer language arts program for homeschool can even be more problematic. What works for one child, doesn't work for another. What works one year, may not work the next. Time4Learning tries to take the confusion out of choosing your homeschool curriculum. Our online, interactive educational system offers each child their own learning path that is measured by their educational needs. Sign up for Time4Learning, and build your own personalized homeschool language arts program.
How to Build the Best Homeschool Language Arts Program
Learning to read is an exciting time children and their families. While thrilled by their children's emerging literacy and reading skills, many parents are surprised to learn that reading is not automatic and that, regardless of family background, children require support in learning to read and developing strong language arts skills. Most adults forget that acquiring reading skills required skilled instruction.
A language-rich environment forms a solid foundation on which reading skills. From the earliest ages, children should be addressed with a rich vocabulary. And from the earliest ages, they should be encouraged to express themselves. "Use your words" is a popular way of telling two and three year olds to make an effort to articulate. Structure instruction in reading can start as early as three or four. But instruction should be low key and follow a language arts system. The "What Works?" Report found that the five key areas in learning to read are phonemic awareness, phonics, comprehension, vocabulary, and fluency. Time4Learning teaches of these areas in a structured fun approach starting at preschool and into elementary school.
Is Time4Learning a complete language arts curriculum?
At Time4Learning, we get this question all the time. The answer is "no". We say no for two reasons. One, we think it is up to each homeschool parent to decide what a "complete" curriculum means for their children. Secondly, when pressed for our recommendation, we would offer an example of the language arts curriculum that we would suggest for a second grader.
Example of the key components of a second grade language arts curriculum
Time4Learning for grammar, phonics, verbal comprehension, reading comprehension, vocabulary, and spelling.
a handwriting program to develop fine muscle skills and to learn penmanship. After the penmanship had reached a certain level, I would add a typing course.
a reading program built around a weekly visit to the library to pick up two or three new books.
a daily lap book or journaling exercise to build writing and thinking skills.
a time each week when the child has to discuss or present something to some peers. This show-and-tell should be on something simple, preferably visual to make it easy and successful.
Sign up for Time4Learning and gain access to a variety of educational activities, which will engage and challenge your child to succeed. Make Time4Learning a part of your child's homeschool curricula.