Have a Fun & Productive Summer!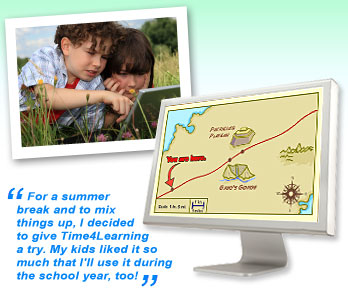 TRY OUR LESSON DEMOS
Here are a few reasons to try Time4Learning:
It uses fun, multimedia activities to teach standards-based curricula.
Parents can choose different grade levels in different subjects for each child.
Students get access to a grade above and below in each subject, allowing them to review or move ahead at will.
Alternative explanations are provided, so if a student answers a question incorrectly, the activity explains it in a different way.
Tools such as the activity finder help students hone in on specific areas of study and find reinforcement activities.
Time4Learning provides your kids with a productive outlet to stimulate creativity and promote mental exercise into the summer. One low price includes 24/7 unlimited access to all available subjects and no contracts! View the curriculum overview to see what's available.
Grade By Grade Curriculum Overview
Click the screenshots to browse lesson plans for each grade
Lesson Activity Finder Tool – Great for Summer Use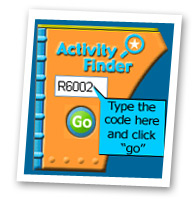 The lesson activity finder is one of the many helpful tools that Time4Learning offers its members. For summer learning, the activity finder makes it easy for parents to preview lessons, find extra practice for their child or hone in on a specific area of study.
Every lesson in the curriculum has a unique activity number, referred to in the lesson plans as an "LA Number." These numbers can be found on either the scope and sequence pages or the lesson plans in the parent administration area.
The activity finder can be found in the lower left hand corner of the Student LaunchPad page. To use it, members simply log in to their child's account, type the Learning Activity (LA) number of a lesson into the Activity Finder and click "Go" to open it.
For additional information, please visit our hints and help section, which gives more details about the activity finder.
My daughter always liked learning, but Time4Learning has turned "like" into love! I've never seen her so excited to do lessons, before!
It's amazing how quickly my kids are learning difficult concepts. The animation really helps them apply the lessons to something tangible!
The Time4Learning Program Structure
Time4Learning has been refined through years of feedback from educators, parents, and students. Subjects are organized into chapters composed of interactive lessons, printable worksheets, quizzes and tests. Students are guided through the activities at their own pace by an automated system.
When students log in, they choose a subject, select a chapter, pick a lesson and complete the activities. A bright green arrow tells them where they left off, and completed work is clearly labeled with a check-mark or a gold star. Visual and auditory prompts guide students through the lessons, making it easy for even young learners to follow, and an online playground (controlled by parents) rewards and motivates them to finish their lessons.
Parents get access to printable lesson plans, teaching tools, detailed reporting and parental support through our online Parent Forum.
Does your child have different achievement levels for math and language arts? No problem! Time4Learning lets you set each individual subject at the appropriate graded level, making this program great for special needs and gifted students.