Unit Study Supplement: US Territories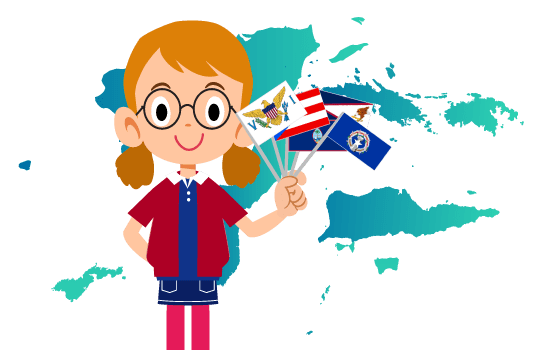 In addition to the 50 states we are all familiar with, the United States also includes a number of territories and commonwealths. So what's the difference between the two? A commonwealth is an independent country that is voluntarily part of the U.S., while a territory is an organized division of the U.S. that doesn't fully have all the rights of a state. Since both territories and commonwealths are often grouped together, we will collectively refer to them as territories in this article.
So how many U.S. territories are there? The answer is five. There are three territories of the United States: Guam, American Samoa, and the U.S. Virgin Islands; and there are two commonwealths: Puerto Rico and the Northern Mariana Islands.
This blog post includes information on all five U.S. territories including important facts, historical information, geography, popular destinations for families, and learning games so that students can become more familiar with these territories of the United States.
U.S. Territories Fast Facts
| Territory Name | Date it Became a Territory | Territory Flag |
| --- | --- | --- |
| American Samoa | 1900 | |
| Guam | 1898 | |
| Northern Mariana Islands | 1975 | |
| Puerto Rico | 1898 | |
| U.S. Virgin Islands | 1917 | |
Historical Facts About the Territories of the United States
America's expansion beyond the continental U.S. culminated with the annexation of Hawaii in 1898 and the purchase of Alaska from Russia in 1867. That said, a series of wars, negotiations and purchases also led to the U.S. acquiring 14 additional territories from the late 1800's until the 1900's. Of those 14, five are inhabited, and those are the focus in this unit study supplement.
Four of the five inhabited territories are located in the Northern Hemisphere, while one (American Samoa) is located in the Southern Hemisphere. With the exception of American Samoa, all the people in these territories are granted U.S. citizenship at birth. American Samoans are considered U.S. nationals and must go through the naturalization process in order to become U.S. citizens. Both U.S. citizens and nationals share many of the same rights, the key differences are that U.S. nationals do not have the right to vote or to hold an elected office.
Another key difference is that the U.S. territories do not have full representation in Congress, and infrastructure tends to be underdeveloped compared to that of the continental U.S..
Find out more about the historical events that led to each of the territories becoming what it is today below.
4,000+ years ago
Guam
Northern Mariana Islands
Immigrants from Southeast Asia settled in the Mariana Islands (Chamorros)
Puerto Rico
Settled by the Ortoiroid people who migrated from the South American mainland (later the Taino culture developed)
3,000 years ago
American Samoa
Polynesians settled the Samoan Islands
U.S. Virgin Islands
Ciboney Indians migrated from South America to the U.S. Virgin Islands
1400s – 1500s
Guam
1521 – Explorer Ferdinand Magellan landed in Guam (Discovery Day celebrated on March 6 each year)
1565 – Guam was claimed by Spain, which built several defensive structures on the island
Northern Mariana Islands
1521 – Ferdinand Magellan arrived in Guam and claimed the Mariana Islands for Spain
1565 – Spain made the Mariana Islands part of the Spanish East Indies
Puerto Rico
1493 – Claimed by Christopher Columbus for Spain
1508 – Juan Ponce de León founded the first Spanish settlement of Caparra
1520 – King Charles of Spain emancipated the remaining Taino population of Puerto Rico
1600s – 1700s
Guam
1668 – Spain began settling in Guam
American Samoa
1722 – Dutch explorer, Jacob Roggeveen, first arrived in Samoa
Puerto Rico
1625 – Battle of San Juan, the worst attack on the city by the Dutch
U.S. Virgin Islands
17th Century – Virgin Islands was divided into two parts, one English and one Danish
1800s
Guam
1898 – Guam was captured by the U.S. during the Spanish-American War and became a U.S. territory under the authority of the U.S. Navy
Northern Mariana Islands
1899 – Mariana Islands were sold to Germany as a result of the Spanish-American War of 1898
Puerto Rico
1809 – Puerto Rico was recognized as an overseas province of Spain, given residents representation in the Spanish parliament (later reversed, reinstated, and reversed again)
1868 – Grito de Lares uprising, against poverty and lack of representation with Spain
1873 – Slavery was abolished in Puerto Rico
1895 – Puerto Rican revolutionary Committee was formed to seek independence
1897 – Intentona de Yauco uprising occurred, where the Puerto Rican flag was first raised, and limited self-government was achieved for Puerto Rico
1898 – U.S. invaded Puerto Rico and received Puerto Rico as part of the Treaty of Paris following the Spanish-American War
American Samoa
1878 – U.S. established a naval station in Pago Pago Harbor
1899 – Germany annexed Western Samoa while U.S. took over Eastern Samoa
1900s
Guam
1941 – Guam was captured by the Japanese and occupied by Japan for about thirty months
1944 – American forces recaptured Guam
1950 – Guam Organic Act established Guam's government, made Guamanians U.S. citizens, and transferred authority over to the U.S. Department of the Interior
1968 – First elections were held in Guam due to the Guam Elective Governor Act
1997 – Crash of Korean Air Flight 801
Northern Mariana Islands
1919 – League of Nations awarded Northern Marianas to Japan as a result of World War I
1941 – Japanese forces from the Northern Marianas invaded Guam
1944 – U.S. invaded the Mariana Islands
1947 – Commonwealth of the Northern Mariana Islands (CNMI) was created as part of the Trust Territory of the Pacific Islands (TTPI)
1969 – Guam rejected integration with the Northern Mariana Islands
1975 – CNMI became a U.S. territory through federal law (the Covenant)
1977 – CNMI adopted its constitution
1978 – CNMI's first constitutional government took office
Puerto Rico
1900 – Foraker Act gave Puerto Rico some civilian government authority
1906 – President Theodore Roosevelt recommended that Puerto Ricans become U.S. citizens
1914 – Puerto Rican House of Delegates voted unanimously for independence, but this was rejected by the U.S. Congress (followed by several more attempts at independence, which were all rejected)
1917 – Jones-Shafroth Act granted Puerto Ricans U.S. citizenship
1918 – Major earthquake and tsunami hit Puerto Rico
1947 – U.S. granted Puerto Ricans the right to elect their own governor
1948 – Gag Law made independence-seeking activities illegal (later repealed in 1957)
1950 – Puerto Rico Federal Relations Act allowed the U.S. to govern the territory with full jurisdiction
1952 – Constitution of Puerto Rico was approved by President Truman and Governor Muñoz Marín
American Samoa
1900 – Island of Tutuila became a territory of the U.S. by deed of cession with authority given to the U.S. Navy (until 1951)
1904 – Island of Manu'a became part of the U.S. territory by deed of cession
1925 – Swain Island joined the territory through an Act of Congress
1956 – Authority over American Samoa transferred from the U.S. Navy to the Department of the Interior
1967 – People of American Samoa adopted their own constitution
1977 – First constitutional elections were held
U.S. Virgin Islands
1917 – U.S. purchased the Danish part of the Virgin Islands for $25 million
1927 – U.S. gave Virgin Islanders U.S. citizenship
1931 – Authority of the Virgin Islands was given to the U.S. Department of the Interior
1936 – Organic Act laid the foundation for self-government of the Virgin Islands
1954 – Revised Organic Act allowed for a more elaborate government structure in the Virgin Islands
1970 – Virgin Islands held its first constitutional elections
2000 – present
Northern Mariana Islands
2003 – Anatahan Volcano erupted, forming a large, black cloud that moved over Saipan and Tinian
American Samoa
2009 – Strong undersea earthquake caused a tsunami, which flooded Pago Pago and destroyed many villages
Bring history and geography to life with Time4Learning's interactive online social studies curriculum for grades 2-12.
Geography Facts About the U.S. Territories
Now that you know a bit about the history of each of the U.S. territories, let's take a look at their geography. All the territories of the U.S.A are islands or groups of islands located in either the Pacific Ocean or the Caribbean Sea.
U.S. territories in the Pacific consist of American Samoa, Guam, and the Northern Mariana Islands, while U.S. territories in the Caribbean include Puerto Rico and the U.S. Virgin Islands. Because the territories are islands, they are of interest to both U.S. military personnel and U.S. research scientists. Their island geographies and climates also make them interesting targets of study and unique travel destinations. Did you know that Saipan, in the Northern Mariana Islands, was chosen as having the most equable (consistent) temperature in the world by the Guinness Book of World Records?
U.S. Territories in the Pacific
American Samoa
It consists of a group of seven islands (Aunuu, Ofu, Olosega, Rose, Swains, Tau, and Tutuila) in the Pacific Ocean, near the country of Samoa and over 2,000 miles southwest of Hawaii.
It is part of Polynesia, in Oceania, and part of the Ring of Fire.
Its area is about 77 square miles.
The capital, Pago Pago, is on the island of Tutuila.
Rose and Swains Islands are coral atolls, made of coral and a bit of land left over after the volcanoes sank. All but Rose and Swains Islands are very mountainous (formed by volcanic activity).
Flora includes tropical rain forests, tall trees and ferns, on the mountains.
Fauna includes lizards, pigs, rats, snakes, and flying foxes (kind of bat).
Species unique to American Samoa include certain species of birds, marine fish, land snails, insects, invertebrates, and plants.
Guam
It is an island in the western Pacific Ocean, east of the Philippines, and also the largest, most populated, and southernmost island of the Mariana Islands.
It is 30 miles long and about 210 square miles.
The capital, Hagåtña, lies on the northern coast of central Guam.
It is surrounded by a coral table reef and a limestone plateau, which provides fresh water.
It has steep coastal cliffs in the north with hills in the center and mountains in the south.
Residents experience earthquakes from nearby volcanoes, as well as some volcanic smog.
The highest point is Mount Lamlam, at 1,332 feet above sea level.
Its tropical marine climate can include frequent tropical storms and some typhoons (located in Typhoon Alley).
Ecological issues due to invasive animal and plant species and wildfires exist, but conservation efforts are helping.
Unique to Guam are certain freshwater fish, insects, snails and other invertebrates, as well as some vascular plants.
Northern Mariana Islands
The Northern Mariana Islands consists of a group of 22 islands in the western Pacific Ocean, including the main islands of Rota, Saipan, and Tinian.
Its area is about 184 square miles.
The administrative center is Capitol Hill, located on Saipan, but the entire island of Saipan is generally considered the capital.
The northern islands are volcanic (with active volcanoes on some islands).
The highest elevation is the volcano on Agrihan at 3,166 feet above sea level.
It has a tropical marine climate with a rainy season that can include typhoons.
Unique to the Northern Mariana Islands are certain species of birds, insects, snails, shrimp, and vascular plants.
U.S. Territories in the Caribbean
Puerto Rico
Puerto Rico is an island in the northeast Caribbean Sea (part of the West Indies), along with its smaller surrounding islands.
Its area is about 5,320 square miles (1,900 square miles of which is water).
The capital, San Juan, lies in the northeastern coastline of Puerto Rico.
There are lots of mountains throughout, with coastal areas in the north and south.
"La Cordillera Central" (Central Range) is the largest mountain range.­
The highest elevation is Cerro de Punta, at 4,390 feet above sea level.
There are 17 lakes and more than 50 rivers.
It has a tropical climate with potential for earthquakes, tsunamis, and landslides.
The Puerto Rican Trench is the largest and deepest trench in the Atlantic Ocean.
Unique to Puerto Rico are several species of birds, reptiles, amphibians, marine fish, insects, and invertebrates, the Puerto Rican Mustached Bat, and over 200 species of vascular plants.
U.S. Virgin Islands
The U.S. Virgin Islands is an island chain of about 90 small islands east of Puerto Rico (part of the West Indies), forming the border between the Caribbean Sea and the Atlantic Ocean.
Its area is about 140 square miles.
The capital, Charlotte Amalie, is located on the southern coast of Saint Thomas.
It is known for its beautiful beaches and tropical weather.
Unique to the U.S. Virgin Islands are species of reptiles, insects, and invertebrates, the Virgin Islands Robber Frog or Mute Frog, a marine fish, and some vascular plants.
U.S. Territories Maps
Download our FREE printable maps of the U.S. territories. Use them as coloring pages or use them to plot their geographical features
Activities for Children in the U.S. Territories
If you get the chance to travel to one of the U.S. territories, you can really expand your knowledge about them. The good news is that there are places where you can take children where they can both have fun and learn. Here are just a few of the locations to visit with your family when you arrive at one of our U.S. territories:
Looking for more things to do with your kids in the U.S. Territories? Check out this post full of field trip ideas in the U.S. Territories!
Freebies and Deals for Homeschoolers in the U.S. Territories
You can also experience the natural and historical wonders of our U.S. territories without spending a lot of money. Here are some free places to visit with kids:
Guam National Wildlife Refuge (Guam)
Explore two miles of trails or discover the latte stone and other cultural sites. Enjoy the white sand beach or tour an ancient village or the limestone caves. Check out the Nature Center building with its huge murals depicting Guam before the Europeans arrived. There is no admission charge.
National Park of American Samoa (American Samoa)
Enjoy the visitor center, with interactive exhibits written in Samoan and English, and learn about the Samoan culture, and the topography, wildlife, and marine environment of the islands. Then try some snorkeling or diving, hiking, or beachwalking to really experience the natural wonders of American Samoa. There are no admission fees.
War in the Pacific National Historical Park (Guam)
Learn about the Pacific Ocean campaigns of World War II by experiencing the battlefields, trenches, gun emplacements, and historic structures in the park. Take a guided web or cell phone tour or attend a park ranger event. Admission is free.
Custom text depending on what was picked.