Unit Study Supplement: Rhode Island, U.S. 13th State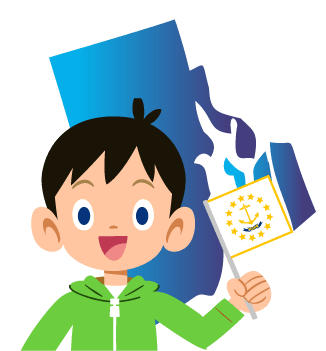 How did Rhode Island get its name?  Who discovered Rhode Island? These and other questions are answered in our Rhode Island unit study supplement!
No one really knows how Rhode Island got its name.  Some think that explorer Giovanni da Verrazzano inspired the name by comparing the region to the Greek island of Rhodes while others think that the name is from the Dutch "Roodt Eylandt" that means "red island" after the red clay at its shore. Did you know that until November 2020, the state's official name was "The State of Rhode Island and Providence Plantations"? It's now "The State of Rhode Island".
There are more interesting facts about Rhode Island, including historical facts about Rhode Island, a Rhode Island history timeline, geography facts and more throughout the rest of this article. Time4Learning members can download our list of PreK-12 interactive activities that align with your study of Rhode Island.  Here are a few Rhode Island facts for kids:
Rhode Island Fast Facts
Became a Colony:

1636

Became a State:

May 29, 1790

Order it Joined the Union:

13th state

State Capital:

Providence

State Abbreviation:

RI

Border States:

State Flag:

State Song:

State Flower:

Common Blue Violet

State Nickname:

The Ocean State
Little Rhody

Notable Rhode Islanders:

Annie Smith Peck, mountain climber
Bobby Hackett, trumpeter
David Hartman, TV newscaster
Debra Messing, actress
Eddie Dowling, actor/producer
James Woods, actor
Viola Davis, actress
Will Blackmon, football player
Rhode Island Historical Facts
As one of the original 13 colonies, Rhode Island's history is important.  Let's see why! Would you believe that Rhode Island may have been inhabited for as long as 30,000 years!  When Giovanni da Verrazzano arrived to explore the area in 1524, he found Native American tribes like the Niantic, Narragansett, and Wampanoag living there.
Over a century later, in 1636, Roger Williams founded the Rhode Island Colony.  Williams had been banished from the Massachusetts Bay Colony because of his religious beliefs and support of separation of church and state; as a result, the Rhode Island region became known as a place where religious freedom was valued.  In fact, Williams' contribution to our First Amendment Rights (i.e., the freedoms of religion, speech, and assembly) was acknowledged by our Founding Fathers.
Unfortunately, colonial Rhode Island was plagued by internal unrest from its variety of settlements that arose from banishments and unhappiness with the Massachusetts Bay Colony.  In addition, the neighboring colonies of Connecticut, Plymouth, and Massachusetts Bay attempted to take over "Rogue's Island" and eventually formed a military alliance. The United Colonies of New England (also known as the New England Confederation) excluded Rhode Island's towns and tried to undo agreements Williams had made with the Native Americans.
Williams reacted by securing an English charter for his colony (to include Providence, Newport, Portsmouth, and Warwick) in 1644 and called it "Providence Plantations."  William Coddington, founder of Newport, blocked the merger, which eventually led to the original charter being considered invalid. John Clarke, representing those opposed to Coddington, obtained a second royal charter in 1663.  This second charter remained in place until the state constitution replaced it in 1842.
Little Rhody played an active role in achieving American independence from the British and was one of the first states to push for independence.  In 1772, in what was later known as the Gaspee Incident, a group of Providence residents boarded the British customs vessel, Gaspee, and burned it.  A year later, Rhode Island sent aid to Massachusetts when the British tried to punish Massachusetts for the Boston Tea Party, and in 1775, Rhode Island's Providence, formerly known as Katy, became the first ship in the Continental Navy.
Rhode Island was the last colony to ratify the Constitution because it required that the Bill of Rights guarantee certain rights before signing.  In 1790, Rhode Island became the 13th state of the newly formed United State of America.
Now take some time to check out the Rhode Island history timeline below to learn important historical facts about Rhode Island.
1524
Giovanni da Verrazzano explored Rhode Island
1636
Roger Williams and other groups founded the Rhode Island Colony
1644
Roger Williams secured the first royal charter for Rhode Island
1663
John Clarke obtained the second royal charter on which the state government was based
1764
Brown University was founded as the College of Rhode Island
1772
Gaspee Incident, one of the first military actions taken against the British
1773
Rhode Island sent aid to Massachusetts following the Boston Tea Party
1775
Rhode Island's Providence became the first ship in the Continental Navy
1776
Rhode Island established five capital cities (Bristol, East Greenwich, South Kingston, Newport, and Providence) rotating as the seat of the General Assembly
1831
Providence was incorporated as a city
1842
Dorr Rebellion occurred, when advocates of increased suffrage tried to overthrow the state government, causing martial law to be declared and a state constitution to be written
1854
Capital of Rhode Island was shared between Newport and Providence
1884
Naval War College was established in Newport
1889
Rhode Island hosted the first National Lawn Tennis Championship
1895
Rhode Island hosted the first open golf tournament
1900
Providence became the sole capital of Rhode Island
1904
Judge Darius Baker imposed the first automobile speeding ticket in Newport
1930
Rhode Island hosted the first America's Cup sailing competition at the mouth of Narragansett Bay
1975
Medical school was established at Brown University in Providence, increasing the state's focus on biomedical research
1986
State constitution (which had been amended frequently) was replaced
Bring history and geography to life with Time4Learning's interactive online social studies curriculum for grades 2-12.
Rhode Island Geography Facts
Now that you've mastered some interesting facts about Rhode Island's history, let's explore the geography of the state.  Did you know that Rhode Island is about 48 miles long and 37 miles wide?  That means that the entire state could fit into Texas over 200 times, that it needs only one area code, and that there are no county governments.  You can drive across the entire state in one hour and walk across it in less than five days!
Rhode Island has many secondary growth trees covering more than 60% of the state.  These include the red maple (state tree), Eastern white pine, black tupelo, and American hornbeam, as well as swamp maple, white cedar, poplar, and juniper.  The state's wildflowers include the black-eyed Susan, mountain laurel, bulbous buttercup, oxeye daisy, and mullein. Did you know that mullein is considered "cowboy toilet paper" because of its soft leaves?
Although the state's mammals were significantly hunted during colonial times, beavers, black bears, and fisher weasels have repopulated the state, as well as deer, foxes, raccoons, river otters, and minks.  Many birds can be found in Rhode Island, including the blue-winged warbler, loon, harlequin duck, green heron, and common eider, while reptiles and amphibians like the eastern smooth and northern redbelly snake, blue-spotted salamander, and northern leopard frog might be spotted on the ground.  Wild turkey and eastern coyote populations are growing.
Take a look at this map of Rhode Island to see the major cities and landforms. Then read through the following Rhode Island geography facts. Print out the map of Rhode Island provided below and add these items to the map.
Rhode Island is bordered by Massachusetts in the north and east, the Atlantic Ocean in the south, and Connecticut in the west.  The state also shares a maritime border with New York.
The capital, Providence, lies in the northeastern quadrant of the state, just southwest of the northernmost point of Narragansett Bay.
Narragansett Bay is an inlet of the Atlantic Ocean and makes up a large portion of eastern Rhode Island.
The Blackstone River cuts across the northeastern corner of Rhode Island.
The Pawtuxet River drains the central part of Rhode Island while the Pawcatuck River flows across the southern part of the state.
Pascoag Lake is found in the northwest corner of the state.
Scituate Reservoir is a large body of water in the central region west of Providence.
Beach Pond is on the border with Connecticut, northwest of Hope Valley.
Worden Pond is a smaller body of water in south-central Rhode Island.
Rhode Island's highest point is Jerimoth Hill, at 812 feet above sea level, in northwestern Rhode Island.
The lowest point is at sea level where Rhode Island meets the Atlantic Ocean.
Brown University is a famous Ivy League school located along the northeast side of the state, right by Providence Harbor.
Rhode Island State Map
Download our FREE Rhode Island state map printable. Use it as a coloring page or use it to plot the state's geographical features.
Activities for Children in Rhode Island
Learning fun facts about Rhode Island can be a great reason for travel.  Homeschoolers in Rhode Island and out-of-towners should definitely plan a visit. Here are a few ideas to help you learn some more Rhode Island state facts:
Looking for more things to do with your kids in Rhode Island? Check out this post full of field trip ideas in Rhode Island!
Rhode Island Freebies and Deals for Homeschoolers
It doesn't have to cost a lot of money to learn more facts and information about Rhode island.  Below are just a few ideas:
Rhode Island Learning Games for Children
Have you learned enough interesting things about Rhode Island?  Test your knowledge of Rhode Island facts for students with these free games and activities: