Unit Study Supplement: Louisiana Facts, U.S. 18th State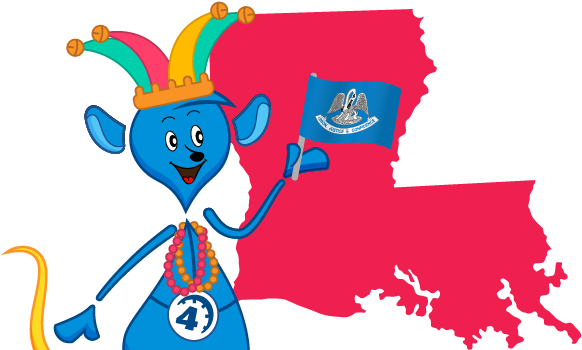 Louisiana is definitely a melting pot of multiple cultures. It has a deep history blended with French, African, American, and French-Canadian influences. Because of this, there are two words that are distinct to Louisiana: Cajun (French-Canadian influenced) and Creole (native-born Louisiana residents).
Those are just a couple of the fun facts about Louisiana that you'll learn in this state study, part of Time4Learning's full series of United States unit study supplements. You can also download our list of PreK-12 interactive activities that align with your study of interesting facts about Louisiana.
Louisiana Fast Facts
Became a State

April 30, 1812

Order it Joined the Union

18th state

State Capital

Baton Rouge

State Abbreviation

LA

Border States
State Flag
State Song

State Nicknames

Bayou State, Pelican State

Notable Cajuns

Ellen Degeneres, talk-show host and actress
Tim McGraw, singer
Madam C.J. Walker, civil-rights activist
Reese Witherspoon, actress
Louis Armstrong, singer and trumpet player
Peyton Manning, athlete and football player
Harry Connick, Jr., actor and singer
Louisiana History Facts
In archaic times, it's believed that Native American tribal groups built mounds as an expression of their beliefs and cultures. Interestingly, the oldest known mound complex in the Americas is actually located in present day Louisiana. The natural raw materials in the area provided a successful way of life for many, many Indian cultures over thousands of years. A Spanish expedition to the area in 1528 is the first known European exploratory mission. It wasn't until the late 17th century, however, that Europeans – French, this time – took a strong interest in the region. In 1682 the region was claimed for France, and named "La Louisianne" after King Louis XIV.
As with other explored areas of North America, Native American populations began dwindling due to an influx of European-borne diseases that arrived with the French settlers. Following the Seven Years' War (also called The French and Indian War), most of the territory of Louisiana was ceded to the British. The rest had become a colony of Spain. In 1800, however, a treaty between Spain and France transferred that land back to the French, under Napoleon. Concerned by Napoleon's plans to establish additional French colonies in America, President Thomas Jefferson began negotiating to buy parts of the Louisiana Territory. In 1803, the United States bought the entire territory as part of the Louisiana Purchase, which led to the creation of thirteen new states. In 1812, it officially became the 18th state to be admitted to the Union.
Here are some more historical facts about Louisiana that your homeschooler may find interesting:
While under both French and Spanish rule, Louisiana was heavily influenced by the Roman Catholic religion. Therefore, the boundaries that divided it were related to church territories and were called parishes instead of counties. They are still called that today. (It's the only state in the U.S. to have that distinction.)

Many current towns and parishes in Louisiana have names related to their Native American history, including Caddo Parish, Houma, Ouachita Parish, Plaquemine, Saint Tammany Parish, and Tensas Parish.

Baton Rouge is the only battle site of the American Revolution that was fought outside the original 13 colonies.

The first ever opera performed in America was in New Orleans in 1796.

After Britain defeated France in the French and Indian War, some of those who had settled in the French-Canadian area called "Acadia" escaped Canada to the United States and settled in Louisiana. The culture that still surrounds their descendants is referred to as "Cajun."

The first steamboat to navigate the Mississippi River arrived in New Orleans in 1812 after traveling all the way from Pittsburg.

New Orleans hosted the first ever Mardi Gras parade in 1837.

By the year 1840, New Orleans had the largest slave market in the country.

Louisiana was one of the southern states that seceded from the Union at the end of the term of President James Buchanan. It was readmitted in 1868.

In 1878, a yellow fever epidemic killed more than 5,000 people in the state of LA.

The first oil pipeline was laid in Louisiana in 1908. The state now has over 50,000 miles of pipeline running through it.

As a result of wide-scale Mississippi River flooding in 1927, almost 10,000 square miles of LA was under water at one point.

The first official flag of Louisiana was not adopted until 100 years after it became a state.

Because of the influx of so many different cultures into Louisiana, many unique dialects are spoken in the state, including: Colonial French, Louisiana Creole French, Louisiana English, and Yat (a dialect influenced by Irish and Italian immigrants, as well as by both French and Spanish).
Louisiana Geography Facts
See if you can find Louisiana on this printable blank map of the United States. Many people think this Gulf Coast state is shaped like a boot, and it used to be. However, the southern coast of Louisiana has a serious erosion problem. The "toe" area of the boot lost over 1,900 miles of wetlands in the 20th century, which has totally changed the landscape of Louisiana's southernmost border. This is just one of the interesting facts about the Bayou State's geography that your homeschooler will find interesting. To enhance your unit study, explore a map of the state and then download our printable Louisiana map (below) and mark it up with your child. Here are some additional facts about Louisiana geography that you may want to note:
The capital city of Baton Rouge (82miles northwest of New Orleans) means "red stick," and was named this because French-Canadian explorer Pierre Le Moyne d'Iberville noticed a red cypress post when exploring the area in 1699.

The Lake Pontchartrain Causeway, just north of New Orleans, is the longest continuous bridge over water in the world.

There are almost half as many alligators as people in the state. They can be found in ponds, lakes, canals, bayous, rivers and swamps, but the biggest populations are usually in coastal marshes.

Louisiana is full of bayous, which is a French word for "slow moving river."

Tabasco sauce was invented on Avery Island, near the south central coast of LA. It's still produced there to this day.

The southern coast of Louisiana has a serious erosion problem. It is estimated that the losses of wetlands are equivalent to up to 30 football fields per day.

Louisiana is quite vulnerable to hurricanes, with the most recent devastating one being Hurricane Katrina, which hit southeastern LA and devastated the city of New Orleans.

The state bird of LA, the brown pelican, actually became extinct there by the mid 1960's. They've been re-established and the "Pelican State" is estimated to have over 40,000 of the birds again now.
Louisiana State Map
Download our FREE Louisiana state map printable. Use it as a coloring page or use it to plot the state's geographical features.
Activities for Children in Louisiana
Whether you are a homeschooler in Louisiana, or just a family who is planning a trip to the deep South in the near future, you should be aware of some of the educational destinations in the state. Enhance your Louisiana state facts study with these field trip ideas.
Louisiana Freebies and Deals for Homeschoolers
Louisiana Learning Games for Children
Boost your child's online learning experience by checking out these available resources to assess your child's knowledge about Louisiana and learn even more about the Bayou State.