Unit Study Supplement: Connecticut Facts, U.S. 5th State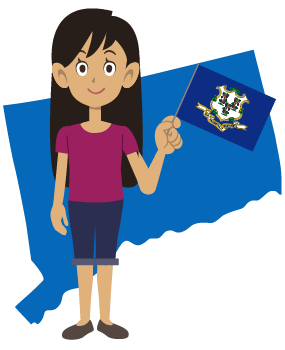 On January 9, 1788, Connecticut became the fifth of the original colonies to join the United States, and we've prepared you this homeschool unit study supplement just in time for Connecticut's anniversary. Whether you live in Connecticut or are simply interested in the "Constitution State," we've collected information about its history and geography for you to use as part of your homeschool state unit study.
You'll also find educational destinations in CT, perfect for planning field trips with your homeschoolers. Once you've studied all the interesting facts about Connecticut, put your homeschooler to the test with fun learning games and other activities about the Nutmeg state. Combine this with Time4Learning's full series of United States unit study supplements to teach your homeschooler the rich history of our country.
Are you ready to find out what important reference book was first published in Connecticut? Want to know how many miles of river wind through the state? Then let's get started learning! You can also download our list of PreK-12 interactive activities that align with your study of interesting facts about Connecticut.
Connecticut Fast Facts
Became a Colony
1636
Became a State
1788
Order it Joined the Union
5th state
State Capital
Hartford
State Abbreviation
CT
Border States
State Flag
State Song
Yankee Doodle
State Nicknames

The Constitution State
The Nutmeg State

Notable People from Connecticut

Eli Whitney, inventor of the cotton gin
Katharine Hepburn, actress
Harriet Beecher Stowe, abolitionist
George W. Bush, 43rd president of the U.S.
Nathan Hale, Revolutionary War hero
J.P. Morgan, entrepreneur
Noah Webster, journalist
Historical Facts About Connecticut
The word Connecticut is derived from a word that the Mohegan tribe had for the long, winding river that flowed through the area that is now Connecticut: "Quinnehtukqut." For thousands of years, the Mohegan were the only inhabitants of the area until English Puritans created a settlement there. In 1636, it officially became a colony. Let's discover some other interesting Connecticut colony facts.
The first European explorer to discover the Connecticut area was Dutchman Adriaen Block.
While under Dutch rule, the area was part of the Dutch colony called "New Netherland."
From 1703 to 1875, the state had two different capitals: Hartford and New Haven. Hartford eventually became the single state capital.
In 1647, the colonists hanged Alse Young for the crime of witchcraft.
Chief trade and enterprise in the Connecticut Colony included whaling, fishing, shipbuilding, fur trading, timber production, and maple syrup.
The first medical diploma ever issued in the United States was at Yale University in CT in 1729.
It was the fifth colony to become a state on January 9, 1788.
But statehood was only the beginning for Connecticut. Here are some more Connecticut state facts your homeschoolers will be interested to learn.
Because of its structural government document of 1638/1639 called "The Fundamental Orders," Connecticut got its nickname as "The Constitution State" for having the first formal state constitution in the Western world.
In 1806, Noah Webster published his first dictionary in the state.
Many abolitionists lived in CT during the anti-slavery movement of the 1800's, including Harriet Beecher Stowe and John Brown.
The Hartford Courant, established in 1764, is the oldest continually published newspaper in the U.S.
In the 1920's, Yale students discovered that empty pie tins from Mrs. Frisbie Pies in Bridgeport could be sailed across the campus lawns, giving rise to the game of "frisbee."
The world's first nuclear submarine was launched from CT in 1954.
Connecticut has no county government. There is state-level government and then city/town-level government.
Geographical Facts About Connecticut
While there are plenty of Connecticut facts for children that highlight the history of the state, you'll want to make sure to cover important facts about Connecticut's geography, too. Exploring a map of the state will help a lot, then download our printable Connecticut map and mark it up with your child! Here are just some of the things you may want to explore and mark on your map.
Connecticut is the third smallest state (after Rhode Island and Delaware)
The Connecticut River, the Thames River, and the Long Island Sound have been formative in the state's long maritime history.
The state has a variety of geographical features including rolling mountains, river valleys, and beaches.
There are over 5,800 miles of river in the state of CT.
All three rock types are found in Connecticut: sedimentary, metamorphic, and igneous.
If you are standing in Stamford, CT, you can travel north, south, east, or west, and the next state you will hit is New York.
Mt. Frissell, the highest point in Connecticut, is found in the northwestern corner of the state.
Geologists believe that Lake Hitchcock in CT formed over 15,000 years ago when a glacial ice melt dammed up part of the Connecticut River.
Ivy League University Yale, is located on the south part of this small state, in the city of New Haven, 40 miles south of the state's capital Hartford!
Connecticut State Map
Download our FREE Connecticut state map printable. Use it as a coloring page or use it to plot the state's geographical features.
Educational Places of Interest in Connecticut
One of the best ways to energize any state unit study is by adding hands-on activities. Do you live in Connecticut? Or perhaps you will be traveling to the state in the near future? Homeschooling families will discover plenty of interesting things in Connecticut that are perfect for field trips. Here are some ideas for day trips where you can experience Connecticut's history and geography for yourself.
For additional field trip options in Connecticut, visit A2Z Homeschooling's Connecticut Field Trips with Kids page.
Connecticut Freebies and Deals for Homeschoolers
Connecticut Learning Games for Children
Want to extend your Connecticut unit study even farther? The following learning resources will introduce you to even more fun facts about Connecticut and will also give your homeschoolers the opportunity to test their knowledge of what they've learned so far.