Unit Study Supplement: John Tyler, U.S. 10th President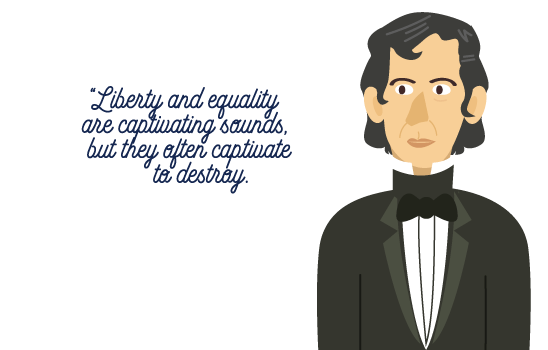 If William Henry Harrison had not died soon after taking office, it's very likely that most Americans would know very little about a man named John Tyler. That's because Tyler, who was Harrison's running mate, had already decided that he was going to take a low key approach to the vice presidency and let Harrison handle things. However, 31 days into Harrison's presidency, all that changed when he passed away from the results of pneumonia. Suddenly, Tyler was flung into the presidential history books and his life and accomplishments were immediately notable.
If you'd like to learn more this "accidental" president, we've created an American Presidents unit study supplement covering some of the important facts about John Tyler. Would you like to know how he was able to become a lawyer at the young age of 19? Have you wondered, "Where was John Tyler born?" Then read on to discover these John Tyler facts and many more.
John Tyler Fast Facts
Presidential Order
10th President
Political Party
Whig
Born
March 29, 1790
Death
January 18, 1862
State of Birth
Virginia
Name of Spouse

Letitia Christian Tyler
Julia Gardiner Tyler

Served as President
1841 – 1845
(following the death of President William Henry Harrison)
Age When Elected to Office
51 years old
Vice Presidents
None
I contend that the strongest of all governments is that which is most free.
John Tyler Timeline
1790
Was born into a politically active family in Charles City County, Virginia at Greenway Plantation, a 1200-acre estate.
1807
Graduated from College of William and Mary.
1808
Tyler's father began serving as the Governor of Virginia and served for three years.
1809
Started a legal practice in the state capital of Richmond.
1811
Was elected to represent Charles City County in the VA House of Delegates (at age 21).
1813
Inherited his father's plantation and slaves upon his death and also married Letitia Christian.
1816
Was elected as a U.S. Representative for Virginia.
1824
Was appointed Governor of Virginia, a position his father had previously held.
1827
Resigned his governorship to become a Virginia state senator.
1840
Was elected Vice President of the U.S. on the ticket with William Henry Harrison.
1841
Succession to the presidency following the death of Harrison, just 31 days into the new term.
1842
First lady and wife Letitia died from a stroke in the White House.
1844
Initiated a treaty that annexed the Republic of Texas as the 28th state in the Union and married second wife Julia Gardiner.
1861
At the Virginia Secession Convention, voted for VA to secede from the Union and join the Confederate States of America.
Interesting Facts About John Tyler
When Tyler applied for the bar, the judge neglected to ask his age, and he was mistakenly admitted to the Virginia bar at age 19.

Tyler wasn't always affiliated with the Whig Party. For many years he was a Democrat, until objection to Andrew Jackson's policies on states' rights drove him toward the Whig platform.

He was the first president to get married while in office (or remarried.)

Presidential running mate Harrison had earned the nickname "Tippecanoe" after becoming a hero in the Battle of Tippecanoe. This led to the campaign slogan "Tippecanoe and Tyler too."

Tyler was a huge proponent of "states' rights," meaning he believed state governments should have more power than the federal government.

During his presidency, Tyler signed the "Log Cabin Bill" which gave settlers the right to claim land even before it went on sale. This greatly advanced the pace of western settlement.

During Tyler's term, the Armed Occupation Act of 1842 effectively ended the Second Seminole War by giving free land in Florida to new residents who would be willing to protect their land with armaments from any Native American threats. The hope was to populate the state with white residents and leave little room for Indians to reside there.

Both Tyler and William Henry Harrison, his presidential running mate, were born in Charles City County, Virginia.

Tyler actually attempted a run for president in 1844, but due to lack of support, James Polk became the eventual nominee (and winner of the election).

Between his two wives, he fathered 15 children – more than any other president.

Tyler was 70 years old when his youngest child was born.

Thanks to his unforeseen ascension to the presidency, he was given the nickname "His Accidency" by his political enemies.

His own party, the Whigs, tried to impeach him while he was president, and his entire cabinet, except his Secretary of State, resigned.

The original constitution never spelled out what should happen if a president died in office. But following Harrison's death, vice-presidential succession became the precedent, and even led to the eventual addition of the 25th Amendment of the Constitution.

John Tyler is buried in Hollywood Cemetery in VA, only a few yards away from another U.S. President, James Monroe.
The day before President Tyler left office, he signed a bill making Florida a state. Discover field trips for homeschoolers in the Sunshine State.
Hands-On Activities for John Tyler Unit Study
You've learned a lot about John Tyler's accomplishments and life story, but we all know there is no better way to make learning stick than by multisensory learning. Below, you will find ideas, organized by grade level, for incorporating hands-on learning into your John Tyler President Facts unit.
Elementary John Tyler Activities
There was a 70-year age difference between Tyler and his last child that was born. Have your homeschooler use subtraction to determine the age difference of his/her age and his/her parents.
Tyler began his career as a lawyer at just 19 years old. Have your elementary student write a short narrative essay about what they think they will be doing when they are nineteen.
Middle School John Tyler Activities
Ahead of time, create a coordinate grid of a log cabin on graph paper. Supply only the coordinates to your student so that he/she can connect the dots to discover the "mystery picture."
Most of John Tyler's life and even political career were centered in the state of Virginia. Use this Virginia vocabulary list and games to practice spelling, vocabulary, and writing activities.
High School John Tyler Activities
After researching, have your high school student create a slideshow about the political positions of the American Whig Party.
Because it is on the National Register of Historic Places, there are many accessible images of Tyler's childhood home in Virginia, Greenway Plantation. Have your high school student browse these images online and then see if they can either sketch a likeness of the plantation or use a digital building program like Minecraft™ to recreate the structure.
Quick John Tyler Spelling Words
| | |
| --- | --- |
| annexation | plantation |
| campaign | representative |
| delegate | senator |
| governor | slogan |
| impeach | succession |
Additional Learning Links for John Tyler