Online Safety Tips for Parents and Students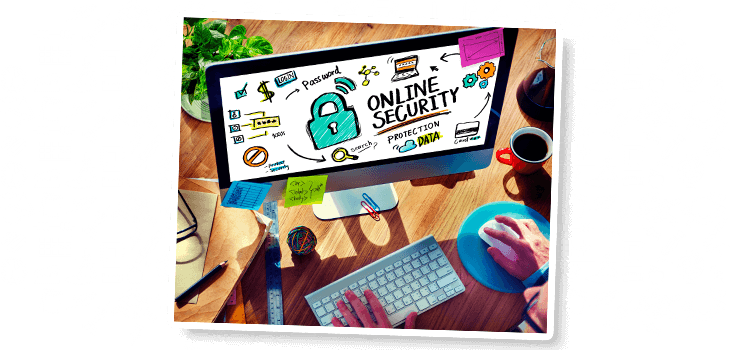 If the use of technology wasn't already booming in the world of education before the pandemic, it is now. When remote learning became a national reality during the pandemic, homeschooling became a more viable option for many families. Today in the United States, 11.1%, or at least 5 million children, are being homeschooled, according to the Census Bureau.
Additionally, over one-half of all households (53%) in the United States had "high connectivity" – a term used to refer to households with a laptop or desktop computer, smartphone, tablet, and a broadband internet connection. Yet, with so much access to technology, many worried parents are asking themselves: How much technology is too much? Will exposure to media, in general, have a negative impact on my child's well-being?
Balancing technology with social and emotional learning can be tricky, so we called on Merve Lapus, Vice President of Education Outreach & Engagement at Common Sense Education, to share his expertise. Common Sense is the nation's leading nonprofit organization dedicated to improving the lives of kids and families by providing the trustworthy information, education, and an independent voice when navigating media and technology.
Watch the full interview with Merve here:
The Rise of Education Technology
Lapus says that when it comes to integrating technology and education, there is a new adoption of technology in our lives, even more so in the past year. "Technology is playing a big role," he says. The past year has accelerated that with the switch to distance learning and then going back to the classroom. "Those transitions have been really challenging," he says. "But we've learned a lot."
Whether it's a teacher in the classroom or a homeschool parent, Lapus says a big goal of the organization is to build up their confidence in their use of technology. "There is so much power behind some of these tools when used appropriately." He mentions things like assessing where students are academically and finding ideas for creativity and collaboration. And for educators, professional development is a big focus, primarily because of what's happened in the past year.
For parents considering homeschooling, Lapus says that helping them feel comfortable with their kids' online learning comes down to setting guidelines, "understanding what things are for, how to use and when to use it." Having ongoing conversations is crucial so that when kids run into a problem, they know how to deal with it or go to a parent to discuss it. "Be vocal with what your concerns are," he says, rather than just saying, "I don't want you online."
Lapus says there are many misconceptions about online learning. Specifically related to the pandemic, he says a big one is that it has been overall ineffective. Rather, since today's learners are so different, with diverse learning styles, many students thrived. "It didn't go bad for everyone," he says. Kids with learning differences, like ADHD, for example, have had fewer distractions learning from home.
He also mentions positives that come from online learning, such as flexible start times, working at your own pace, and the freedom to move around and not be confined to a desk all day. "There's more flexibility in this learning space now than we've had before," he says. "It's reduced the overload for a lot of students." For families as a whole, there are benefits like spending less time in the car commuting and more time for hobbies and extracurricular activities.
Optimal Learning Conditions
To help your student have the best learning experience, Lapus says it starts with creating a specific space for learning, whether it's a room or even a small area or corner within a room with the student's supplies. This way, students know, "this is where I come to do my work."
Setting a routine and having a level of consistency can also help students be more productive and successful. He suggests going over expectations and then being consistent; otherwise, it can cause anxiety for some children.
"There's more flexibility in this learning space now than we've had before. It's reduced the overload for a lot of students."
Merve Lapus
As kids are learning, be sure to praise how well they adjust to their new learning environment. "For younger kids, it's about making it fun," he says. Role-playing can help kids pretend they are in an office with you as you do your work. "Presentation is everything," he says.
Lastly, let your child know that you are there to support them and help them along the way. Knowing they have you or someone else to help them will reassure them and let them know that they are not doing this alone.
Keeping Children Safe Online
Lapus says one of the first steps in keeping our children safe online is to go through the program, app, or website yourself. "Understand your privacy settings in apps or websites," he suggests. This will help you experience it for yourself and see the kind of information they ask of you, what they do with it, and what information you can keep private.
He says that parents should stress the importance of not sharing passwords with others, but that's is equally important that they have access to their child's passwords and other login information. Lapus also suggests that you cover your computer's camera, either with a sticky note or with a built-in slider, since it may automatically turn on when visiting a particular website. Lastly, he says to never use unsecured wifi networks since it may make it easier for others to access private, valuable information.
Taking all of these steps to be good digital citizens helps us but also helps empower our children to be responsible, think critically, and behave safely, so they have a positive experience. Lapus says having ongoing conversations and finding opportunities to support your children will help build up their awareness and give them the tools to make the right decisions.
Online Safety Tips for Families from Common Sense.org
Create screen-free times and zones, such as in bedrooms and at the dinner table.
Establish family rules that everyone understands.
Set an example by modeling the behavior you want to see in your children.
Help children identify healthy behaviors during both on and off-screen activities.
Set content limits by using parental controls as well as privacy settings.
Educate children about online scams and clickbait, so they know when something's not right.
Read the fine print on apps and websites your children visit.
Turn off location tracking if you can; otherwise, use them carefully.