Back to Homeschool! 5 Steps to Create an Optimal Learning Space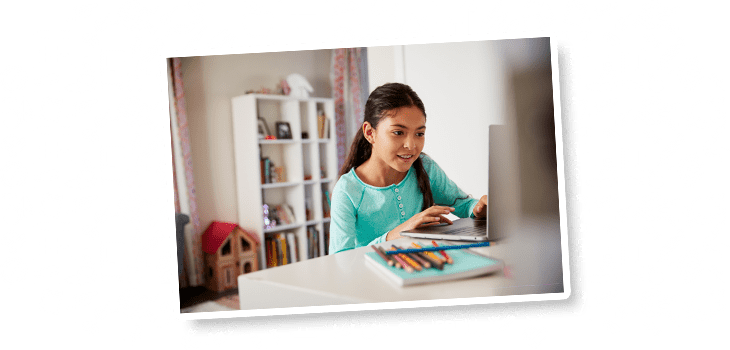 Homeschoolers have a lot on their plates: from choosing the proper curriculum, creating a schedule that fits your family's needs, keeping track of your child's progress, and including extracurricular activities. One essential element that could help make for a successful homeschool year is creating the optimal learning environment.
You may be thinking of setting up shop in your dining room or living room. While those rooms are viable options for many families, some children learn more effectively when they have a dedicated learning area. This learning area could be almost anywhere in your home, even if you have limited space. You can set up a workstation in an empty corner, an unused wall space or other place where there isn't too much foot traffic or ambient noise.
Other features you should think about, include:
A well-lit area with natural light
A comfortable table and chair
Decorative/inspirational touches; stimulating wall colors and decor
Organizers such as shelves, storage bins, etc.
Technology
Now, let's expand on these five features so you and your children can create the optimal learning area in your home.
Let the Light In
Most medical experts agree that natural light reduces stress and anxiety, and also improves focus and production. In fact, research by Cornell University Professor Dr. Alan Hedge on workplace environment found that "optimization of natural light in an office significantly improves health and wellness among workers." If natural light makes such an impact on the workplace environment, it most certainly will help you and your children create a healthier classroom space.
Choose a room with a window or two, which will let the natural light in. If you think your child might become distracted by looking out the window, situate their desk and chair so that the window is behind them.
Comfort is Key
Providing a comfortable homeschool area is essential to stimulating your child's learning. Find a chair and desk that your child feels content using. There's nothing worse than having your child shift around in a chair that causes them discomfort, pain or distress. Matching the proper chair and desk (preferably with some built-in drawers or other storage options), to your child's stature will solve those issues. Also, think about features such as armrests, headrests, lumbar support and seat tilt — especially for older students. There are many stores and online outlets that offer comfortable chairs at discounted prices.
Many homeschoolers also provide alternate spots for their children to study, read or do busy work. For instance, you can use bean bag chairs or other comfy furniture options, so they are not always sitting at their desk. This adds a fun touch that many children enjoy and appreciate.
Decorative Features
When choosing decorative features, you and your children can combine educational options, such as globes, maps, charts and more, and fun decor like posters, homemade crafts and plants. Empower your children by letting them choose the color scheme (if possible), wall art, their comfy chairs and more. Some additional ideas include:
Spray painting old tin soup cans or mason jars for holding pens, pencils, scissors, etc.
Attaching magnetic metal containers to metal surfaces such as a filing cabinet for supplies. You can find these on Amazon or Bed, Bath and Beyond.
Printing out colorful labels that you can attach to bins and other items.
Creating your own colorful tissue paper flowers.
Planting flowers in small flowerpots and recording their progress as they grow.
Using educational wall art like a dinosaur alphabet art print, a solar system planets poster, or an interactive clock.
The ideas are nearly endless. Just let your kids use their imagination. As a bonus, this space will become their own — not only for educational purposes but also as a spot where they can relax and feel comfortable.
Organize Your Space
It doesn't matter how large or small your homeschool space is, if it's not organized, you'll spend almost every day searching for things that your children need. Over time, that'll become stressful and aggravating. To prevent that from happening, and improve your organizational skills at the same time, check out these neat hacks:
If you have a closet nearby, hang a shoe organizer on the inside part of the door to keep school and cleaning supplies.
Use milk crates to organize books, tapes, and other homeschool tools.
Find desks that also double as cubby spaces, which are built right in.
Use carousel supply caddies to store glue sticks, pens, hand sanitizers and more.
Repurpose an old fishing box to store blocks, LegoⓇ bricks, or flash cards.
Use an online curriculum program that drastically cuts down on paperwork, schoolbooks and other bulky items.
A simple Google search will provide you with many other ideas. Another resource you should tap is your homeschool friends. One thing that amazes many people is how inventive homeschoolers have become. Give a homeschooler a small space and they'll eventually convert it into a vibrant classroom teeming with creative ideas that keep it organized and, as a result, more productive!
Technology for the Future
One thing that will definitely optimize your homeschool environment is technology. Having a laptop, personal computer or other device will help your children maximize their education and prepare for their future. And it doesn't matter if they plan to attend college or not. Every job uses some form of technology: from basic spreadsheets, word processing, medical billing programs, coding or running a computerized drill press.
This is good news because most kids love using tech, and as a homeschooler, you have the freedom to incorporate all kinds of cool ideas! Include online interactive curriculum programs, watch YouTube videos that teach technology, plan field trips to local businesses and start investigating tech hobbies. Another perk? Computers won't take up much space; they can fit on almost any size desk you choose. And let's face it, kids think tech is cool.
By highlighting these five features, and using your imagination, you will be able to create a homeschool space that is essentially your own. It will reflect your family's personality and possess a vibe that encourages learning, fun and exploration. Just think, your children will not only engage in their core subjects, they'll also immerse themselves in diverse themes and concepts that will improve their problem solving skills, lateral thinking, complex analysis and critical thinking skills. Afterall, that's the beauty of homeschooling: it allows your children to open new doors of discovery.