Math Enrichment Activities for Summer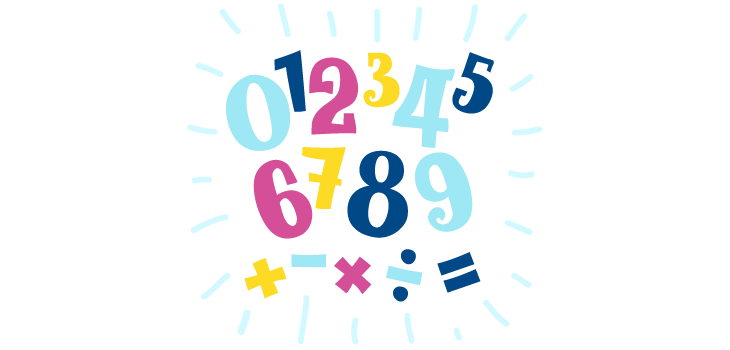 Keeping your child's math skills sharp during the summer months is especially important — whether you're a homeschooler or a parent whose children attend a traditional school system. Here's why: A recent study by Harris Cooper, professor of psychological sciences at the University of Missouri, revealed that an average of 2.6 months of math skills are lost over the summer.
Don't panic, though — summer math enrichment can be achieved in as little as 20 minutes a day or a few hours a week. And fun summer math activities are easily found. They are online, in your home, at the grocery store, in books, or almost anywhere you apply numbers.
And now that the coronavirus has forced many more parents to homeschool, the need for effective and fun summer math activities is crucial. "Fun" is the key word because summer vacation shouldn't be boring. So, it doesn't matter if you're new to homeschooling or not, the following tips will provide you with the opportunity to sharpen your children's math skills while they enjoy themselves!
Fun Summer Math Activities for Elementary Students
Summer math activities for elementary students are widely available. Most are geared toward building upon your child's math foundation, which is incredibly important right now. Check out the activities below for the younger students.
Online learning: Summer math games online not only improve your child's skills, they introduce technology into their education. For instance, Time4MathFacts helps build a strong math foundation, while teaching your child how to use a computer program. The games are crazy fun for kids (like playing video games!) and they only take about 20 minutes. There are also hands-on summer science and math activities, and motivational activities. If you have a special needs child, there are math activities for children with autism, too!
Kitchen fun: The first place you can go for summer math enrichment is the kitchen. It doesn't matter what age your child is, creating mouth watering meals and desserts is fun. And math plays a huge role in creating your favorite dishes. Between measuring out the ingredients and, at times, changing ingredient quantities using multiplication or fractions, it's challenging and entertaining.
Coin games: Depending on your child's age and aptitude, you can play "store" and have them buy things with real money. You can also use money for addition and subtraction. For example, one quarter plus three nickels equals forty cents.
Board games: Board games teach subtraction, addition, fractions, division and more. Try games such as Yahtzee, Sequence Numbers, Pizza Fraction Fun, Rummikub and Rack-O. These games offer family fun, too.
Math apps: These apps not only teach children about math, they also sharpen their technology skills. Apps include, Brainscape Flashcards, Math Vs Zombies, Motion Math and more.
6-Week Summer Learning Guides
Don't miss out on the 6-week summer learning guides for K-8 when you become a member! Each guide includes a weekly list of all the lessons your child needs to complete to keep their skills sharp this summer.
Summer Math Activities for Middle School
The summertime is perfect for middle school students to improve their weaknesses and close knowledge gaps while further developing their understanding of newer concepts. These summer math activities for middle school are recommended.
Online learning: Online curriculum programs are great for kids of all ages. They are especially effective for middle school kids who will start learning more difficult concepts such as geometry and spatial sense, data analysis, measurement, probability, and more. And if your children have missed a lengthy period of school because of the virus, it's even more important to review summer math activities for middle school students.
Youtube activities: There are multiple entertaining summer math activities on Youtube. They allow your child to pick and choose the lessons that meet their needs and slowly digest the concepts. Some include Numberphile Numberock among others.
Word problem practice: If your child is having difficulty solving word problems, summer provides the perfect opportunity for them to improve their problem solving skills. Use videos and online activities to help your child develop strategies for solving word problems more effectively.
Budgeting: Learning how to budget and not overspend is a life-long lesson. If you're not familiar with budgeting, a quick Google search will provide you with hundreds of resources.
Apps: Parents might not be celebrating much as they mostly stay at home, but one thing they can celebrate is the dynamic technology available that teaches math. Apps such as Dragon Box, Monkey in the Middle and Operation Math Code Squad.
Summer Math Activities for High School
Many high school students prefer independent learning. That's good news for working parents who may not have time to focus solely on providing dynamic summer math activities for their children. Have your teen look over these ideas.
Online learning: By now, your teens are probably near experts on the computer. They can check out multimedia online summer school programs that promote independent learning and deliver information in multiple formats including instructional videos, animated models, graphs, and text.
Financial literacy: There are game-based learning options that teach money management and smart financial decision making. Students not only sharpen math skills, they "crunch the numbers" in real life situations.
Free college courses: Many colleges such as MIT, Harvard and University of Michigan offer free online math courses for high school students. This will definitely improve math skills and may help collect valuable college credits.
Youtube: There are hundreds of Youtube videos available that offer insightful instruction by experienced teachers. It will almost seem like your students are taking part in a classroom environment.
Real-world examples: If you want to make math more interesting for your student, apply real-world examples that will prove to them why learning algebra and geometry is important. Check out this site for ideas. They're like playing summer math games online.
Summer math enrichment has become a staple for many parents. It not only helps students maintain grade level math performance, it also fills in knowledge gaps that may have formed over the school year. At times, it may even enhance your students math performance. If you're a new homeschooler or a veteran, you may find this math goals for students page very handy. Good luck this summer and keep learning!