How to Afford your Dream College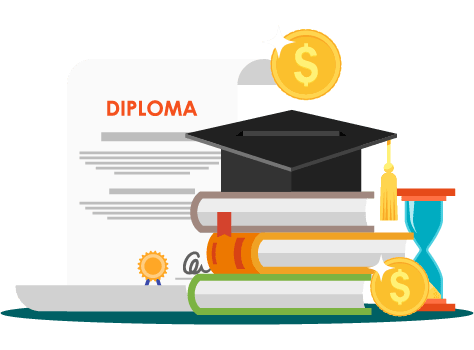 It's that time of year again! College applications are open and deadlines are quickly approaching, both exciting and nerve wracking to high school seniors. These feelings can also creep up on parents as your child is getting ready to leave home for the first time. A common concern is how to afford a homeschooler's dream college?
While homeschoolers are researching schools and programs, parents may be looking at how to afford college tuition, room and board, and dining fees. It may be tempting to suggest a closer, inexpensive school, but it is important to include your child in the discussion of finances. College is a time for students to begin handling adult responsibilities, which can include having a proper financial education.
Talk About Future Goals
The first step in affording a homeschooler's dream college is to talk to your child about what he or she hopes to achieve in the future — what major is your student considering? What careers have your child considered? — and what characteristics are important in an institution. College Scorecard allows parents and students to search through universities and programs in the United States, which can help narrow down a list of schools your child is interested in.
Once the research is done, and the costs of your child's dream school(s) are calculated, talk with your child to determine what makes the schools of choice special. Perhaps the characteristics that makes a dream college could be found elsewhere. However, if your child is set on his or her dream college, there are still many ways to afford the experience.
Research Available Scholarships
Merit Scholarships – There are a couple different types of National Merit Scholarships available for students. Those awarded by the National Merit Scholarship Corporation, companies, and lastly, the university itself.
Scholarships awarded by the National Merit Scholarship Corporation is mainly based on your student's PSAT test score. Students take the PSAT at school during the beginning of their Junior year. This test is very important if your student is wanting to proceed through the scholarship process. If your student scores within a certain percentile on the PSAT, they will be notified if they are semi-finalists and will advance in the scholarship competition process. *You can sign up your homeschooler to take the PSAT at your local public or private school.
Merit Scholarships awarded by companies and universities and based on GPA and standardized test scores. Usually consideration for these scholarships is automatic with your child's application to the university. Information on these merit-based scholarships can typically be found on each college's financial aid website, as they vary per institution.
Additional merit scholarships are also available; most universities have affiliated private scholarships that students can apply for. Another great source for scholarship money comes from each state. For example, students in Florida with a certain GPA and standardized test score qualify for Bright Futures, which is applicable no matter what school your child chooses. Learn more about merit-scholarships that exist in your specific state.
Federally Funded Scholarships and Loans – Some families can also qualify for needs-based scholarships. Universities will often offer their own needs-based scholarships, which typically require an application. Needs-based federal aid is also available as long as a student completes his or her FAFSA (Free Application for Federal Student Aid). Every student, regardless of financial situation, should complete the FAFSA. Completion of the FAFSA can also offer loan opportunities if your family chooses to go that route. Learn more about the FAFSA here! Typically, needs-based scholarships can be stacked on top of merit-based scholarships, although this can vary by university.
Extracurricular Scholarships – There are plenty of other scholarships available for students to apply for, whether they are athletic, career-specific, creative, or miscellaneous scholarships. Let's Homeschool High School offers a helpful guide to college scholarships that families should consider when looking at a dream school.
Find Job Opportunities
Once students arrive on their dream school's campus, many job opportunities are available. Student positions at colleges are the most flexible when it comes to class schedules, exams, and taking time off to visit home. These positions offer great experience no matter your student's major, offer great pay, and can also teach responsibility. Colleges usually have a career center for students to work on their resume and interview skills.
Certain positions on-campus exist called "Federal Work Study." Students who complete their FAFSA and demonstrate financial need can qualify for Federal Work Study (FWS). FWS positions are reserved only for students who qualify, which allows priority application. Typically, students will be paid directly, although they can request the money to stay within the college's system to pay for tuition and other expenses. Learn more about Federal Work Study here!
Nail those Standardized Tests and Entrance Essays
Many scholarship opportunities require essays, so it's smart to brush up on their writing skills. For others, and college admissions, there is a strong emphasis on standardized test scores and a high GPA. Time4Learning's high school curriculum prepares high schoolers for college. Our program teaches the needed understanding for standardized tests, prepares high schoolers with necessary coursework, and offers a simple record-keeping system that makes applying to your homeschoolers dream school a breeze. Our curriculum is perfect for any student, whether your family has been homeschooling for a while, or just beginning the journey.
No matter where you are in the world of homeschooling, it is more than possible for your student to get in and afford their dream college. As long as they put in the hard work, it will all pay off. To all the students applying, good luck!