Why I'm so Grateful to be a Homeschooler this Holiday Season
MEMBER INTERVIEWS & STORIES
This time of year is always reflective. Gratitude posts make their rounds on social media, and we busily prepare for holiday celebrations with family and friends. As a longtime homeschool mom with a son in high school, I feel especially grateful this holiday season. The past year and a half has shown many of us that at one time or another, we took certain things in life for granted.
There are many reasons for which I'm giving thanks this year: the health of my family, being able to successfully work remotely, and enjoying my favorite streaming services (no shame!) are just a few. Yet, being a long-time homeschooler is definitely near the top of my "thankful for" list, especially as we continue to fight this pandemic.
No Pandemic-Related Educational Upheavals
It was an eerie feeling in March of 2020, watching family members, friends, and strangers struggle with unprecedented long-term school closures while our family experienced business as usual, as far as school and learning goes. Of course, we were impacted in other ways. Homeschool groups were no longer meeting and field trips were canceled due to safety precautions, but our core "school day" remained unchanged. While other children were struggling with remote learning, and competing for the attention of one teacher among many students in a virtual classroom, my son Braedon was home, gaining academic skills in a safe environment with my support whenever he needed it.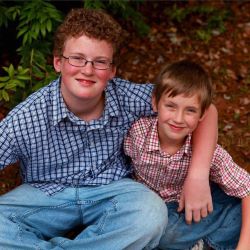 As a family, we spoke often about how grateful we were that not only were we homeschooling prior to the pandemic, but that we had been homeschooling long enough to be able to roll with the changes, and in the case of 2020, roll with the punches.
Flexibility in Life
You'll often hear people talk about the flexibility of homeschooling: flexibility in scheduling and curriculum choices, but one of the things that we're grateful for is the flexibility in life — all things in life. We've been homeschooling since 2005. Throughout that time, the flexibility of homeschooling allowed us to serve as caregivers to close family members, some of whom we've lost, and it has enabled us to manage job changes and relocations with much more ease.
Our two boys learned on their own terms, while we had the flexibility to handle both the expected and unexpected in our adult lives, without having to make a lot of changes that could affect our children's lives. When there were periods of uncertainty, they always had at least one constant, and that was homeschooling.
Building Confidence and a Life-Long Love of Learning
My oldest son started out in the public school system, but then started experiencing periods of stress and anxiety. He would get nervous before tests, which would ultimately lead to a discouraging test experience. His excitement about school and learning waned over time because there was such a strong focus on testing. He no longer told us what he learned that day, instead, he began telling us what he had to study for.
"Even though we had never planned on homeschooling, finding ourselves on this journey has proven to be one of the single best decisions we've made as parents, and as a family."
Katie
When we began homeschooling, it took a while for us to find our groove and get our minds out of that "school at home" frame of mind, but in time, he started reverting back to that excited little boy. The process of "unschooling" and watching him grasp concepts without pressure or anxiety was an incredible feeling. As he and his little brother got older, he maintained that love of learning, even getting excited about sharing what he learned with his sibling and encouraging/teaching him when he could.
This translated into my youngest, only ever having known homeschooling, wanting to learn new things and being just as excited to share what he learned and encouraging everyone, including adults, to learn something new.
A Strong Family Bond
Even though we had never planned on homeschooling, finding ourselves on this journey has proven to be one of the single best decisions we've made as parents, and as a family. Did I doubt myself when I got started? Sure, even after homeschooling for what feels like forever, some days, I can still feel doubt creeping in. We want what's best for our children in all things. It's completely normal to have moments where you second-guess what that "best" might be at that time. But if I ever need just one reason to hold on to when that doubt comes around, I focus on our family bond.
Over the years, we have enjoyed so many opportunities to learn and grow together. Our evenings weren't consumed by trying to finish homework or study for yet another test. We figured out fractions in the kitchen, we explored science with play, and we studied history when we traveled. And we did all of that together, on our terms.
Our boys are currently 22 and 17, and we have an incredible relationship with them, and they with each other. Even living in different states, we still find time to communicate and get together. Sometimes that's a group Facetime call, sometimes it's vacationing together. We're still fostering the bond we had when our children were younger!
Making the Jump to Homeschooling
These are just a few of the reasons why I'm thankful for homeschooling. If you're interested in learning more about homeschooling, or you're ready to make the jump, Time4Learning offers a Welcome to Homeschooling Guide that you can download for free. It's full of advice from experienced homeschoolers and can help you get started on your own journey.