Second Grade Software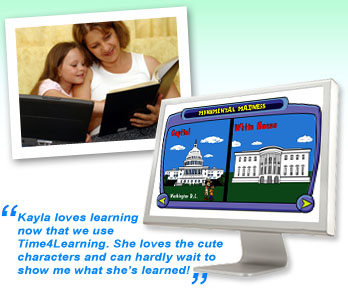 View Our Lesson Demos
In 2nd grade, students are really challenged to go beyond reading and math basics. Second grade readers should have a solid vocabulary, allowing them to be fluent readers. Students should understand the principles of addition and subtraction that will allow them to graduate to more advanced 2nd grade math concepts. Parents who want to improve their 2nd grader's reading and math skills will often look for reading or math modules that address a specific issue.
However, many times the second grade software and worksheets purchased at the store doesn't address the missing core competencies that are causing the student to have issues. Time4Learning offers a comprehensive educational learning system with second grade software that focuses on creating an individual learning path that identifies the child's strengths and weaknesses, and then gears reading and math worksheets, activities and games to help create a solid reading and math foundation.
Time4Learning includes reporting system that tracks your child's progress, so you will be able to measure how our second grade software is helping your child. Learn more about second grade software available at Time4Learning.
Second Grade Reading
In second grade, children really start to come into their own when it comes to reading. Students become fluent as readers and apply reading comprehension and vocabulary strategies to a wide variety of literary and informational text. Second grade reading worksheets should challenge young readers to answer questions about the text and support their thinking through examples of the reading. Second graders have challenging worksheets and reading exercises, and should be able to actively participate in group discussions about the text.
Time4Learning has 2nd grade reading software that challenges young readers to improve their reading fluency and expand their vocabularies. Using an online interactive environment, our students just don't read the text, they interact it. We teach 2nd graders that reading is an enjoyable habit that's not just work, but fun.
Second Grade Math
Students learn in second grade math advanced counting skills, allowing them to keep tallies of running numbers (i.e. keep score of a game). Second graders should be able to compare lengths or distances, even when a direct comparison is not possible. Students learn to draw geometric shapes, using a ruler to create shapes with equal sides. Second graders learn to appreciate time and how it fits into our daily lives. Lastly, students should be able to estimate the costs of one object by knowing the costs of another.
Time4Learning offers second grade math worksheets and online activities to help reinforce 2nd grade math skills learned at school. Our second grade math worksheets help students get hands on practice with geometric shapes and tally sheets. Computer time gives real world simulations of 2nd grade math concepts. Take a demo of Time4Learning's second grade software.
2nd Grade Games
What better way to reinforce worksheets and activities than with 2nd grade games? This type of second grade software helps students explore the reading and math concepts taught in school, but in a fun, supportive environment. Children get the reading and math practice they need. And because it's fun, they're more liable to play 2nd grade games than sit for hours with textbooks and worksheets.
Early childhood education research shows the 2nd graders benefit from a learning program that varies its approaches to learning. Children are less likely to get bored if they're using a variety of 2nd grade games, activities and worksheets. Time4Learning is constantly updating our second grade software and provides printable worksheets for reinforcement, ensuring that there's always something new for your child to explore.
The Time4Learning Program Structure
Time4Learning has been refined through years of feedback from educators, parents, and students. Subjects are organized into chapters composed of interactive lessons, printable worksheets, quizzes and tests. Students are guided through the activities at their own pace by an automated system.
When students log in, they choose a subject, select a chapter, pick a lesson and complete the activities. A bright green arrow tells them where they left off, and completed work is clearly labeled with a check-mark or a gold star. Visual and auditory prompts guide students through the lessons, making it easy for even young learners to follow, and an online playground (controlled by parents) rewards and motivates them to finish their lessons.
Parents get access to printable lesson plans, teaching tools, detailed reporting and parental support through our online Parent Forum.
Does your child have different achievement levels for math and language arts? No problem! Time4Learning lets you set each individual subject at the appropriate graded level, making this program great for special needs and gifted students.
Jump back to the top or sign up now