First Grade Software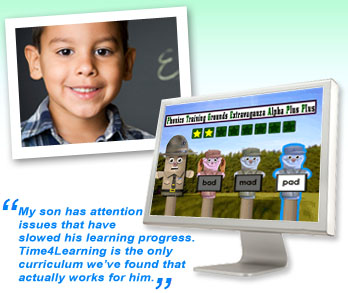 View Our Lesson Demos
Choosing the right first grade software can be a daunting task for parents. There are so many different choices, so many 1st grade learning centers that claim they have the right reading and math modules to help your children succeed at school. But before you go out and buy a bunch of first grade software, make sure you understand your choices:
Edutainment Games – These tend towards games with some learning component. While fun, they do not systematically build skills or teach.
Learning Games Websites – Similar to the Software Games, they also can be invite your child to download software that might infiltrate your computer.
Learning Sites – While there are many good sites with good learning activities, they do not track your child's progress or lead them systematically from one lesson and activity to the other.
An online learning system such as time4Learning.
Time4Learning is a comprehensive educational learning system that offers a complete reading and math foundation for 1st graders. Using first grade math and reading activities, Time4Learning's first grade software is geared for a variety of learning styles.Learn more about the first grade software that Time4Learning uses in our 1st grade learning center.
First Grade Reading Activities
First grade reading activities should continue to expand a child's reading vocabulary started in preschool and kindergarten. First graders should be able to demonstrate reading comprehension by participating in a variety of reading activities that apply the concepts of:
Print Recognition
Phonological Awareness
Phonemic Awareness
Oral Language Skills
Phonics
First Grade Math Activities
First grade math activities should build on a child's understanding of numbers developed in kindergarten and take it to the next level. Students should expand their math foundation by participating in a variety of first grade math activities that help them understand:
Whole Numbers
Addition and Subtraction
Comparing Objects using Measurement
2-Dimensional Figures
Data Collection Skills
Repeating Patterns
Time4Learning mixes first grade math activities with fun, educational games that reinforce the lessons learned. Why include math games with our first grade software? Children respond better to math activities, when they're rewarded for all their hard work.
Time4Learning and 1st Grade Learning Centers
First grade learning centers, either within formal schools or homeschool groups, need to teach a range of academic, physical and social skills. As discussed above, first graders have a lot to learn at their 1st grade learning center. However, academics aren't the only things that students learn. There are some fundamental physical and social skills that your 1st grade learning center should be promoting.
Physical education can help 1st graders develop an active lifestyle that will help burn off excess energy and develop healthy habits to take with them throughout life. There are no specific lessons geared to teaching first grade social skills. However, first graders should be able to listen while others are talking, and follow instructions that the teacher gives. Communication strategies and being able to work together with other students are just some of the social skills 1st grade learning centers teach young children.
Time4Learning is often used by 1st grade learning centers to teach reading and math portion of their program. Many 1st grade learning centers find the online, interactive environment a great addition to their academic programs. Learn more about Time4Learning and the first grade software that is going into many 1st grade learning centers.
The Time4Learning Program Structure
Time4Learning has been refined through years of feedback from educators, parents, and students. Subjects are organized into chapters composed of interactive lessons, printable worksheets, quizzes and tests. Students are guided through the activities at their own pace by an automated system.
When students log in, they choose a subject, select a chapter, pick a lesson and complete the activities. A bright green arrow tells them where they left off, and completed work is clearly labeled with a check-mark or a gold star. Visual and auditory prompts guide students through the lessons, making it easy for even young learners to follow, and an online playground (controlled by parents) rewards and motivates them to finish their lessons.
Parents get access to printable lesson plans, teaching tools, detailed reporting and parental support through our online Parent Forum.
Does your child have different achievement levels for math and language arts? No problem! Time4Learning lets you set each individual subject at the appropriate graded level, making this program great for special needs and gifted students.