Ideas for Celebrating Lunar New Year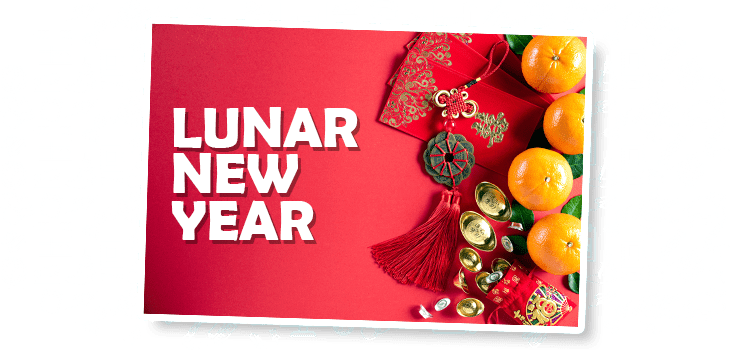 The Lunar New Year also known as "Spring Festival" in some areas, is the observance of the new year using the lunisolar calendar. It's traditionally celebrated in China and several other Asian countries such as South Korea, Vietnam, and Tibet. The New Year begins with the first new moon of the lunar calendar and ends 15 days later on the first full moon of the lunar calendar. A lunar year includes 12 full cycles of the moon and is around 354 days.
Interesting Facts About Lunar New Year
The origins of the Lunar New Year are thousands of years old and imbued in legends. It's a time for families to follow certain guidelines and traditions that will bring them good fortune throughout the year. Let's take a closer look at some fun facts.
Those who participate in Lunar New Year festivals write the character 福 [fú], which means "good luck" on a square of red paper. The paper is then hung in a diamond shape, upside down, to symbolize good luck pouring down on you.
Some families avoid crying, using scissors, changing their hairstyle, and wearing black and white because these behaviors are associated with sadness and cutting off connections, which you should avoid at the start of the new year.
Many people wear red for luck and pay down their debts; this signals a fresh start for the new year. They even avoid doing their laundry, washing their hair, or sweeping their floors for a couple of days at the start of the new year to keep their luck intact.
Red envelopes full of money are traditionally given out from an older person or parent to children, or anyone who's not married. They are recognized as lì xì in Vietnamese or hóngbāo in Mandarin.
An important Lunar New Year legend in Chinese mythology is that of Nian, a terrible beast believed to devour human flesh on New Year's day. Nian is afraid of the color red, loud noises, and fire. That's why firecrackers are set off, red colors are used, and lanterns are lit.
Traditional foods such as yuanxiao (sticky rice balls that symbolize family unity), fagao (prosperity cake), and yusheng (raw fish and vegetable salad) are served.
How Can Your Family Celebrate Lunar New Year?
Celebrating Lunar New Year gives your children a firsthand look at the traditions that other cultures hold dear. Celebrating the rich diversity of our country provides additional learning opportunities and insights that expands students' awareness of different cultures and norms. Here are some fun ideas for celebrating Lunar New Year.
Decorate your home with red lanterns, red spring couplets, paper cuttings, and New Year's paintings.
Arrange a New Year's Eve reunion dinner with family members and friends and prepare the traditional foods that are served.
Give your children red envelopes with a little money after the reunion dinner. This signifies good health and a successful year of studying.
Try your hand at the traditional dances, such as the dragon dance, fan dance, or the sword dance (with a fake sword, of course). A quick search on YouTube will provide the lessons.
Shop for new clothes in open-air markets – it's a cherished tradition.
"Celebrating different cultural traditions exposes your children to new experiences and better prepares them for their future in our increasingly diverse world."
Ideas for Incorporating Lunar New Year Into Your Homeschool
When you incorporate Lunar New Year into your homeschooling curriculum, you're not only having a genuinely good time with your kids, but also providing a unique educational moment that includes skills such as reading, writing, math, art, history, cultural learning, project planning, and life skills. Here are some ideas that will definitely please the whole crowd!
If you plan on decorating your home, turn it into an art lesson by creating your own ornaments, such as red lanterns, paper fans, and dragons. A quick Google search will provide you with easy directions.
Try writing out Chinese calligraphy and create chun lian, special New Year's decorations on red paper squares.
Learn about the symbolism that is associated with animals during Lunar New Year. For example, the Chinese dragon represents wisdom, strength, benevolence, and good fortune. In Korea, birds such as decorative cranes symbolize longevity, and magpies represent good fortune.
If you are having the reunion dinner, get everyone involved by designing invitations, keeping track of the guest list, and decorating the room.  Explore traditional Lunar New Year dishes, generate a budget, and shop for the ingredients then follow the directions carefully and prepare them.
Teach your children life skills by cleaning your home together before the New Year. This cleaning is a way to "sweep away" bad luck from the past year and start fresh.
Celebrating different cultural traditions exposes your children to new experiences and better prepares them for their future in our increasingly diverse world. Studies also show that diversity in education improves the "intellectual engagement, self-motivation, citizenship, and cultural engagement, and academic skills like critical thinking, problem-solving, and writing…"  Sounds like a good reason for a party. Happy Lunar New Year!