Unit Study Supplement: New Jersey Facts, U.S. 3rd State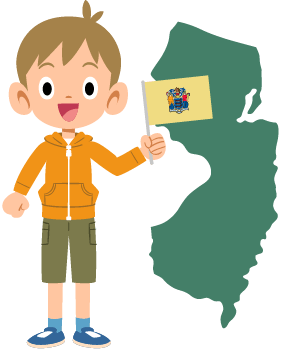 Every year on December 18, the state of New Jersey celebrates its anniversary as part of the United States. It was the third state to ratify the constitution and become part of the newly founded country. But this is only one of the many interesting facts about New Jersey that your homeschoolers will find out in this state study.
We'll be exploring the "Garden State" by pointing out some of the important historical facts about New Jersey, some New Jersey trivia that may surprise your students, and even some fun things for children to do in the state. You'll also enjoy our collection of online New Jersey learning games which will challenge your homeschoolers to test what they've learned via interactive play.
This unit study supplement can be used as part of your geography and/or history lessons, or just a neat supplement to your regular social studies teaching schedule. You may want to combine it with other posts from Time4Learning's full series of United States unit study supplements, to learn even more about our country. You can also download our list of PreK-12 interactive activities that align with your study of interesting facts about New Jersey. Are you ready to learn more about this small state with a big history? Then let's get started!
New Jersey Fast Facts
Became a Colony

1702

Became a State

December 18, 1787

Order it Joined the Union

3rd state

State Capital

Trenton

State Abbreviation

NJ

Border States
State Flag
State Song

New Jersey is the only state without a state song.

State Nicknames
Notable New Jerseyans

Frank Sinatra, singer
Grover Cleveland, 22nd & 24th president of the United States
Jerry Lewis, actor and comedian
Judy Blume, author
Albert Einstein, physicist
Alice Paul, civil rights and women's rights advocate
New Jersey Historical Facts
The history of the New Jersey colony begins when the area was discovered by Italian explorer Giovanni da Verrazzano. 1664 was when New Jersey was founded by the British. Until that time it was settled mostly by Dutch, Finnish, and Swedish colonists. Here are some additional New Jersey colony facts that homeschoolers will find interesting:
For the first eight years of its history, it was actually divided into two separate colonies, East Jersey and West Jersey, but it became a single royal colony in 1702.
Although British colonist George Carteret wasn't who founded New Jersey, the state was named in his honor. He had been governor of the Isle of Jersey in the British Isles.
In 1758, the first American Indian reservation, the Shamong Township, was established in NJ.
Iron ore was a key resource of the New Jersey colony. It was able to export items such as nails, locks, and plows back to England and to the other colonies.
Although far less well-known, New Jersey had its own tea party uprising about a year after Boston's. Called the "Greenwich Tea Party," it set a cargo of tea afire in a field.
During the Revolutionary War, George Washington and his troops spent more time fighting in NJ than in any other colony.
In 1787, New Jersey became the third state to join the U.S. and the first state to sign the Bill of Rights.
In 1790, the town of Trenton officially became the capital of the new state of New Jersey. And that was just the beginning of the story of the Garden State. Here is some more New Jersey state history trivia that you'll enjoy learning:
The first officially recorded baseball game in America happened on June 19, 1846 in Hoboken, NJ.
Over 25,000 New Jersey soldiers fought for the Union in the Civil War.
The inventor of the submarine, John Holland, first tested his prototype in New Jersey's Passaic River in 1878.
Many of the patents for Thomas Edison's inventions were granted while he was working in the state, including the light bulb.
The disaster that destroyed the German passenger airship LZ 129 Hindenburg in 1937 happened when it was attempting to dock in NJ.
Also in 1937, the first FM radio stat
New Jersey residents did not have to pay state income tax until 1976.
New Jersey Geographical Facts
While there are plenty of historical New Jersey facts for children to learn, the geography of the state is worth covering in your homeschool unit study as well. Exploring a map of the state will help a lot. You may want to print out this map of New Jersey and start marking it up with everything you've learned. Here are just some of the things you may want to explore and mark on your map.
Even though it is the fourth smallest state in America, NJ has a wide variety of ecosystems including pine forests, salt marshes, a mountainous region, and many lakes and rivers.
New Jersey is the most densely populated state in the US, and it is the only state where all of its counties are labeled "urban" or "metropolitan."
Food and agriculture are New Jersey's third leading industry, so it's no surprise that it is nicknamed "The Garden State."
One of the interesting New Jersey culture facts has to do with food, as well. It is called the "Diner Capital of the World" because it has more diners than any other state.
Many people associate the Statue of Liberty with New York City, but it is technically in the waters of Jersey City, NJ.
The largest seaport in the US is located in Elizabeth, NJ.
New Jersey State Map
Download our FREE New Jersey state map printable. Use it as a coloring page or use it to plot the state's geographical features.
Activities for Children in New Jersey
Whether you live in New Jersey or are planning a trip there soon, you'll be excited to know that there are learning opportunities around every corner. Below are links to some of the best historical places in NJ, as well as sites that are ideal for science, art, and nature study as well. Each one of the destinations has incredible potential for learning and will enhance your New Jersey homeschool unit study.
For additional field trip options in New Jersey, visit A2Z Homeschooling's New Jersey Field Trips with Kids page.
New Jersey Freebies and Deals for Homeschoolers
New Jersey Learning Games for Children
Want to extend your New Jersey unit study even farther? The following learning resources will introduce you to even more fun facts about New Jersey and will also give your homeschoolers the opportunity to test their knowledge of what they've learned so far.